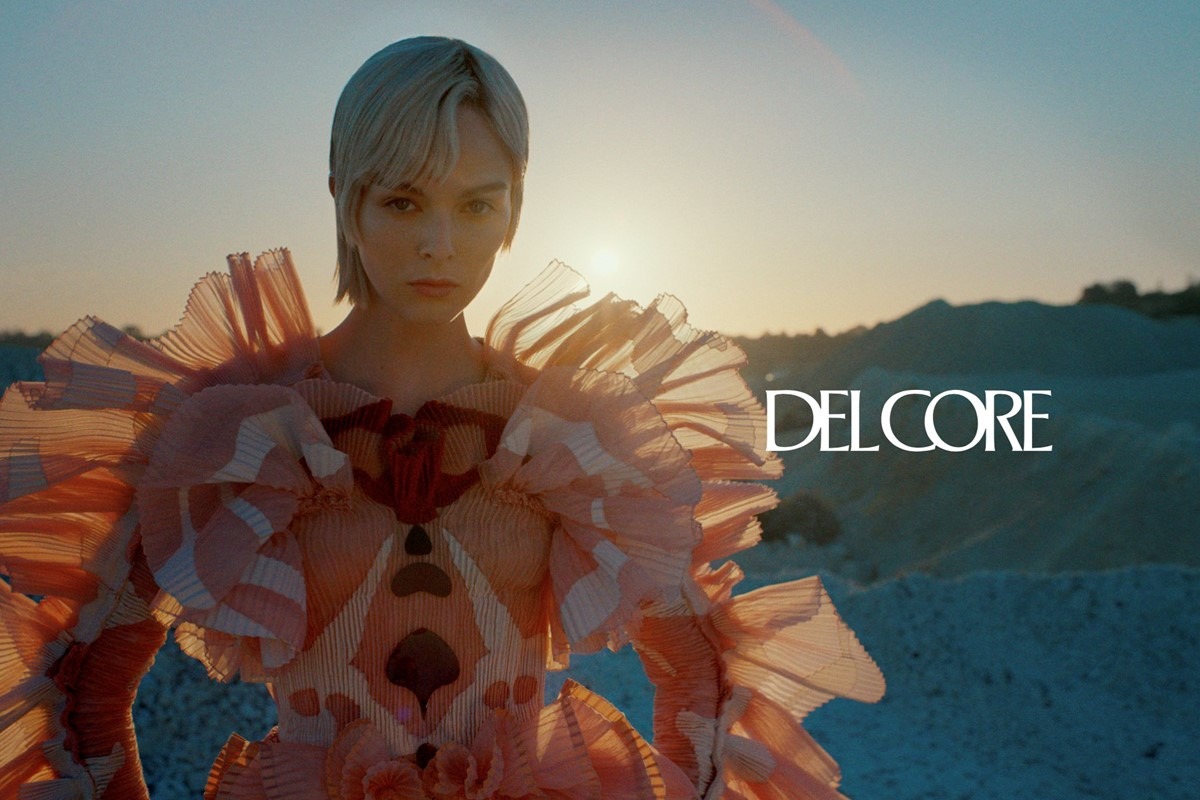 Fly into the fantasy of Del Core's otherworldly AW22 collection
The Italian label celebrates mutant glam and metamorphosis in a celestial campaign video shot by
Charlotte Wales
Campaign
With each new season, the House of Del Core sheds its mutant skin to make new: a luxe lusus naturae, the aphid aesthetic. So it's no surprise the AW22 collection was inspired by an encounter that founder Daniel Del Core had with a moth.
"(It was on) a very early morning trip," Del Core explains. "The colours and the shapes are so precise and so perfect, but at the same time so fragile. I almost developed an obsession for these little nocturnal animals, their weaving of fragility and strength. I am taken by mutation as it happens in the natural world. Insects in general are an amazing source of inspiration."
The AW22 collection, Chrysalis Corrosion, explores themes of mutation and seduction. Its artisanal expertise is indebted to the offerings of nature, shown in the collection and Italian brand's continuous attention to detail and innovative craftsmanship – peep the iconic Del Core Mushroom heel or a frog frozen as a gilded metal brooch from the accessories line, or the custom looks like Björk's monstrous orchid couture dress or the hand-pleated dress with delicate, smoke-like lace incrustations made to measure for Florence and the Machine. 
Read More
Wait, is Jordan Peele's Nope alien wearing Iris Van Herpen?
Is Kanye West dumpster diving in Barnsley?
Pamela Anderson and Kyle MacLachlan meet in Marc Jacobs' Heaven
8 rising designers you won't find at fashion week
Charlotte Wales directs the new season's campaign video: a celestially lit, interstellar-set short film Luna. It's the second time Del Core has collaborated with the photographer and image maker, whose ethereal touch has spanned real-life nymphs like Grimes and an array of otherworldly campaigns. 
"There is a deep affinity between her world and mine," Del Core says. "We both share an appreciation of fantasy and sci-fi." In Luna, they welcome us onto an extraterrestrial landscape to showcase the Del Core designs, elevating Del Core's offering of the fantastical yet functional, artisanally expert and artist-led, and always, always mutantly glam. 
Del Core, Wales, and art director David Lane conceptualised the film around the collection's central themes and the idea of a "voyage", as both a road trip and a spiritual journey. The filming process was physically intense, shot over the course of one very cold night chasing down moths, which proved triumphant.
Explaining the concept further, Del Core says: "The attraction I have for moths, in a way, is the same moths have for light: they could fly into fire and die, so strong it is." This is a phenomenon called 'positive phototaxis'. "I'm sure that in one way or another, we all experienced something similar in life, or got burned sometimes," he adds. In Luna, we follow the model on a solo trip, their own fixation and only source of light being a stark, glaring moon – it is the film's co-star, a foil to the leading actor, who is beamed up into the sky and completely transformed in its rays, becoming a new creature. 
The designer points to two looks that crystallised his concept: a sweeping, diaphanous dress modelled on the silhouette of a moth, with the creature's tent-like wings reimagined in sloping sleeves – "the effect is striking, graphic, and full of movement," Del Core explains. Another is the jacquard motif jumpsuit, where the pattern interprets the Daphnis Nerii moth that Del Core encountered on his trip. While devised in Del Core's insect-infested imagination, the collection has been lovingly made in his Milan home. 
Del Core's fave sci-fi film is Ridley Scott's Alien, which he calls "the quintessential alien mutation story". Indeed, some of the collection's individual pieces could clothe both a vengeful Ellen Ripley or a red carpet-walking Sigourney Weaver. He is inspired by cinematic tension, and also heavily influenced by HR Giger's work on Alien: his airbrushed images of human-animal-machine hybrids, and biomechanical style. Diving deeper into his fantasies, Del Core sees Leeloo from The Fifth Element as an artistic muse. "I am fond of her intense physical presence, her energy and sensuality. Wearing the collection she would get yet another power: that of mutant glamour," he says. 
When bringing Del Core's core consumer – one that isn't facing off with monsters, or that has a chitinous exoskeleton and set of antennae – to the forefront the designer's mind, he says he is dressing people that are "independent, outspoken, strong, and bold" in their taste, "yet also sensible and even fragile, a bit like nature can be," he affirms. The Del Core level of devotion to this multiplicity of person, of fashion, and the world itself should inspire your next metamorphosis.