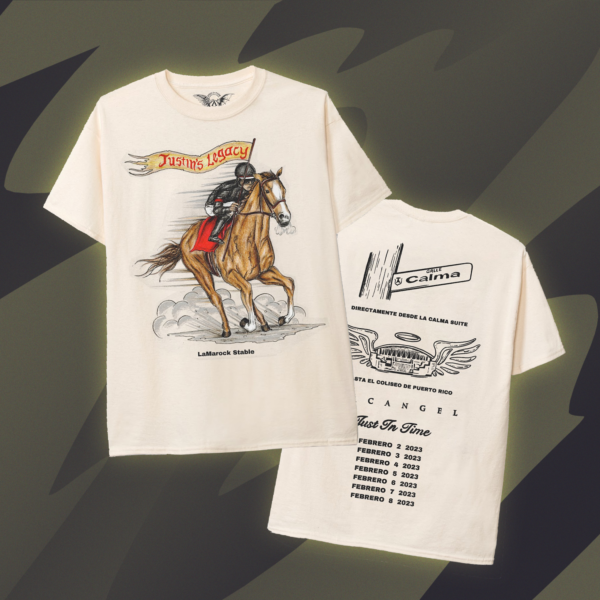 EXCLUSIVE: Arcángel Teamed Up With This Puerto Rican Designer on His Merch
Arcángel is honoring his late brother Justin Santos through his latest merch line. Remezcla has the exclusive first look at Arcángel's tour merchandise designed by the Puerto Rican artist Marcos Alvarado.
Next month, Arcángel will be performing his hits at the iconic El Coliseo in Puerto Rico. The Dominican-American icon kicks off the first of seven sold-out Just In Time concerts on Feb. 2. At these shows, Arcángel's merch, designed by Alvarado, will be available for purchase. Alvaro has previously worked with artists and designers like The Grateful Dead, Virgil Abloh, Juice WRLD, Lil Durk, and Trippie Redd.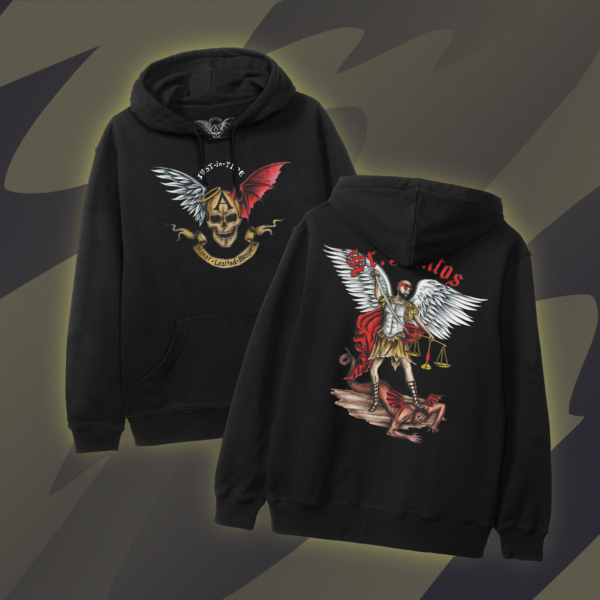 "The mission was simple: create impactful artwork that directly translates the impactful music Arcángel creates," Alvarado told Remezcla. "With the artworks that Arcángel selected himself directly from my Instagram, I knew exactly what direction he wanted to go, which is the same direction I go with all my artwork; The perfect balance between light and dark, love and hate, life and death. Without leaning too much into one or the other."
In Nov. 2021, Arcángel's younger brother Justin was killed in a car accident by a reported drunk driver. Since then, Arcángel has kept Justin's legacy alive through his music, and now with these upcoming Just In Time concerts and merch. One of the shirts features a horse jockey holding a banner that says "Justin's Legacy." Another shirt with the message "Pídeme La Bendición" features Arcángel with angel wings and the chest tattoo he got in honor of his late brother.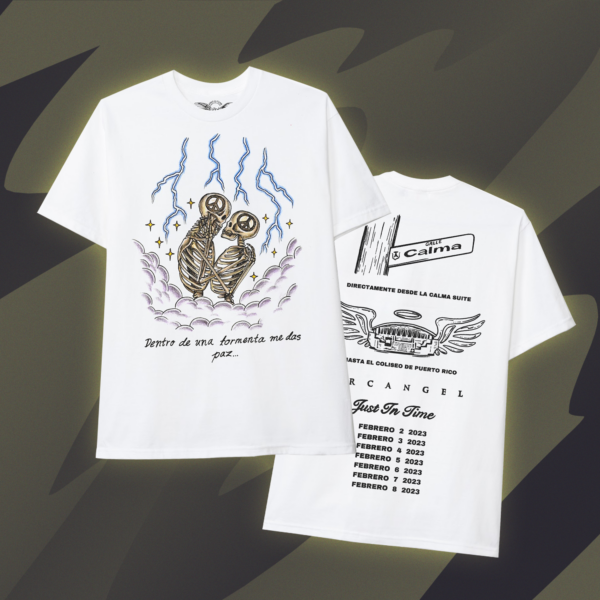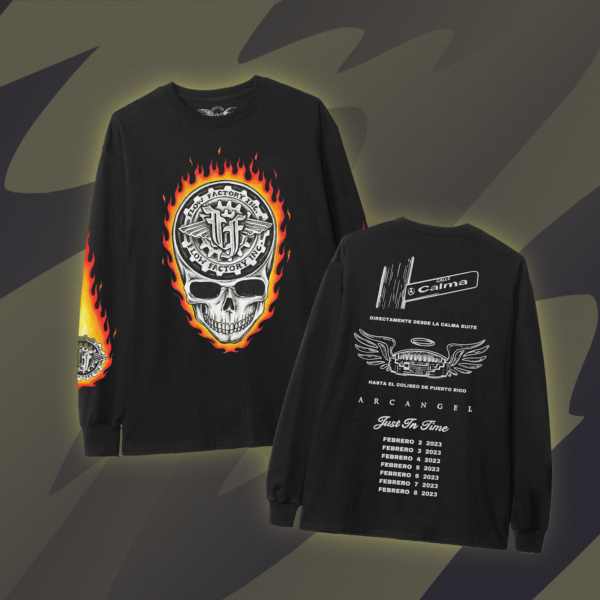 The merch was also made to celebrate Arcángel's latest album, Sr. Santos. One shirt features an illustration of Saint Michael the Archangel. Another long-sleeve shirt was inspired by Arcángel's company Flow Factory with the logo inside of a burning skull.
Arcángel's Sr. Santos album was released last month. The LP includes the hit "La Jumpa" featuring Bad Bunny. Last week, Arcángel released the freestyle song, "Kame Hame."