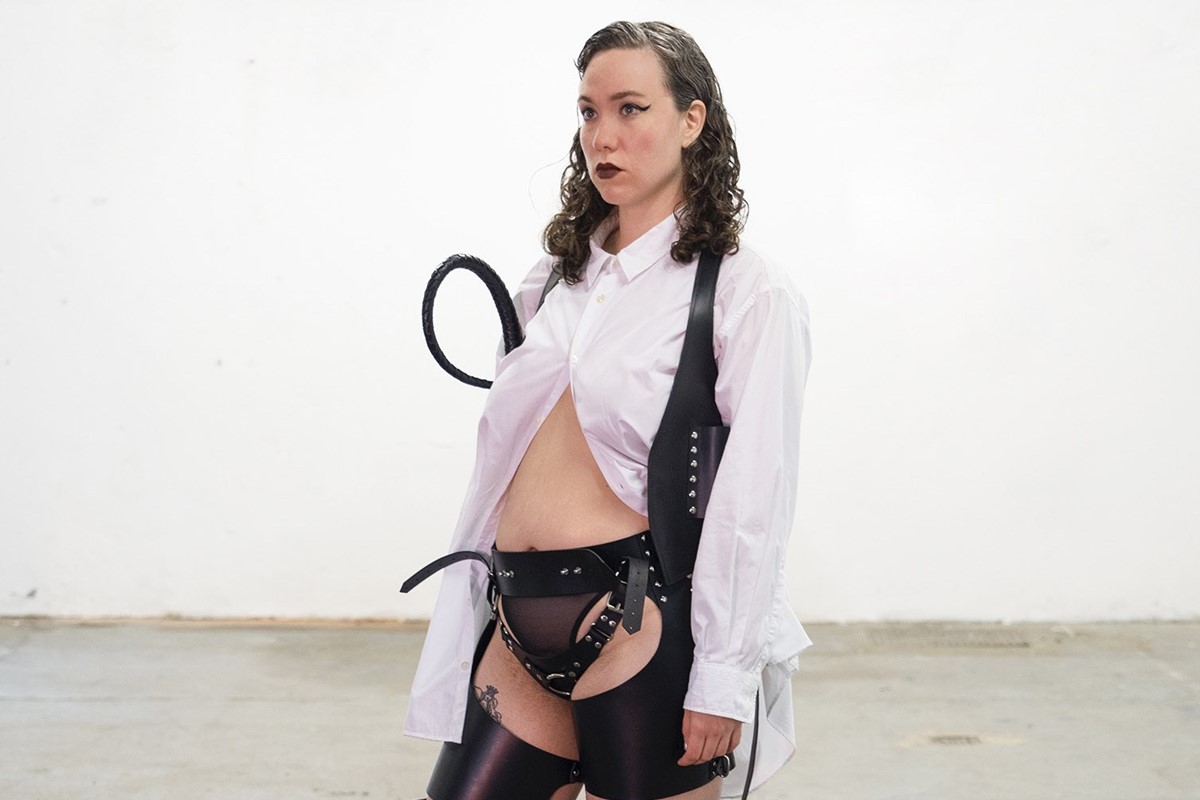 Ella Boucht's latest collection is for butch dykes who pack a punch
Titled FIST, the CSM grad's SS23 offering draws parallels between MMA fights, kink parties, and the
leather scene
Last July, when global lockdowns came to a halt and Captain Tom Moore had taken his final lap around the little garden we know as life, Ella Boucht found themselves fist to fist with a stranger. People responded to the pandemic in all sorts of ways – a psychic break expressing itself through needlework and 1000-piece puzzles – but COVID seemed to stir in Boucht a deep and primal urge to hit someone over the head. "Building up aggression, but turning it inside out and using it as a source of energy and power to keep going," the designer says, describing the root cause of their new collection, FIST. "The idea grew from attending a queer-led, community-run boxing and Muay Thai class, finding a passion for martial arts and being able to practice it within a queer group and space."
There, familiar sensations began to surface; the kind of tensions Boucht had otherwise associated with S&M erotica, London's kink parties and leather dyke communities. "There's a link to consent, where punches and fighting is welcomed," they say. "This is a collection developed from a caring and loving mindset, as well as from a place of 'aggression' and a hungry frustration." As the designer travelled further into the recesses of the queer MMA scene, a host of characters began to shape their work: "Parinya Charoenphol, an incredible trans Muay Thai kickboxer from Thailand, Namibia Flores Rodriguez, a professional female boxer from Cuba, and Pat Manuel, the first transgender boxer in the United States." These individuals, who went from "literal flights to fights against the system" are conjured up in waistcoats, boxer shorts, one-off pieces created from reworked boxing gloves, leather binders, and airbrushed trousers which imitate the aftershock of a punch. 
Read More
Anarchy in the USA: street style shots from New York Fashion Week
Splat! Every single model stacked it at AVAVAV
Kanye West wades into his (flip) flop era
Riccardo Tisci is out, Daniel Lee is in at Burberry
"As in most of my work, sex plays a major role in this collection, influenced by the vast amounts of research I've put into leather, fetish, S&M, and my own erotic desires." Boucht's approach to design has always been powered by this kind of libidinal charge, and is this time embodied by Anastasiia Fedorova – a longtime collaborator of and one third of HÄN – who models a harness-vest, complete with dildo and whip-holders. In an accompanying essay to FIST, Fedorova writes: "It's about the thrill of the fight, but also about the tenderness, mutual care, and community which can be found in these settings." All of this goes "hand in hand," Boucht says, "fist to fist" – making this collection a survey of the literal, and symbolic, struggles that define trans and queer histories. Below, we get to know Boucht on a more intimate, perhaps psychosexual level, as they unclench their fist and reveal themselves as the patient zero of Scorpio culture. 
When did you first become aware of the power of fashion? Did you have a freakum outfit when you were growing up? 
Ella Boucht: Might have been when my mum made me a very flattering cow costume for our school play in 4th or 5th grade. And yes, of course, who didn't? 
Which piece from FIST is totemic of the collection as a whole? 
Ella Boucht: There's a scene in the documentary of Namibia Flores Rodriguez, where she is training in a stunning, abandoned Olympic stadium with a red, white, and turquoise ceiling and stone staircase. That became the starting point of the patchworked, white and black waistcoat suit. It is a hidden homage to her incredible power and relentless dedication to boxing, as a female boxer within Cuba's restrictive laws.
Would you design Liz Truss' next TV look for £5,000? 
Ella Boucht: Never.
What's your weirdest internet obsession?
Ella Boucht: Nerdy DIY Youtube videos or spiralling into the world of the weirdest sellers on eBay.
How has your understanding of and relationship with queerness changed since you first started designing?
Ella Boucht: My relationship with queerness, especially with my own gender and sexuality, has for sure changed a lot since I first started designing and working within fashion. I'd also say my queerness has evolved my design and not the otherway around. It's something that will always influence my work, and is constantly evolving and shapeshifting.
The most embarrassing picture/screenshot on your camera roll?
Ella Boucht: Hidden nudes lol or a messy party picture of my true 17-year-old blond bombshell era in Spain.
The most recent note in your Notes app?
Ella Boucht: The word Testoerotica.
Would you accept an OBE?
Ella Boucht: No comment.
Your favourite cornershop snack?
Ella Boucht: A cucumber.
The worst advice you've ever been given?
Ella Boucht: To be straight.
Who's your nemesis?
Ella Boucht: My bad luck.
What's your star sign and are you typical of that sign?
Ella Boucht: A Scorpio and yes, I'm patient zero ha – driven by sex in all its layers, empathy, and ambition. 
Pettiest thing you've ever done?
Ella Boucht: When me and my sister cut up our dad's newly bought cigarette packs in half and buried them in the ground, while on an island with no shops around. Just because he refused to stop smoking.
What would your ghost outfit be?
Ella Boucht: A bespoke suit in leather.
Title of your biography? 
Ella Boucht: The secret life of Toy: A biography of E.Boucht's adventurous life.