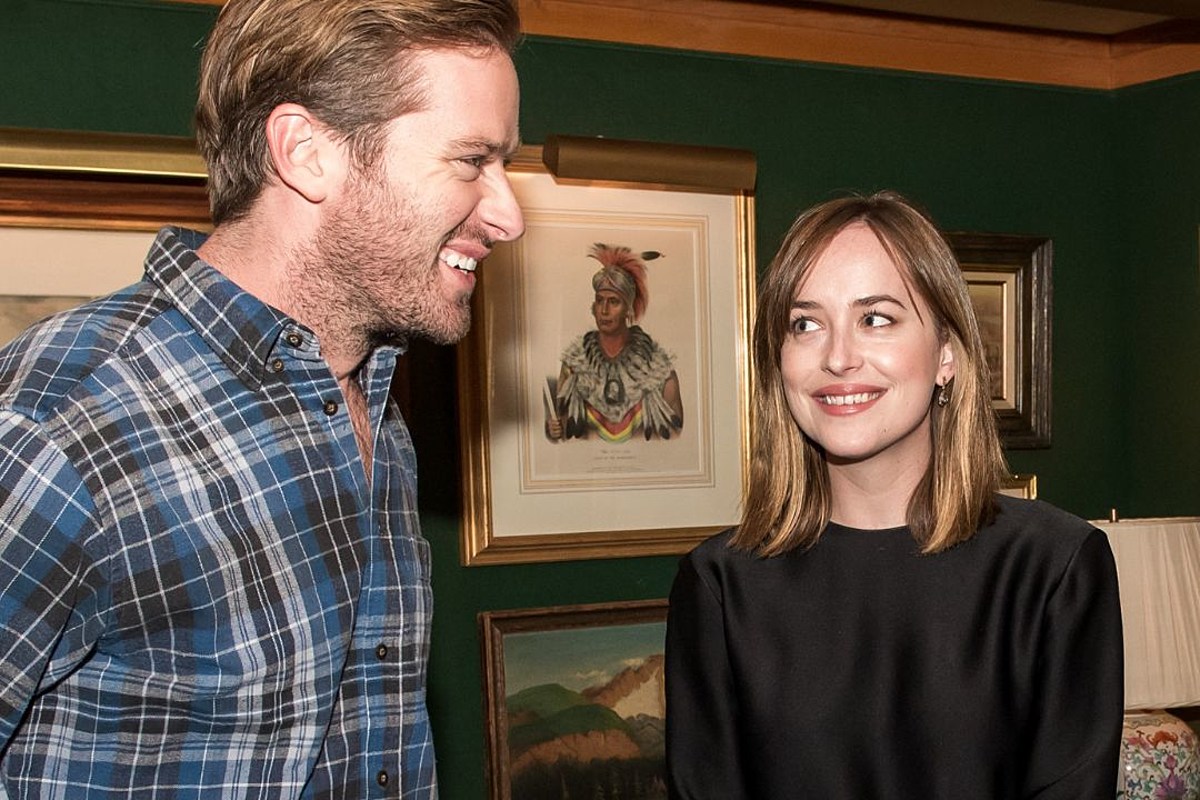 Dakota Johnson Burns Armie Hammer With Cannibalism Joke
Dakota Johnson is earning a reputation for her often hilarious honesty and dry sense of humor (hello, bowl of limes). Her shocking joke about Armie Hammer, which she dropped on stage at the 2023 Sundance Film Festival, is just the latest example.
Johnson was on stage during the Opening Night: A Taste of Sundance event to present director Luca Guadagnino with the International Icon Award.
"It was here at Sundance in 2017 that audiences experienced a film that is uniquely characterized by Luca's iconic approach to storytelling. The vision and the style that is Call Me By Your Name," Johnson began.
"Sadly, I wasn't in that one. It was unfortunate. Luca had asked me to play the role of the peach, but our schedules conflicted," she continued, joking.
And then came the mic drop: "Thank God, though, because then I would've been another woman that Armie Hammer tried to eat," she quipped, giggling amid nervous laughter and chatter from the audience.
"It's been 5 years since that film premiered here, and Luca hasn't stopped taking us to exciting places. Who knew cannibalism was so popular?" the actress continued, referencing Guadagnino's latest film, Bones and All, which stars Timothée Chalamet and Taylor Russell in a twisted romantic horror about two cannibals.
Watch below:
"People were SCARED of laughing," one viewer commented under a clip of the moment on TikTok.
Another viewer pointed out the strong laugh in the background. "The man in the background that LAUGHED FROM IN HIS COOORREEE," they wrote.
"She says what no one is ever ballsy enough to say," another viewer noted.
Notably, Johnson has starred in two movies with Hammer: 2010's The Social Network and 2019's Wounds.
In November 2021, The Hollywood Reporter asked Johnson about her thoughts surrounding the abuse allegations against some of her former co-stars, including Hammer and Shia LaBeouf.
"I never experienced that firsthand from any of those people. I had an incredible time working with them; I feel sad for the loss of great artists. I feel sad for people needing help and perhaps not getting it in time. I feel sad for anyone who was harmed or hurt. It's just really sad. I do believe that people can change," she said at the time.
Johnson doesn't seem apprehensive about sharing her true thoughts.
For instance, the actress famously clapped back at Ellen DeGeneres when the talk show host accused Johnson of not inviting DeGeneres to her birthday party.
"How was the party? I wasn't invited," DeGeneres claimed during Johnson's appearance on her talk show in 2019 clip.
"Actually, no, that's not the truth, Ellen. You were invited. I did invite you, and you didn't come," Johnson replied.
When DeGeneres denied she ever received an invitation, Johnson cheekily told her to "ask everybody — ask Jonathan, your producer."
The interview has since gone down as one of the most iconic pop culture moments ever.
Awkward Celebrity Interactions