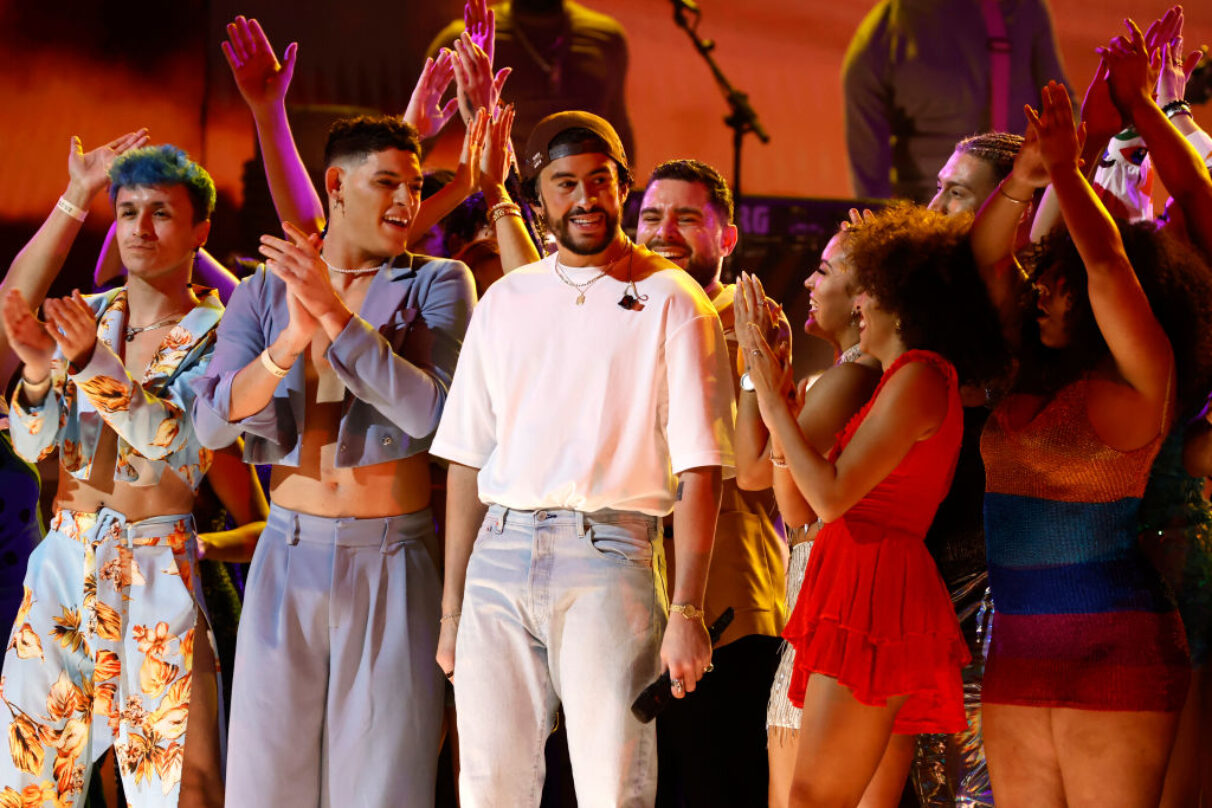 Bad Bunny on 'Speaking Non-English' Grammys Fiasco: "So F*cked Up"
Who could forget Bad Bunny's opening performance at the Grammys this past February? He opened the show with a mash-up of his hits "El Apagón" and "Después De La Playa" from his Un Verano Sin Ti album, bringing elements of his Puerto Rican culture to the audience and stage. But who could also forget when the closed captioning read "Speaking non-English" and "Singing in non-English" during that performance? 
The then-viral moment of that closed captioning opened up a dialog online about the need for subtitles in Spanish during live events. "As a Puerto Rican, Latina, and Spanish speaker, putting "[SINGING IN NON-ENGLISH]" while Bad Bunny (one of the most popular artists in the world) sings in Spanish in a country with millions of Spanish speakers is IGNORANT and INSULTING. Do better CBS," tweeted Remezcla's Trending News Editor Lyra Hale. The New York Times even jumped in on the conversation with the title of their feature on the Puerto Rican superstar. 
Now, Benito is chiming in on the conversation. 
During his cover story interview with Vanity Fair, Bad Bunny was asked about that moment, to which he transparently shared his thoughts. "So fucked up," he emphasized to the publication. He shared that he hadn't realized what happened immediately, stating, "It's ugly to say that I saw it as normal. Then it was like, wow, wait a minute, what the hell? Why don't they have someone? Knowing that I was going to be there.…" 
He added, "I sing for those who want to listen to me and those who understand me."
Benito wasn't the only celebrity bothered, as 50 Cent also spoke up on behalf of the artist days after the broadcast. "The Grammys need to be check about this," the rapper wrote in an Instagram post. "Fvcking @badbunnypr bigger than everybody right now, and you can't pay for closed caption[s]. Wtf is this speaking Non-English. FIX IT !"
More on that Grammys, the interview also reflected on Benito's nomination for Album of the Year — he was the first Spanish-language album nominated for the category. Harry Styles took home the win for Harry's House. "Maybe they weren't ready for a Spanish-language album to win the big prize," he reflected before revealing that he didn't think much of the loss until he saw the backlash. "I didn't even feel like [album of the year] had been stolen from me until the media started saying [it], and I saw that everybody thought I deserved the prize and everybody thought it was a robbery…. That's when they kind of convinced me, and I said, 'Well, yes, it was a robbery then.'" 
Following the backlash, CBS added Spanish language closed captioning to replays of Bad Bunny's Grammy performance, and they had updated the West Coast primetime rebroadcast that same night.