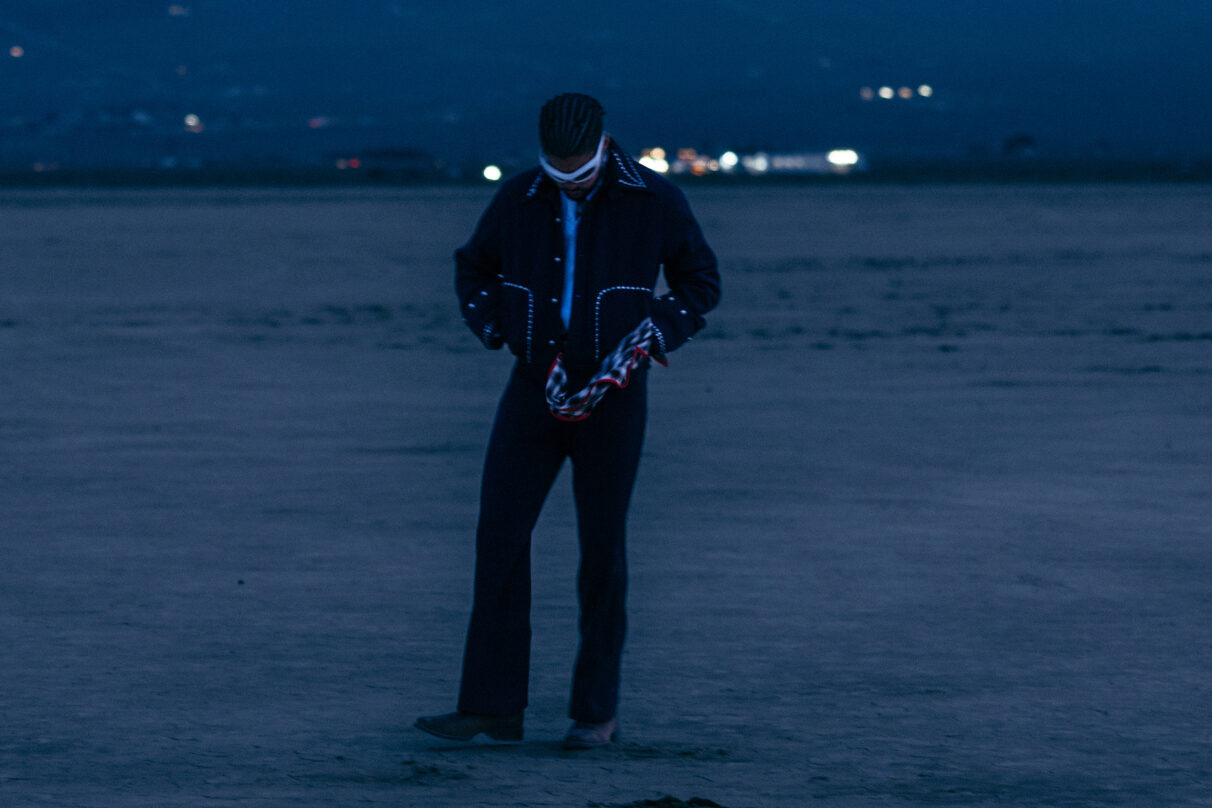 Bad Bunny Kicks Off Summer With New Song "WHERE SHE GOES"
Bad Bunny's officially back — well, solo-wise. On May 18, the Puerto Rican superstar released "WHERE SHE GOES," a jersey club dipped into-dembow banger produced by MAG and engineered by La Paciencia. The music video features quick cameos by Frank Ocean, Dominic Fike, and Lil Uzi Vert. It also features the Brazilian fútbol player Ronaldinho and Afro-Brazilian model Juliana Nalú.
The music video, directed by long-time collaborator STILLZ, takes place in the Californian desert. It shows Benito wearing his now signature cowboy belt buckle and boots combo, looking over the lonely desert. The video follows Benito driving a car as the beat speeds up. At the same time, we see horses racing through the desert, emphasizing the song's BPM. In another frame, he arrives at a largely deserted Burning Man-like bonfire, surrounded by a crowd of party people. After the sensual get-together alongside the fire, he wakes up alone in the middle of nowhere. He ends the video with a billboard that reads "NADIE SABE…," which could hint at more music on the way or serve as a hidden message to his fans. 
There are also some possible easter eggs in the music video referencing Kendall Jenner, who he has reportedly been dating and seen out with on multiple occasions. The video includes clips of a woman with white lingerie and angel wings; Jenner is a former Victoria's Secret Fashion Show Model and wore a similar white ensemble with wings for Halloween in 2018 with her sisters. There are also a few shots of horses in the video. Jenner, a self-proclaimed long-time 'horse girl,' was captured riding horses with Bad Bunny in early April.
Fans are thrilled about Bad Bunny's solo comeback. A Twitter user wrote: "WHAT A GREAT SONG X DIOOOOS I NEVER GET TIRED OF SAYING IT, BAD BUNNY IS THE GOAT OF IT ALL." Another Twitter user said: "I came with all the intention of not liking it, but this song is really hard hahahahaha, I LOVE YOU FCKING BAD BUNNY."
This is the first single following the successful release of Un Verano Sin Ti. Recently, Benito has dropped a surprise norteño cumbia collaboration, "un x100to" with Grupo Frontera. He was also part of Eladio Carrión's latest album with "Coco Chanel." 
Despite saying he was taking a break this year, Benito has remained busy–and in the public eye. He made history as the first Latine headliner at Coachella in Apr., made a stunning appearance at the Met Gala, and WWE's Backlash. Though we don't know what's next, we hope it's more music to soundtrack our summer.
Watch the official music video for "WHERE SHE GOES" below.