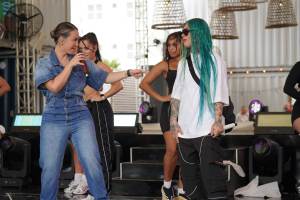 5 Best Highlights From the 2023 Premios Juventud Rehearsals
The 2023 Premios Juventud is set to celebrate its 20th anniversary on Thursday (July 20, live from the Coliseo Jose Miguel Agrelot in San Juan, Puerto Rico. 
With the theme of "Exprésate a tu Manera" (Express Yourself Authentically), this year's fan-voted awards show is lead by nine-time nominees Bad Bunny, Becky G, Grupo Frontera, Maluma, Peso Pluma, Rauw Alejandro, Rosalía, Shakira and TINI. They are followed by Camilo, Karol G, Manuel Turizo and María Becerra who are each up for eight awards. 
Additionally, Shakira and Camila Cabello will receive the special "Agent of Change" award, joining past honorees including Jesse & Joy, Maluma, Daddy Yankee, J Balvin, Kany Garcia, Jenni Rivera Foundation, Ricky Martin, Becky G, Pitbull, Juanpa Zurita, and Wisin y Yandel. 
Co-hosted by Angela Aguilar, Marcus Ornellas, Alejandra Espinoza, and Dayanara Torres, Premios Juventud will begin airing at 7 p.m. ET on Thursday, July 20, with the "Noche de Estrellas" red carpet special, followed by the awards ceremony at 8 p.m. ET. Both will air simultaneously on Univision and ViX.
Prior to the show, Billboard hung out at the rehearsals backstage, and got some highlights. Check them out below: 
PJs Returns to Puerto Rico
On its 20th anniversary, Premios Juventud returns to Puerto Rico for a second consecutive year—2022 was the first year the awards ceremony ever left Miami. "Last year was great and we could identify the quality of service and resources," Jose Morales, SVP of Talent & Consumer Engagement at Univision Communications Inc., said during a press conference of El Choli. "The team at this venue treated us at a high altitude that we had to return, also because of the diversity of scenarios that Puerto Rico offers." 
Angela Aguilar Debuts as Host
Angela Aguilar, a four-time nominee at the 2023 Premios Juventud, will not only perform a new song from her upcoming album but she will also be a host, marking her TV host debut. "I've had the opportunity to come as a singer but this is a new facet," the Mexican singer said backstage, ahead of showing her admiration to her co-hosts. "More than advice, I learned from their examples. They're confidence, elegance, enjoyment, and how they handle themselves with so much class."
A Reggaeton Throwback
Most of the night's performances are top secret but during rehearsals, a wave of reggaeton veterans stopped by to give interviews. Among some of the confirmed performers are Jowell y Randy, Angel y Khriz, R.K.M y Ken-Y, and Alexis y Fido—all which are emblematic duos. Other iconic urban acts include Wisin, Chencho Corleone, Zion y Lennox, and De La Ghetto, to name a few. "We can't share much but the opening act is going to be super Puerto Rican," Morales noted.
CNCO's Last Rodeo
Backstage, the media got a first look at some of the 2023 performances, including a glimpse of CNCO's show. A bittersweet moment, this will mark CNCO's last Premios Juventud show as a group. In 2022, it was at this very stage that the Latin boy band announced they were disbanding after seven years. "We always thought that if we split, it had to be natural, and that's how it happened," Zabdiel De Jesus told Billboard. "We've lived many things together, and grew together in this industry, and we're ready to try new things to expand our careers. We're very excited." CNCO is nominated for three awards at the 2023 awards including favorite group or duo of the year, pop track of the year with "La Equivocada," and best pop album for XOXO.
20 Years of "The Reason"
On other nostalgic news, Hoobastank is also set to take center stage at the 2023 Premios Juventud. During rehearsals, the California-based band did interviews with Venezuelan tropical-pop star Jonathan Moly to talk about their joint performance. Both Moly and group will surprise viewers with a new salsa-fusion of the timeless single "The Reason," which like Premios Juventud, is celebrating its 20th anniversary.