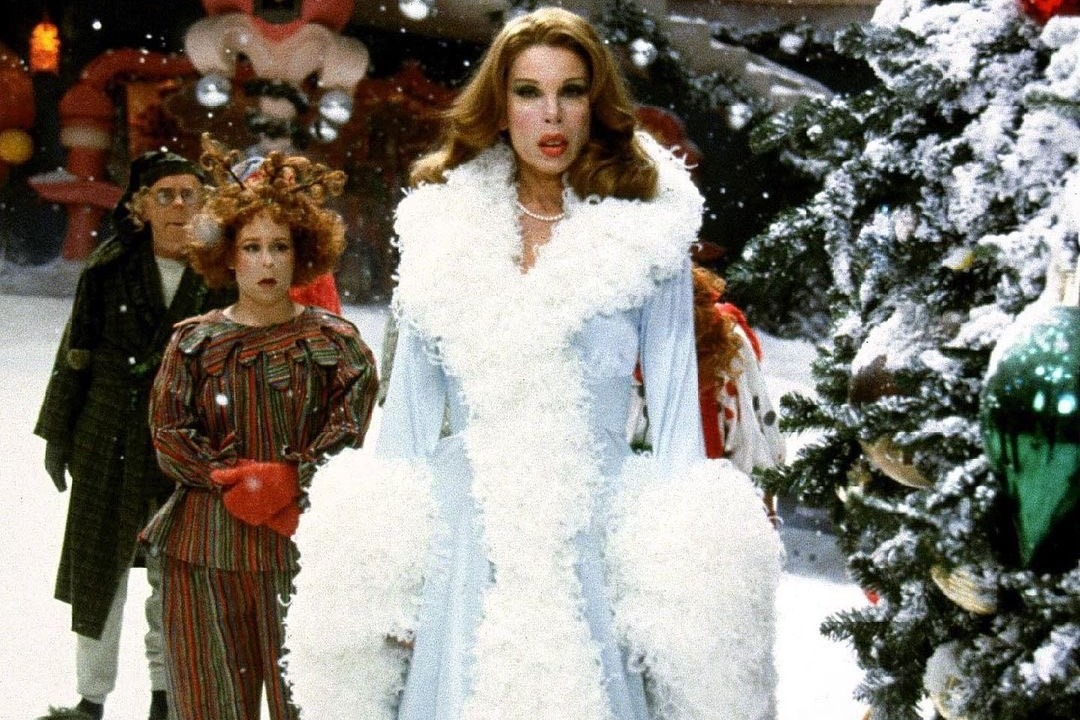 10 cult film icons as camp as Christmas itself
From Christine Baranski to Nicole Kidman, cinema has reimagined the yuletide as something it will never be: raunchy, dangerous, and laced
with glamour
Nothing chic about Christmas in the UK. The supermarket jumpers, the novelty socks, the matching pyjamas, and the fuzzy slippers. The Boots gift sets and Matchmakers. The general Bake Off energy of it all. Baileys. Actually, a small glass of Baileys is quite chic. Like caustic old women or pre-teens who steal a bottle from the kitchen and then get sick all over their Brandy and Melville tops as if they'd been drinking moonshine. As you age, however, "chrimbo" is really an event for middle-management to roll up their sleeves, get a secret Santa spreadsheet on the go, and make jokes about their weight-loss resolutions starting next year (haha). Thankfully, though, cinema has reimagined the yuletide as something it will never be – raunchy, dangerous, and laced with glamour. 
It's the difference between Winter Wonderland in Hyde Park and Winter Wonderland, the 1946 film by Bernard Vorhaus. It's no wonder that so few designers have referenced Christmas on the runway, either. In many ways, the festive season is the antithesis of fashion. It's sluggish, traditional, and overly nostalgic, characterised by a great void-like hole that spills over until the new year. Those days can be stagnant, inert, and blurred in sameness, which are the very feelings that fashion seeks to avoid. Pop culture would suggest otherwise, of course, with Hallmark fantasies of reunited families and snow-capped Cotswolds cottages painting a portrait of suburban idyll. But in reality, returning home can feel anticlimactic, like Patti LaBelle calling for some background singers to no absolutely no avail. Snot-coloured Puddle Boots and Chopova Lowena carabiner-kilts might feel right in London Fields, but back home, they often feel ten sizes too big.
Famous people have made some honourable efforts to boost the Christmas spirit, though, like Destiny's Child who used to wear a trifecta of babetastic fur-trimmed looks, handsewn by Tina Knowles, or Lady Gaga, who once attended Capital's Jingle Bell Ball with a small holiday fir sprouting from her head. Speaking of Gaga, isn't House of Gucci a Christmas film? The wrought Catholicism, mink hats, and gaudy Sunday best frocks do seem to speak to the whole "camp as Christmas" thing. And lest we invoke the spirit of Ebenezer himself, there are plenty of other Tinseltowners who have given the gift of glitz. So from Christine Baranski in The Grinch, to Dolly Parton in A Smoky Mountain Christmas, and Nicole Kidman in Eyes Wide Shut, these are the cult style icons to get you through the holiday season.