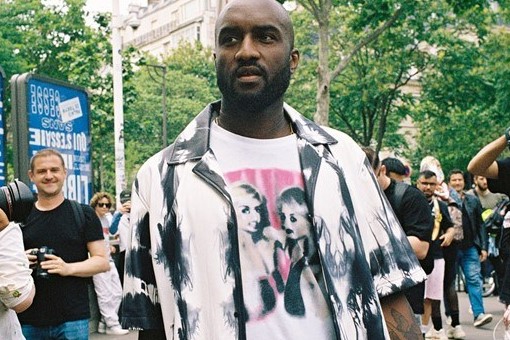 'You can do it too': Virgil Abloh's most powerful quotes
In the wake of the boundary-breaking designer's passing, we revisit some of his most
inspiring sentiments
A life lived with purpose, intellectual curiosity, and humility is one that will undoubtedly impact the lives of others after even the most fleeting of encounters. It came as no surprise, then, that following the sudden passing of Virgil Abloh, individuals from all walks of life began sharing accounts of his humility, kindness, and grace. 
The Off-White founder and Louis Vuitton artistic director, who influenced almost every corner of popular music, fashion, and thought in some shape or form, had been quietly fighting a rare and aggressive cancer following a 2019 diagnosis. His relentless impact over the last two years suddenly made more sense than ever, from establishing a scholarship fund for Black students, to launching the 'I Support Black Women' campaign with Black feminist activists and scholars. Abloh was acutely aware of his position in fashion as a Black man, going to great lengths to champion young talents like Samuel Ross and rising British streetwear brand Corteiz.
Read More
Ugly Big Thing: fast fashion brand PLT introduces a 100% discount
George at Asda announces a sale of… archival Gucci?
Inside the new exhibition unpicking Amy Winehouse's bombastic style
Kim Jong-un bans leather coats to stop citizens stealing his drip
As much as his talents and barrier-obliterating accomplishments were mentioned, many tributes pointed towards the tenacity of a man who had, over the course of a decade, worked his way up from an intern at Fendi to helm the biggest fashion house in the world. Working closely with fellow Fendi intern Kanye West from 2010, Abloh went on to serve as artistic director for West and Jay-Z's Watch The Throne album, designing a cover that would win him a Grammy. Soon after came the short-lived 'artistic experiment' Pyrex Vision – the first instance in what would be a career that championed, defined, and irrevocably altered youth culture and streetwear, before he founded Off-White in 2013.
To champion streetwear in the circles that he did, and push it to the heights that he did, was a risk that paid off. "In a large part streetwear is seen as cheap. What my goal has been is to add an intellectual layer to it and make it credible," he explained in a 2016 interview. As somebody who wasn't a 'traditionally trained' fashion designer, taking the uniform of the young and often Black working class and reimagining and repackaging it was no small feat. Abloh blazed a trail for a renaissance that would lead the likes of Balenciaga to follow suit and laser focus on streetwear.
"You know who I am most inspired by? That kid that hasn't had the chance to showcase their brand yet. Those kids motivate the work I do every day. That's the muse for me: the next generation. And I want my work to inspire people like them" – Virgil Abloh
Abloh was youth culture personified, a modern-day archivist who worked almost exclusively off his phones and iPad, who took inspiration from kids on Instagram as much as he did Impressionist artists. A DJ and a director who used his creativity as well as his platform to showcase subgenres from every corner of the world. A Ghanaian-American man who drew inspiration from his own Chicago roots, as well as the Volta region of his ancestors – a delicate balancing act many first-gen immigrants will know.
His life and career leave behind a legacy of risk-taking and forward thinking, of limitless ambition that can take anybody anywhere beyond their wildest dreams – even a 17 year old from Chicago. A legacy of collaboration and homage as well as independent thought, even amidst derision and doubt. Abloh taught us that we can, and should, co-sign ourselves even when nobody recognises your credibility, because soon enough they'll be following.
Below are some of his most inspiring, powerful quotes. Rest in power Virgil Abloh, 1980 – 2021.
"I'm not made for a podium, but I'll design a podium that ushers in systemic change."
"Life is collaboration. Where I think art can be sort of misguided is that it propagates this idea of itself as a solo love affair – one person, one idea, no one else involved."
"Black influence has created a new ecosystem, which can grow and support different types of life that we couldn't before."
"Life is so short you can't waste even a day subscribing to what someone thinks you can do versus knowing what you can do" – Virgil Abloh
"You know who I am most inspired by? That kid that hasn't had the chance to showcase their brand yet. Those kids motivate the work I do every day. That's the muse for me: the next generation. And I want my work to inspire people like them."
"Any person you can cite: Steve Jobs, Karl Lagerfeld, Michael Jordan – they are not common names because they did it nine-to-five. There are people on Earth that dedicate themselves to their practice or whatever. I've always been like that."
"Life is so short you can't waste even a day subscribing to what someone thinks you can do versus knowing what you can do."
"I feel like I'm figuring things out, but I don't feel accomplished yet. I still feel like I'm an intern."
"Imagine if I really believed I was taking 'fashion' and turning it on its head. That to me is easy. You can be a disruptor but it doesn't mean you're any good. All I'm trying to do is create things that are indicative of my surroundings and the community that I come from, so that more people can do them."
"I feel like I'm figuring things out, but I don't feel accomplished yet. I still feel like I'm an intern" – Virgil Abloh
"In some ways, my life has been one big performance art project, it's not me at the centre stage but rather suggesting ideas, working on them, helping an artist share them with the world and watching the response – using that mood and feel to influence and inject new ideas."
"Everything I do is for the 17-year-old version of myself."
"You can do it too."