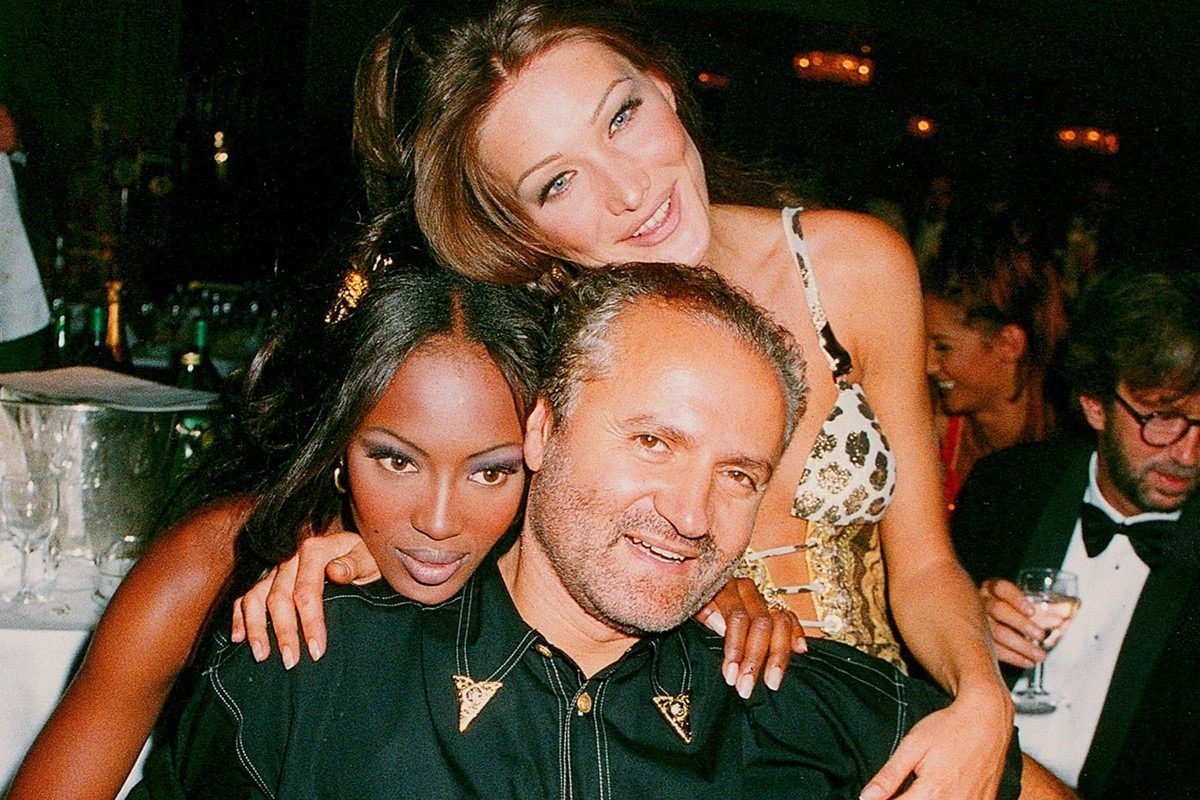 Why Gianni Versace is still a red carpet ringleader
On the 25th anniversary of his tragic passing, we revisit some of the genius designer's creations, revived on the backs of Bella Hadid, Kim K, and
Lady Gaga
It's almost impossible to read about Gianni Versace's assasination without the added description of "on the steps of his Miami mansion". That even the darkest moment in Versace's history was laced with glamour is testament to the way in which the house pushed luxury fashion into the spotlight. It was horrifying – and heartbreaking for those who were touched by Gianni's genius – but the image of his own blood trickling from the palazzo's iron-clad gates was a moment that even cinema would struggle to cook up. During the label's SS98 show, which had been staged just three weeks prior to his murder, Naomi Campbell stalked a lucite catwalk with a shotgun clasped in outstretched arms. 
It was a prophetic twist seemingly plundered from Greek tragedy, with Medusa's shriek frozen into fashion history. In his flirtations with S&M, statuesque metal mesh, brash Rococo prints, and Warholian showpieces, he was as innovative and revolutionary as Gabrielle Chanel and Cristóbal Balenciaga. But it was Gianni's coalescing of fashion and pop culture that continues to lay the blueprint for fashion today. He transformed haughty couture salons into a global circus, lining his front rows with the likes of Prince, Madonna, and Tupac. And then there were the supermodels – Naomi, Christy Turlington, Linda Evangelista, and Cindy Crawford – who formed a traffic-stopping pantheon both on the runway and in legendary advertising campaigns shot by Richard Avedon and Steven Meisel.
Those images – breathlessly rehashed even today – have secured Gianni's legacy for a new generation of fashion fans. But it would be remiss not to mention Donatella, who, in forging her own path, has erected a monument in his memory. Two decades after Naomi's stint as huntress, the designer debuted a triumphant collection in which she unabashedly referenced the house's past. As models marched in formation, a disembodied voice rang overhead, "this is a celebration of a genius / this is the celebration of an icon / this is a celebration of my brother / imagine a world without his risk-taking / his innovative genius / and above all / his allegiance to women." As the curtain fell, revealing his muses rendered in gold, Donatella and Gianni sent hairs on end, and pop culture into a tailspin. 
It was a prodigious opening of the archives, from which point Gianni's designs began to propagate the red carpets all over again. There was a brief period in 2019 when Kim Kardashian exclusively dressed in his inventions, travelling through 1992, 1996, 1997, and 1998. And with archival scoops an increasing coup for celebrity stylists, Gianni's creations have been reincarnated on the backs of Zendaya, Lady Gaga, Dua Lipa, and Bella Hadid, among so many others. Twenty-five years since his untimely passing, the Versace name is just as weighted as it's ever been, its women born and reborn again, but always in Gianni's making. Below, we take a look at some of the late-designers monumental collections through their most recent protagonists.