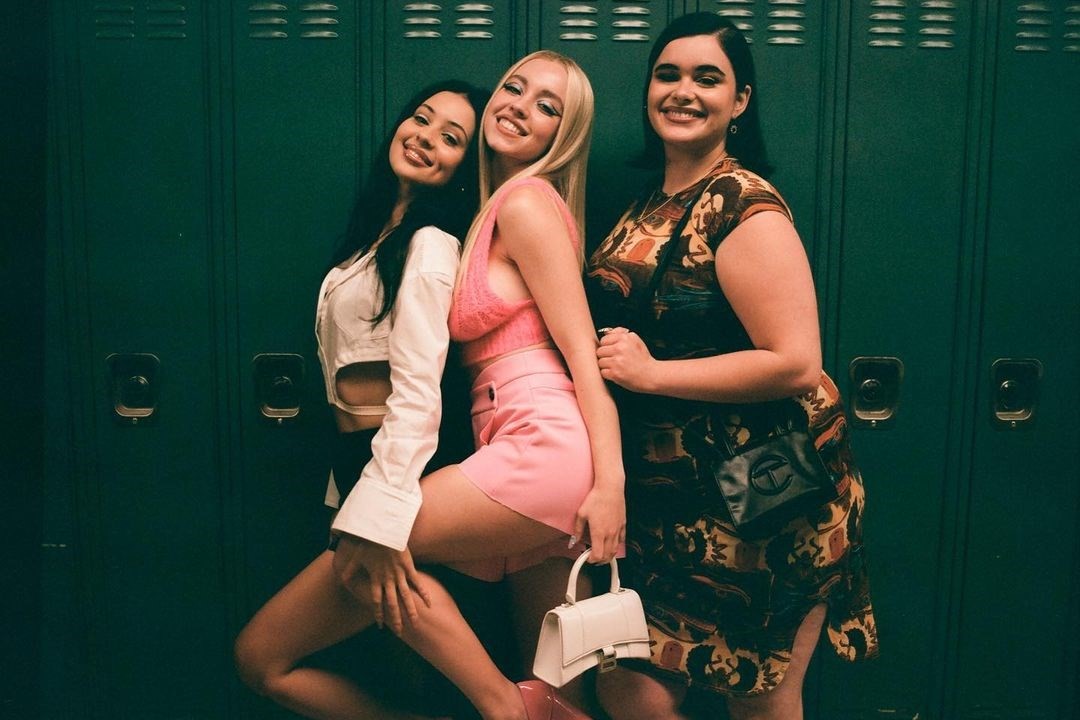 Why Euphoria's costume designer said 'fuck it' to realistic fashion
Heidi Bivens talks armchair critics, runway doppelgängers, and leaning into sexy,
salacious fantasy
Euphoria is contemporary culture's answer to Sex and The City. Not because of its plotlines and thematic crossovers, but because of the alchemic way in which fashion binds itself to storytelling, searing its characters into the zeitgeist with a branding iron. Who can forget Alexa Demie storming through season one's carnival in a sinuous I Am Gia two-piece, Hunter Schafer throwing herself into a phosphorescent swimming pool dressed as Baz Luhrmann's Juliet, or Sydney Sweeney screaming "I have never, ever been happier" while dressed in a buxom prairie dress, like an extra from Oklahoma. Just as Euphoria's make-up artist, Doniella Davy, has emboldened an entire industry of graphic eyeliner and stick-on diamantes, Heidi Bivens, its costume designer, has launched a thousand Shein and high fashion knock-offs.
Throughout all of these looks there remains true guile in the show's engagement with fashion. Mapping the melodrama of each character's personal lives (breakups, addiction, cybersex) onto their outfit choices. As the story unfurls and Cassie deteriorates, the actor pinballs between disparate personas – Lolita, Maddie 2.0, skanky Barbie – in a desperate attempt to attract her love interest's gaze, underscoring just how little she knows herself in the process. Queen bitch Maddie, meanwhile, begins to manifest a life beyond the school walls, slipping into vampy, archival fashions. Yet no matter how deep these characters' trauma, they exhibit a cold-blooded sense of style, plucked from runways, designer archives, and the – extremely good looking – actor's personal wardrobes. When fashion is placed under the blinding heat of entertainment and celebrity in this way, it births a pop cultural diamond.
Read More
Milan Fashion Week, these were your best bits
London Fashion Week, these were your best bits
8 creatives explain how 'micro-moments' helped them find inner peace
Spotted! Nicki, Marc Jacobs, and Heaven in a Minaj à trois
Bivens, who started her career as a journalist before moving into styling, is trained in still photography and knows how to make a striking fashion image. But social media and the internet have created a new lens for almost all pop culture to be tirelessly analysed, rewarding cynicism before genuine critique. And while the show's over-reliance on aesthetics has been well documented, it's precisely that which has lionised Euphoria as a culture-defining moment. Still, the armchair critics were out for blood, chiding the show for the teenagers' unrealistically expensive and racy designer clothing, hawking relatability over fantasy, as if television had a duty to speak directly to their boring little lives. Gasp! Alexa Demie wears a Uniqlo fleece!  Bivens, on the other hand, is quick to remind us that "Euphoria is its own world. East Highland High does not exist. It's not a real place."  
With 19 million people tuning in to watch season two of Euphoria, Heidi Bivens has become one of the most important, and contested, image makers of our time. Below we talk to the costume designer on internet theories, runway doppelgängers, and saying 'fuck it' to realism.
Hey Heidi! I was going to start by asking where you drew inspiration for this season's costumes, but then I read that you used to dress in knee-high socks and style your hair in Björk buns to go to class. 
Heidi Bivens: That was something I was BULLIED for in high school. When I first started doing research for the show, like going to actual schools, teens were all dressing the same. Pretty basic and kind of normcore. It wasn't exciting. But in the past few years young people seem to have embraced the idea of dressing in more individual, eccentric ways. That's a positive thing. Kids are expressing themselves and I think there will be less bullying because of that.
Every person on Euphoria has such a distinct sense of style. Beyond that being a useful narrative device, it reflects a wider trend in fashion where everything is trending at once and you can quite literally choose your own character. 
Heidi Bivens: What I'm really interested in is the psychology of how friendship groups form and then start to dress alike. It's all about exploring style tribes among young people. That's something that I wanted to do within the show, using groups of background extras styled like a little tribe, but that never made it onto the screen, it was just too complicated, so we abandoned that idea. We did express that with Ru, Elliot, and Jules, though. Their silhouettes ended up being super similar, as if they were constantly sharing or swapping clothes. 
I feel like there was some intertextuality going on between Chloe Cherry's character (obsessed) and Jules too? Obviously they never crossed paths but it looked as though Faye was dressed in Jules' season one tennis skirts and Sailor Moon crop tops. 
Heidi Bivens: For sure. It naturally happened because Jules' looks from the first season were all inspired by the world of anime and the character of Faye was inspired by Faye Valentine from Cowboy Bebop – the central image on my moodboard was an illustration of her wearing the Nike Uptempos. So that's a direct reference. It's coming from Sam's brain and he loves anime so there were similarities between the two characters – I didn't mind that because they never came across each other. Plus, Jules in the second series is moving away from the hyper-femme. 
And then there's Cassie, who's leaning full tilt into her femininity. Her fashion arc is like a jagged line. How was her descent into madness told via fashion?
Heidi Bivens: Well I knew that there needed to be a succession of looks that needed to get progressively more desperate and you barely even see the first couple of outfits – just a shoulder or something. It's not really until you see Cassie dressing as Maddie in the school hallway that you actually see the full picture. 
What a moment. 
Heidi Bivens: I knew that while we were building on the desperation, we also needed some comic relief from that scene. We can poke fun at her but I do care about Cassie and so does the audience. She had been waking up so early and doing all these extreme beauty regimens so I was very aware that we needed to be gentle with her. We're rooting for her. I leaned into the comedy up until the bathroom scene where she's wearing that crazy outfit – that makes her look like she's auditioning for Oklahoma – but I didn't want her to look like a fool. She's in love, confused, and all these different looks just underscore how little she really knows about herself. 
Maddie's crown, meanwhile, was beginning to slip. It was as though she was losing her power. What was your intention with her costume this season?
Heidi Bivens: Even though you see Maddie all season it's as if she's not really there. In her mind she's living her next best life. She may have experienced trauma with Nate but she's ready to get out of that school. She's outgrown the whole situation but is stuck. That's reflected in her relationship with Samantha, who she babysits for, who seemingly has it all. She's rich, married, and has a kid. And Maddie is manifesting all of that. So having her dress a little darker, more vampy and mature, signifies her mourning her relationship with Nate while having shifted elsewhere.
And did you see the Miu Miu versus Prada theory online?
Heidi Bivens: Oh my god, no! I love these theories. Tell me. 
So Mandy Lee (TikTok's @oldloserinbrooklyn) argued that dressing Lexi in Miu Miu and Cassie in Prada was some kind of metaphor for their relationship and rivalry – Lexi being the quirky, upstart little sister and Cassie being the glamorous, main event. 
Heidi Bivens: I mean, yeah. On a very subconscious level that makes total sense and things do happen subconsciously in the creative process because so much of it boils down to gut. You know, I'm asked about my process so much and sometimes I just don't know how to explain it – it's an instinct, a reaction to what's on the page, and then it becomes a collaboration with the cast member once they're in the fitting. 
You really begin to grapple with your sexuality as a teenager but were there times when you felt like you had to pull back on the character's more salacious outfits – considering these are literal school kids? 
Heidi Bivens: Dial it back? Yeah, well, it's funny. I thought so during the first season. I remember there was one scene where Cassie is walking across the gym auditorium. She's wearing a Realisation Par dress and my set costumers didn't tie it properly in the back so it wasn't hoisting her chest in the way it should have. It just made it way sexier than I had anticipated and there was just a lot going on. 
Sam came to me after that scene and said 'we can't put Cassie in anything like that again' and at the time I thought I did something wrong. I'm a woman putting a female in something sexy so, to me, it's the female gaze. Free the nipple. I'm okay with being provocative. But as a male director, Sam was more a little more conscious of how it could be construed. With the second season we realised that the audience were just ready for us to push all the boundaries – we were all energised by the positive response of the first season and went from our gut. 
"I'm a woman putting a female in something sexy so, to me, it's the female gaze. Free the nipple. I'm okay with being provocative" – Heidi Bivens
Are you fed up with people questioning why these teenagers are wearing designer clothes that, realistically, they could never afford? 
Heidi Bivens: Oh fuck it! I was so sensitive to all of those comments during the first season. I didn't want anyone to be able to say a character couldn't afford something without me having a backstory as to how they got that piece of clothing. I was very cautious. Kind of like the way I approached the movie Mid 90s with Jonah Hill. Every single piece of clothing in that film I made sure existed in that year of the story so that no skateboarders could come out of the woodwork and call me out.
But in the second season of Euphoria I was just like 'come on, this is not reality'. Sure the show deals with real issues but Sam had given all of the departments permission to break any preconceived idea of what we thought the reality of the show was. By episode five we're really going back and forth between dream worlds and, at times, we didn't even know what was meant to be real. Sam would just add scenes in, especially with the play, which would cross over into internalised dream sequences, the actual plot, and the dramatised version. That just gave us licence to do whatever we thought made sense. Euphoria is its own world. East Highland High does not exist. It's not a real place. 
Is that why Ru, who is in desperate need of money to fund her addiction, still wears Aries, Bode, and vintage Jean Paul Gaultier?
Heidi Bivens: I remember trying to figure out what Sam wanted from the costumes before we shot the pilot. At one point, he just interrupted me and said 'I do not give a fuck about reality' and that one sentence was my driving force for the entire show. 
The show's fashion is beginning to have an impact on the real world. Have you seen your work crop up elsewhere?
Heidi Bivens: It would be sooo presumptuous of me to take any credit – all these trends were already at play and I just had the chance to house them within a show. 
But actually on the AW22 Coperni runway, which was surrounded by school lockers, Lila Moss wore a baby blue bodycon that looked like it could have been from House of CB (which is a compliment) and her hair was poker straight – she was Cassie. 
Heidi Bivens: Amazing! I'm influenced by Coperni and use their stuff on the show. I'm just glad I can be part of the conversation. That might have happened without Euphoria but to feel like the look of the show has reached some kind of zeitgeist level… I am ecstatic.
All eight episodes of EUPHORIA Season 2 are available to buy across all major digital platforms.