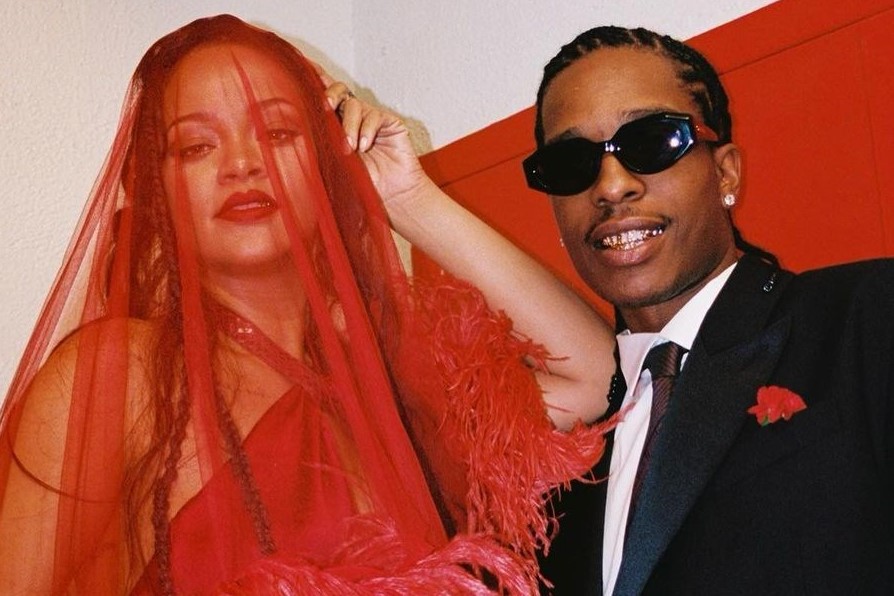 Who are ya!? A$AP Rocky is now a Stella-swilling football lad
… and more fashion news from
this week
In his new music video for "DMB", A$AP Rocky does the "Come on Eileen" dance and drinks Newcastle Brown Ale from a dimpled pint glass before stumbling home to Rihanna and fixing his face into a smile that says "marry me"…
… Kind of. Beyond all the Louis Vuitton and Stefan Cooke, the Harlem-born rapper appears to have moulded himself into the shape of an Engerlish football lout, wearing a Phipps reproduction of a Manchester United shirt with Eric Cantona's name emblazoned across its back. Here is that moment immortalised:
Albeit rhinestoned, the whole thing chimes with a supposed "Blokecore" movement that is happening on TikTok. I was worred I might perish if I saw another fashion trend suffixed with "-core" but I think seeing a Daily M*** article describing how "Gen Z men are ditching the metrosexual look to dress like a dad on the way to a football match," might have actually snatched the last bit of breath from my lungs.
That being said, there is obviously something at play, with even Bella Hadid dressing like she owns a giant Sports Direct mug, which the company has now created in her honour. In other fashion news this week, Gucci started accepting cryptopay, Ms Hadid scored a big Swarovski gig, Dazed's editor-in-chief IB Kamara was appointed image director at Off-White, Lotta Volkova debuted a JPG collab, and the Met Gala, erm, happened.
For everything else that may have passed you by, click through the gallery below.