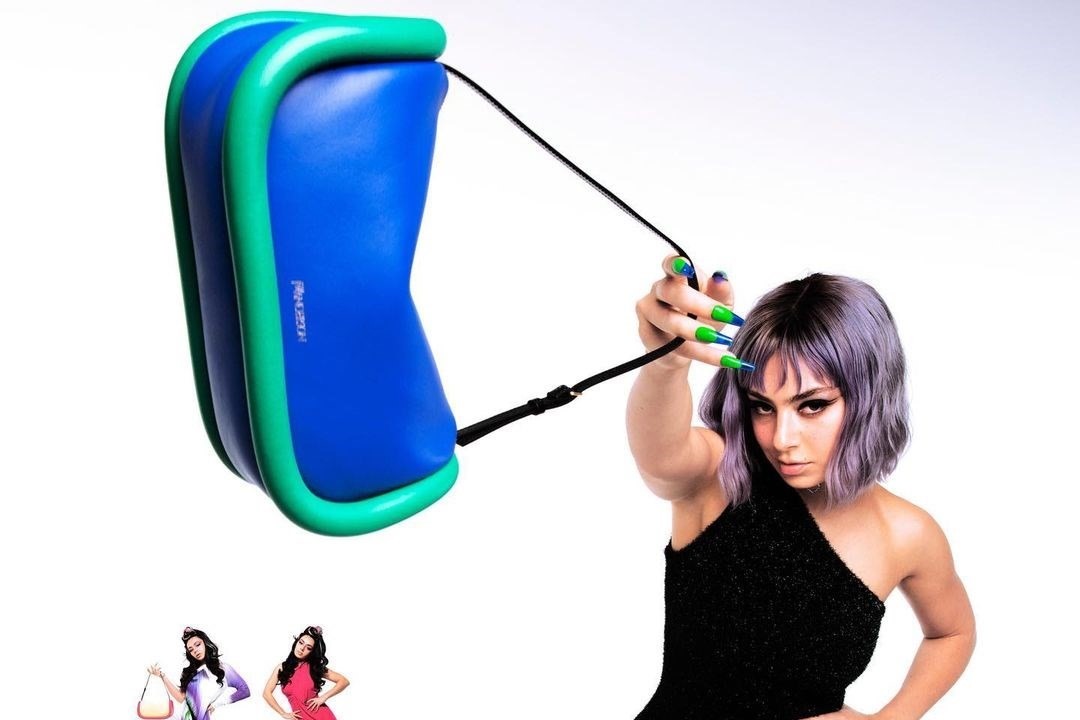 Welcome to the new age of the It bag
As Fendi's iconic Baguette turns 25, a new generation of It bags have become symbolic of the shifting tenets
of luxury
Its death knell has been tolled on so many occasions that its reverberations barely have the time to fade out before it next gets summoned. But fashion is a system of obsolescence, and the rise, fall, and rise again of the It bag is endemic to an industry that hitches itself on the promise of reinvention – on the idea that an oddly-shaped pochette or an intrecciato carry-all might actively change the experience of moving through the world. The Baguette, the Saddle, the Motorcycle: these are the kinds of bags that enter the room before their owners, buoying people into the next versions of themselves with all the charm and irreverence of a JW Anderson Bumper or a Kiko Kostadinov Trivia.
Dangling from the crook of a reality star's elbow or slung over a socialite's shoulder with an air of absolute insouciance, the It bag first rose to prominence in the 00s when the convergent force of pop culture and celebrity was reaching its zenith. It was about wealth and waiting lists, as a new generation of designers seeded their creations on the arms of their famous friends, leaving the paparazzi to do the work of an entire marketing department. Starting with Fendi's Baguette in 1997 – beloved by Carrie Bradshaw – then came Dior's Saddle bag in 2000, Balenciaga's City bag in 2001, and Marc Jacobs' Graffiti and Murakami bags for Louis Vuitton in 2002. Each one bolshier and more impractical than the last (a Baguette barely fits a croissant) the rich Bitch bag was the ultimate symbol of arrival – a totem of the single, metropolitan 20-something who did, and could, have it all.
Read More
Wait, is Jordan Peele's Nope alien wearing Iris Van Herpen?
Is Kanye West dumpster diving in Barnsley?
Gucci just cloned Billie Eilish!
How Raf Simons created 'babushka' costumes for wild new opera Glass Handel
That ideology trickled down to school playgrounds, where young girls wore Paul's Boutique minis or wipe-clean Jane Norman carrier bags as if they were rare Louis Vuitton Miroirs. And, as the sale of accessories began to overtake apparel, high-end designers were increasingly burdened with creating new iterations of whatever the next season's must-have would be – not least to outpace a burgeoning bootleg market. But when excess fell out of the zeitgeist after the 2007 financial crisis, the It bag disappeared along with it. No longer were they aspirational, but gauche and distasteful, amulets of narcissism and greed. Cue a slew of articles with headlines like "From 'It' to Obit" and "Death of the It bag", which connected the "downfall of civilisation" to "the words Paris and Hilton". Of course, that's not to say that certain handbags weren't EVER popular again but the culture of feverish acquisition – where women spent more on bags than they did on rent – significantly dwindled. 
For a while, it seemed as though the It bag had been usurped by the It sneaker, as fashion's pendulum of desire swung ever closer towards streetwear in the mid 2010s. What was the Balenciaga Triple S if not a hypebeast reincarnation of the Lady Dior? And all those scarce Yeezy drops if not an aggressive reimagining of the waiting lists Samantha Jones fought tooth and nail to get ahead of? And even if Daniel Lee's Bottega Veneta "broke the curse of the It bag" in 2019, that was soon smothered by global lockdowns, where the sale of handbags slumped 10 to 28 percent in every region of the world. The It bag was over!! But no, it was also alive! Because Y2K nostalgia and the concurrent interest in archival fashions saw collectible handbags "outperform art, classic cars, and even knocked rare whisky off its number one position" in 2020 – meaning that death knell was more like a broken, whirring siren.
Now, almost 25 years since the moment Carrie Bradshaw whimpered "It's a Bag-UETTE," the It bag seems to have reached a strong and stable comeback. Today, fashion parties are nothing if not a carousel of misshapen receptacles: Balenciaga's Cagole bag, Kiko Kostadinov's Trivia bag, JW Anderson's Bumper bag, the Luar Top Handle bag – but only if you live in New York – and Diesel's 1DR. "I honestly think it's much more about an IT product than just a bag, as it used to be. But bags are equalisers in the game that is fashion, and no lack of inclusivity can take that away from us," says Dino Bonacic, a fashion writer and handbag obsessive, in a statement that echoes Marc Jacobs, who once said "any woman can wear shoes and handbags: It's not a question of how tall you are, how skinny you are, how blonde or blue-eyed or tanned or whatever." And, as if to christen the new dawn of the cult accessoire, Kim Jones is hosting an anniversary show dedicated to the OG Baguette in a one-off Fendi spectacle this evening. 
If fashion journalist Plum Sykes once wrote in Vogue that the essence of It-ness was about being "unlikely to possess it," then "it" has taken on a renewed significance. The rise of Telfar's Shopping Bag saw a sea change in the exclusivity usually ascribed to designer handbags, as Telfar Clemens made accessibility to luxury a cornerstone of his practice – a particularly popular mini iteration played into the Instabag trend, as propelled by Jacquemus' Chiquito. But the Telfar, with its innumerable colourways sunken in Twitter discourse, is no longer "It". That doesn't mean that the bag has lost its relevance, but that it's become an everyday item. In other words, it has achieved its end goal: "It's not for you – it's for everyone". The impact of the Telfar, however, can be mapped on 2022's bizarrely covetable accoutrements, all of which sell for around £300 to £600. "That feels aspirational while also obtainable to a whole range of people," Bonacic says. "Gone are the days when you had to spend over a thousand quid to buy a FASHION bag."
For obvious reasons, the tectonic plates of luxury are drifting further from crocodile Kellys and billionaire Yachts; people just don't want to be seen as carbon-farting layabouts anymore. Not long after Russian influencers were lambasted for taking scissors to their Chanel Double Flaps – and Kylie Jenner for her 30-second flights – Beyoncé announced that her Birkins were all in storage. So the current shoal of It bags are less to do with telegraphing wealth, but a life well-spent, clutching at all the small slivers of glamour when the world is offering far less. They require not only insider knowledge to pull-off (knowing what a Birkin is doesn't count) but a sense of humour, too, which is an increasing hallmark of high-end design. "It-bags should be emotive and bring something unexpected," Hollie Harding, a Buying Manager at Browns, adds. "Whether it be a novel shape or texture, an It bag captures imagination and provokes emotions." 
Despite Hermès and Chanel upping prices for the 100th time in the past year – the Chanel 2.55 now comes in at £8k – the handbags Harding and Bonacic are referring to actually demand more from the wearer. Pumped-up and distorted in retina-popping hues, they share closer relatives in Miu Miu's off-kilter two-piece and Balenciaga's weirdo ski-glasses than some £500k item Cardi B would namecheck in 2018. And yet, it's not really about the bags themselves – as with all fashion phenomena, it's about the people that wear them. The Carrie Bradshaws and the Samantha Joneses. So while the bell tolls for JW Anderson, Kiko Kostadinov, Glenn Martens, and Demna, the "It" in the It bag will continue to shapeshift. "IT makes me feel like I'm living my Sex and The City fantasy," Bonacic says. "Even if I can't fit my size 9 feet into a pair of AW09 Balenciaga heels or my back rolls into a Galliano bias-cut gown."