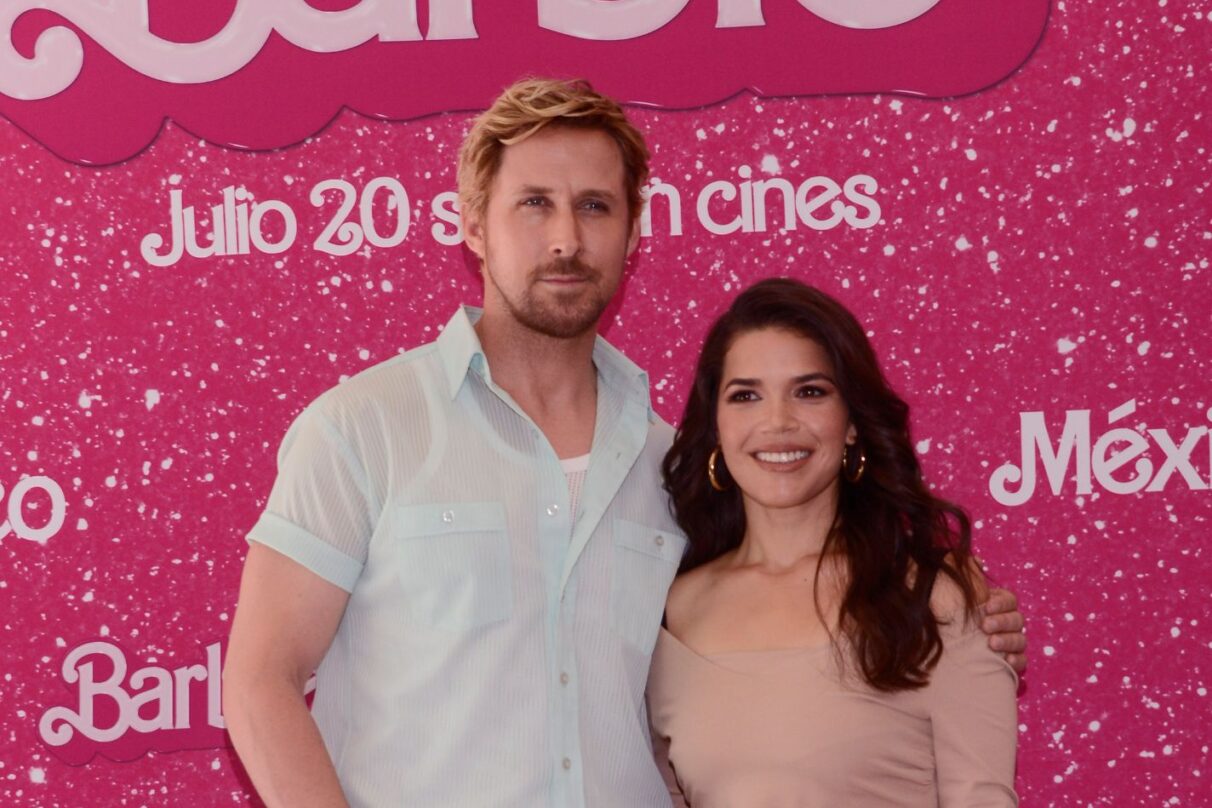 WATCH: Ryan Gosling Praises America Ferrera in Heartfelt Moment & Her Reaction Is Everything
In an interview for Entertainment Weekly promoting the new Barbie movie, Ryan Gosling gave co-star America Ferrera some honest and heartfelt praise that left her (and fans) a little taken aback.
It started with Ferrera, who plays Gloria, talking about a scene where she had to deliver a monologue and how she was nervous but trusted Greta Gerwig, the director, to guide her through the process. "You gave me so much space and so much trust, and I felt like I could go to all the places because I had so much trust that you would know what was right for the movie."
After that Gosling, who plays Ken, chimed in with some praise when it comes to Ferrera's performance. He said, "It feels so true, and what is even more powerful about it is that it feels so authentic to you. Because you've had so many moments in your career where you've said the truthful thing at the right time. Like your TED Talk, it's a great example."
After that, Ferrera and the rest of the cast were all taken aback by Gosling's praise, probably due to the fact that sometimes we don't think people really take the time to get to know us rather than just accepting the bare minimum of a compliment from someone. Sometimes they do take the time. Gosling did. 
Ferrera asked him if he had really watched her presentation and Gosling was able to easily recollect the main theme explored in the talk and how her identity was her superpower.
In 2019, America Ferrera gave a TED Talk titled "My identity is a Superpower." In it, the actress, director, and activist calls for Hollywood to stop resisting on showing what the real world looks like. By guiding us through her career journey, she calls for a more authentic representation of different cultures in the media during the TED Talk.
The moment between Gosling and America felt so genuine to the kind of connection these two actors have that even fans were taken aback by his words.
User @babydollbunny commented on the video with: "Ryan has the supportive and genuinely kind energy from a man that every woman dreams of."
Another commenter, @bagels03 said that the cast of the film seem to be very in tune with each other. "I feel like this movie really healed all of their inner child in some way?? They're so in tune with and kind to each other."
Even the official TED Talk TikTok account commented on the video on how much they loved Ferrera's talk. They said, "We might be biased, but we love her TED Talk too ?"
Barbie hits theaters on July 21, 2023.
This piece was written during the 2023 WGA and SAG-AFTRA strikes. Without the labor of the writers and actors currently on strike, Barbie being covered here wouldn't exist.