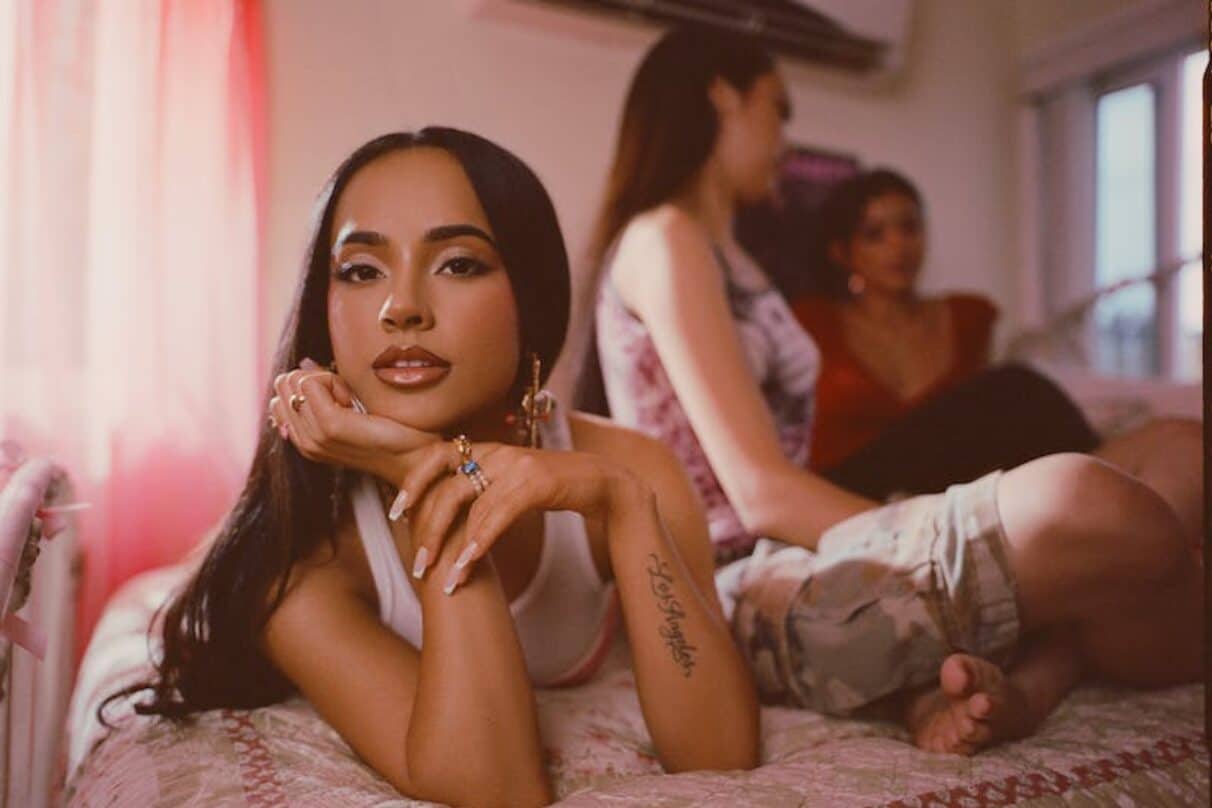 Watch: Becky G & Ivan Cornejo Hit Us With Nostalgia in '2NDO CHANCE'
Becky G's continuing to embrace her Latine roots – and hitting us with nostalgia while at it. On Sept. 28, the Mexican-American released her newest single and visualizer for "2NDO CHANCE" with Ivan Cornejo. This is the focus single of her freshly released ESQUINAS album, also out today.
"This is definitely one of my favorites from my new album QUE ADEMAS VA ESTAR DISPONIBLE MAÑANAAAAA ," the pop star announced online.
The new music video, directed by Elias Lopez, features heartfelt moments of growing up in a Mexican-American household. It includes visuals of loved ones chismeando, memorabilia of deceased family members, an abuela cooking, and a family playing cards over beers – scenes many of us can relate to. 
Throughout the video, Becky also highlights her album's collaborators. We see Easter egg-like images of Ángela Aguilar, Leonardo Aguilar, Chiquis, Peso Pluma, DannyLux, Cornejo, Gabito Ballesteros, and Yahritza Y Su Esencia, spotlighting música mexicana's established artists and promising newcomers. In doing so, she also uses her new album to help her emerging colleagues break into the pop star's audience.
"2NDO CHANCE" not only visually strikes a nostalgic chord, but it also narrates a love-and-hate relationship story. Becky's pop vocals are complemented by Cornejo's piercing croons on top of a downtempo bass-driven track about a post-breakup. The duo passionately sing about not wanting to see their ex-lovers with new partners – a fear shared by many after a hard split.
"Siempre he soñado con trabajar un proyecto regional mexicano y por fin se dio. Knowing that all of the collaborators on the album also live their own version of the 200 percenter experience make this project even more special," the Mexican-American singer-songwriter wrote earlier this week (Sept. 22). "These songs tell stories, las de los que son de AQUI y de ALLÁ. I can't wait for you to hear them in ONE WEEEEEEK."
Besides the new album release, the "MAMIII" singer is currently on tour. The Mi Casa, Tu Casa tour continues tonight (Sept. 28) at the Texas Trust CU Theatre in Grand Prairie, TX. It will also hit cities like El Paso, TX; San Diego, CA; Los Angeles, CA; San Jose, CA; and Phoenix, AZ.
Check out the music video for "2NDO CHANCE" below.