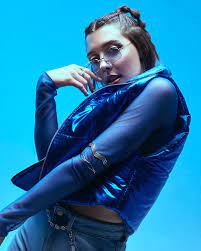 Vocalist-Songwriter Ziberia Releases New Hit "No Me Ves"
Argentinian artist Ziberia is releasing a wonderful new single titled "No Me Ves," once again showcasing the wide range of her talent and vision for the genre. Like many big names. She began by posting covers on YouTube. By that point, she had spent many years performing in bands, events, and musicals in her hometown of Bariloche, a city in the south of Argentina.
Her debut single, 'Alto' was released in 2019. With an impressive 20K monthly listeners on Spotify and over 500K streams on her Christmas song 'Christmas So Close…'. There's much to admire about Ziberia as she makes a name for herself in the industry and delivers tracks like 'No Me Ves'. She is one to keep an eye on for sure, and you're sure to be blown away by her upcoming EP.
Her gorgeous vocals and subtle vulnerability are some of the reasons why she's managed to acquire such a large following in a short time, and we expect her to continue her fast-ascension to the very top of the charts in the near future. Make sure to stream her latest single "No Me Ves" and keep her on your radar for future releases!
Follow on Instagram