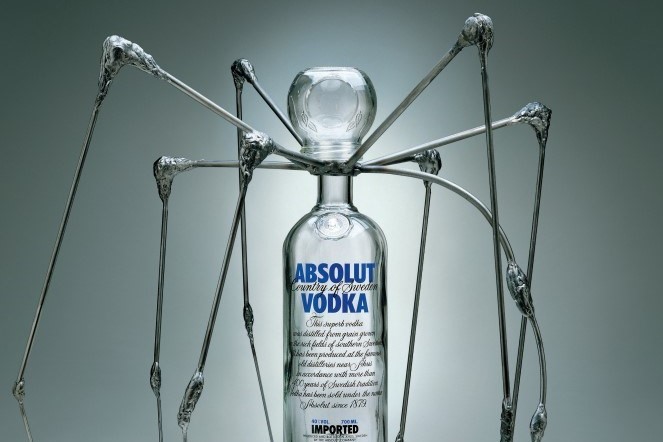 Tracing the artistic legacy of Absolut through 5 of its greatest collabs
Andy Warhol, Louise Bourgeois, Nam June Paik, and many more have reimagined the vodka brand's iconic bottle – a legacy captured in a new film by Seth
De Silva
Absolut
Absolut's collaborations with icons of visual art date back to the 1980s, when – so the story goes – Andy Warhol spotted one of the Swedish vodka brand's bottles across the bar at Studio 54, after it was introduced to the US by the famed liquor executive Michel Roux. Latching on to the apothecary-inspired shape of the glass, the same way he took a shine to soup cans two decades before, the artist met with Roux and told him: "I love the bottle. I'd like to do something."
This meeting would kickstart a long-running series of ads with some of the biggest names in the art world. According to Absolut archivist Lovisa Severin Kragerud, Roux asked Warhol to recommend "up-and-coming artist friends" after commissioning two paintings from the artist himself, and ended up bringing a range of other pop artists into the mix, including Keith Haring, Kenny Scharf, and Romero Britto. From there, she adds: "The community just grew."
In 1988, for example, Ed Ruscha would pair the clear vodka bottle with the silhouette of a howling wolf. Later, it would be integrated into Louise Bourgeois' seminal spider sculpture, Maman. Throughout the 90s and 2000s the community expanded even further, with campaigns designed by Maurizio Cattelan and Rosemarie Trockel, alongside Young British Artists such as Angus Fairhurst, Damien Hirst, and Chris Ofili. Back in the US, ads by the likes of Oscar Marine and Kurt Vonnegut occupied magazine pages and major billboards.
Notably, each campaign focuses heavily on the style of the featured artist, embracing everything from the minimalism of Thea Djordjadze, to the luxury aesthetics of Sylvie Fleury (who wrapped the bottle in opulent chrome). That's not to mention Absolut's crossovers with music, fashion, and film, which have handed the reigns to Lenny Kravitz, Tom Ford, Spike Jonze, and many more, for interpretations that transcend visual art.
Alongside Absolut's in-house print adverts, these collaborations represent its commitment to building a creative community, mixing a range of artistic outlooks, and championing broader social concerns (one of the very first ads the brand ran in a magazine was in the LGBTQ+ publication The Advocate). Obviously, this paid off. Today, Absolut is one of the largest spirits brands in the world, and its vodka's wild success beyond the Swedish border is largely credited to the artists who helped sell it to the masses. Even now, a wave of enthusiasts will go to great lengths to get their hands on the artist-led designs. In fact, US libraries had "a big problem" on their hands as Absolut ads began to blow up in the 80s, Kragerud says, as "people went there for the magazines and tore the ads out" to add to their collections.
Nowadays, many of the older Absolut collaborations aren't so easy to track down – never mind taking them home to stick up on your bedroom wall. However, over 850 of the artworks, by more than 550 individual artists, are on display in the Absolut Art Collection at Stockholm's Spritmuseum, while the new short film above – animated by the London-based artist Seth De Silva – traces their lineage across the last 40 years.
Watch this space for more from Absolut and Dazed. In the meantime, you can revisit some of the vodka brand's best artist collaborations in the gallery below.