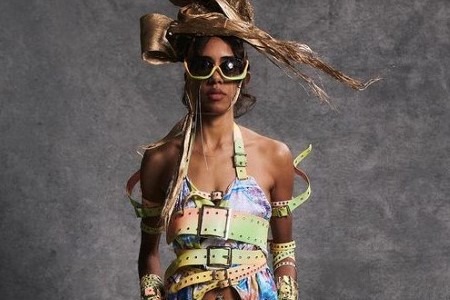 The rising designers breathing new life into Australian fashion
Five emerging talents from Down Under who should be on
your radar
A few names represent Australian fashion on the mainstage. There's Dion Lee, who's dressed everyone from Olivia Rodrigo to Julia Fox, and recently announced Grimes as his latest campaign face. There's Christopher Esber, who's found fans in the likes of Zendaya, Dua Lipa, Lorde, and Adwoa Aboah, who turned up to the Oscars after-party in a show-stopping silver dress by the designer. And there's longtime industry and celebrity favourite ELLERY. See the trio in a line-up and the cornerstones that underpin Australia's style DNA become clear: minimalist, structured, chic. With Bondi Beach as your backdrop, a pair of Old Céline sandals and an oversized Jacquemus straw hat are a winning outfit formula. 
In recent years, however, a growing number of young creatives have been quietly working away to shake up the Australian fashion landscape upon its reopening post-COVID, creating subversive, unique collections that could have been plucked directly from London's notoriously brilliant Fashion East runway. The country's creative capital of Melbourne is home to the likes of Emily Watson, who's carving a niche for herself with her avant-garde pool party line, Karla Laidlaw and her new, sustainable streetwear label Hydra Opia, and Alix Higgins, whose internet-inspired clubwear has taken social media by storm – and that's to name but a few.
Read More
The Cobrasnake on the chaos and hedonism of the Indie Sleaze era
The internet is now accusing Jean Paul Gaultier of copying… himself
Meet the maverick stylist behind Julia Fox's wildest looks
Missguided, indeed! The fast fashion behemoth is reportedly facing collapse
This month, some of these designers got to showcase their designs live on the catwalk, as Australian Fashion Week got underway in Sydney. Back for the first time since the country closed down in early 2020, the five-day-long event was also a far more diverse affair than its previous iteration, with two shows dedicated to First Nations designers, more indiginous representation on the runway than ever before, an entire show dedicated to adaptive fashion, and another highlighting a slew of labels offering collections in extended sizes. As Higgins, whose debut was one of the most anticipated moments of the week, says: "This is the new Australia." 
With over 50 shows held during AAFW, it's almost impossible to nail it down to just five highlights.
If you asked anyone which designer they were most looking forward to seeing at AAFW, Alix Higgins, whose inaugural show was set to take place on the final day of the week, was a name sure to be mentioned. The designer, who returned home to Australia at the beginning of the pandemic after studying at Institut Français de la Mode in Paris and previously worked as a printmaker for Marine Serre, launched his namesake label in 2020. Soon after, the likes of Grimes and Hunter Schafer were spotted in his signature skin-hugging, text-infused nylon pieces, which were already being spotlit by the queer community at nightclubs around the world. This season, Higgins' focus was pushing himself out of his comfort zone. Sure, there were his signature internet-inspired styles on show, but so too were there floral print, polka dots, and even – shock, horror – beige. 
How would you describe Alix Higgins in a sentence? 
Alix Higgins: It's future-facing, poetic, and freedom is at the heart. Freedom in identity, freedom in gender, freedom in image. And always, always, always looking into the future. It's hopeful even when it's a little bit dark or emotional. 
This was your first time showing at Australian Fashion Week. How was it? 
Alix Higgins: Your debut show is really hard. It's so much work. Being on the schedule on-site, it felt really scrutinised and as if I had to do something strong and really refined. People know me for party tops and party dresses, but I wanted to show my training and what I have brought back to Australia from my time in Paris, like couture drapery, hand sewing, and experimental textiles. 
What was your biggest focus for this collection?
Alix Higgins: The focus was definitely expanding the vision of the brand and presenting something I felt was fresh. In every collection, I try to challenge myself, instead of just doing what I love. I hate polka dots, so I was like, 'I have to do polka dots'. I hate lime green, so I did lime green. Everyone complains about Sydney fashion being so beige, so I was like, 'Cool, I'm going to make my opening look beige'. My other focus was celebrating the people I love who inspire me and who brought me here, who protect me every day personally. That's why I felt the need to bring my friends and family into the casting. Community is a really important part of my work, so I wanted to maintain that kind of energy. It only makes sense they would be the ones to lead the charge out into this tough world on behalf of me, and my vision of the future.
IORDANES SPYRIDON GOGOS
More works of art than a fashion collection, it makes complete sense that Iordanes Spyridon Gogos' sophomore collection would be debuted at Sydney's Powerhouse Museum (the first fashion show to be housed there in the institution's 142-year history). After graduating from Parsons, designer Jordan Gogos launched his label at the peak of the pandemic in 2020, opting to focus on community, collaboration, and craft above all: a hat showcased on the runway had 1.8 million stitches in it. Everything is done in house, including the shoes, which were made with felt scraps ("we even made the material," he says) and all pieces will be sold exclusively to museums to be used for installations. Gogos enlisted 60 collaborators to bring the collection to life, including established labels like Albus Lumen and Youkhana, and the indigenous art centre Pormpuraaw. His Instagram bio takes you to a Google Doc listing all of them: spotlighting others and moving away from the gatekeeping traditions of not just Australian fashion, but the fashion industry as a whole is at the heart of what Gogos does. Furthermore, his runway was the most diverse of the week after he enlisted model Basija Almaan – who went viral after calling the Australian fashion industry out for its lack of inclusion two years ago – as casting director. 
For those who don't know Iordanes Spyridon Gogos, what is it? 
Jordan Gogos: This brand is like a Trojan horse. It is a conduit for community-making. The name carries people and brands and merges them, but also gets into spaces we wouldn't be able to do as fast as we are by ourselves. It's really about ushering people and new ideas, especially in Australia, into this industry, which is usually so gatekept. 
What was your main focus for this collection? 
Jordan Gogos: It was about doing things for the first time. Our first partnership with a government institution – I don't think the government has partnered with a fashion brand ever. There were 60 collaborators, which is kind of crazy, including six or seven international people, which just doesn't usually happen here. We were also the first non-Indigenous runway to host and collaborate with so many (three) different Indigenous groups. You have to think, how is this going to be different from what we've done before? Why are we coming back on schedule? What is the future of fashion? And how am I actually working to make that future a reality? I'm really excited about the hybrids of collaboration: what happens when you mix someone like Jenny Kee, who's an icon, with six designers that have never even been on a main stage contributing to this icon's designs. 
How do you think the Australian fashion industry has adapted and changed recently? 
Jordan Gogos: The diversity on the runways is rapidly changing. This year, it was really, really diverse compared to any other runway I've seen. And I actually can say that honestly.
Australia's answer to London's Fashion East runway show – where the likes of Kim Jones, Simone Rocha, and more recently, Supriya Lele, Ashley Williams, and Charlotte Knowles got their start – is Next Gen, where on Friday, designer and CSM student Phoebe Pendergast presented on the runway for the first time. Bringing her label (almost) home for the new season, Melbournian Pendergast showcased a collection of hot floral cropped tops and lace, zip-front hoodies, swirled knits and asymmetric, hanky-hem skirts, demonstrating her kitschy-cute, Gen Z-aligned aesthetic. 
How would you describe Phoebe Pendergast?
Phoebe Pendergast: My design is about emotion and very personal experiences. I've always designed from a place of sentimentality and nostalgia. When it started, it was very romantic. A very colourful and floral and rosy sort of way of looking at the world. It's maturing a bit now, but will always have themes of heartbreak, introspection, and sentimentality at its core. 
What was your focus for this collection? 
Phoebe Pendergast: This is a new direction for me in terms of my design. I feel really refreshed and excited to do something a bit different and out of my comfort zone. Previously, I was very into working with florals and patchworking, which captured something quite naive within me. But now I'm looking to do something a bit more mature. A bit sexier, but still powerful and oversized. 
What are you most excited about in fashion at the moment? 
Phoebe Pendergast: I'm really excited by Michaela Stark – an artist from Australia now based in London. She makes the body into a sculpture and piece of art. Women are so censored in every way – in fashion, on Instagram – but she's really pushing to change perspectives around that. It's beautiful. 
Can you describe a designer hailing from New Zealand as the only international name to showcase at Australian fashion week? Technically, yes (there's a three-hour flight and ocean between them, after all). This year, that honour went to Kiwi label Wynn Hamlyn, helmed by Wynn Crawshaw, who, rather than listing big name fashion institutions on his CV, instead attended university to study, and then work in, land surveying. While living alone in Australia with no creative outlet, Crawshaw began looking at designer collections online and eventually studied fashion part-time, while still working in land surveying. Eventually, Wynn Hamlyn was born on the side with a focus on technical knitwear, tailoring, and fusing craftsmanship with functionality. The response Down Under quickly prompted a career change, which tbh, says it all.
How would you describe Wynn Hamlyn in a sentence? 
Wynn Crawshaw: A continuous project and research of craft and innovation expressed in clothing.
What would you say your biggest focus has been for this collection? 
Wynn Crawshaw: To try to achieve looks that you would see in an airport departure lounge to inspire people back into the newfound freedom they have and the ability to travel again and see family and go to new places again.
Favourite piece? 
Wynn Crawshaw: Definitely the wool puffer jackets. They were developed a long time ago and it was finally the season that we got the chance to bring them up. They're cool for a number of reasons. The main one being that they're full of New Zealand wool, which is a struggling industry. We worked with a new company called Wise Wool that started to try to innovate new ways to use wool and keep the industry in New Zealand alive. They've developed this product which basically buds raw wool into down, essentially, that the puffer jackets are filled with. It's also cool because the wool is completely removable, so you can add extra, take it out completely, fill it with something else – like feathers from your old duvet – and the wool also regulates the heat so you don't get too hot. 
Long before TikTok's Gen Z fashion girlies discovered cottagecore, All is a Gentle Spring was forming a cult community of its own with its signature made-to-measure corsets in floral prints – created when designer Isabelle Hellyer failed to find a costume-like corset she wanted to buy already on the market. Soon, it became an 'IYKYK' name of the Australian industry, finding fans in the likes of Charli XCX, Rowan Blanchard, and Kelsey Lu. This season, for her debut Australian Fashion Week show, Hellyer showcased the signature styles that had fans of the brand driving down from Melbourne to show their support, while expanding her offering to include mini skirts with Victorian flourishes, tailored trousers, and midi-dresses. Closing out proceedings on the final day of fashion week, All is a Gentle Spring's presentation felt intimate, considered, and like you were part of the family – which, given Hellyer's own mum walked the runway, is not a feeling too far from the truth. 
How would you describe All is a Gentle Spring in a sentence? 
Isabelle Hellyer: Couture techniques for serene living.
What was your biggest focus for this collection? 
Isabelle Hellyer: I've taken on a different perspective; I'm looking at the pieces today as if they're already highly collectable. I'm thinking about how they might be conserved in future. I'm trying to make them museum-quality. This season began with studying aspirational garments, looking inside the kind of clothes I admire to figure out how I could make them here in Australia. I'd search through the digital archives of The Met or the V&A, sometimes contacting conservators to find out more – accessing X-rays of particular boned pieces was really special. Getting my hands on antique garments, turning them inside out, learning their fibre content, looking at closures, seams, and buttons; that was the most invaluable part of the process. When I saw 200-year-old dresses in museum collections that still looked impeccable, I made a note to myself: what fabric was this made with? Then I'd ask: can we use this in the collection? Conversely, I see some garments decaying after a few decades. The goal became making garments that would age with grace.