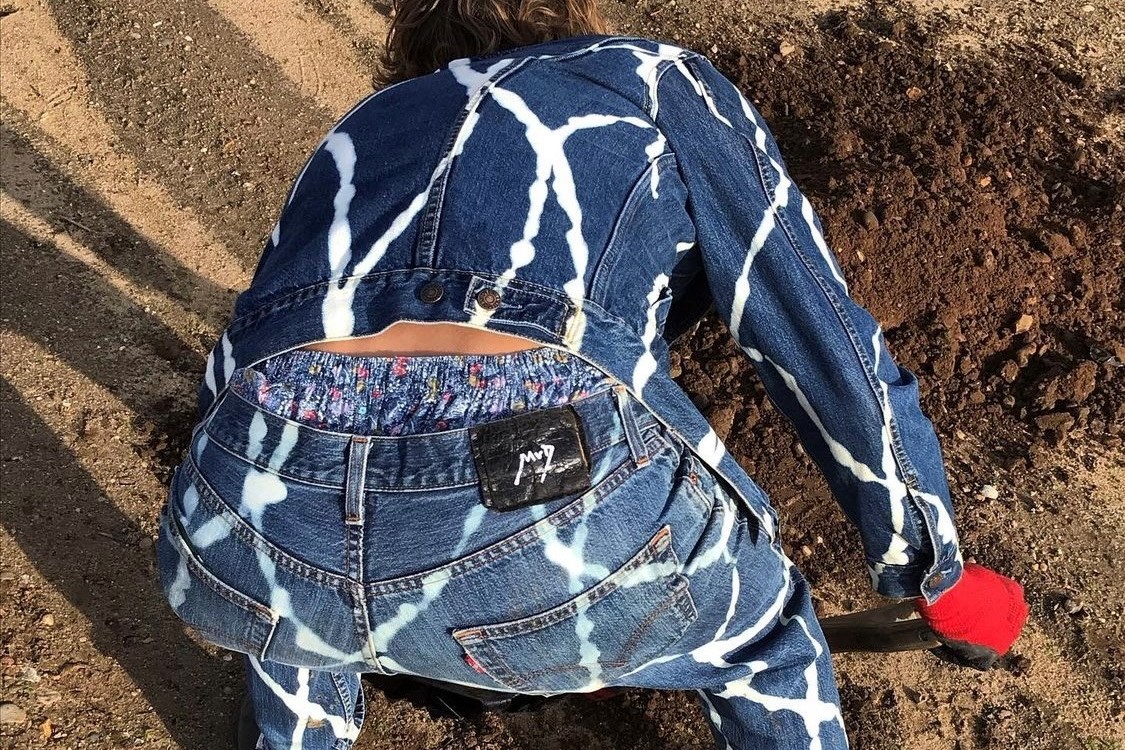 The green-fingered designer switching sowing seeds for sewing fits
Central Saint Martins graduate Richard Oxley spent lockdown out in the country doing farm work, but soon returned to the scene with his sustainable
namesake label
Richard Oxley didn't want to be a designer. Though he "always wanted to stand out" and didn't like wearing clothes that other people did, his trajectory after leaving school was one of surprising conformity. "I did maths, economics, and business for my A-Levels thinking I'd get a job easily," he recalls. "But I couldn't get one anywhere – not even a pub or burger restaurant." With the ordinary malfunctioning, a family friend suggested he apply for a short course at Central Saint Martins to fill up his time. 
In an attempt to at least get his mum off his back, Oxley met with tutors Patrick Lee Yow and Stephanie Cooper, who advised him to skip the short course and focus his attention on a foundation degree – no matter that, at this point, he was unable to name even a handful of menswear designers. "They saw something in me that I couldn't see," he says. "I thought I was drawing gibberish." Eventually, with the foundation year under his belt, Oxley embarked on the school's BA menswear degree.
Read More
Rihanna's pregnancy portraits are High Art
How fast homeware became the new fast fashion
Euphoria heralds the age of bitchcore, and more fashion news you missed
Kim Kardashian is officially the face of Balenciaga
This experimental time as a student threw him into a series of design adventures, as well as an internship at Vivienne Westwood. "I dressed quite punky, not because I wanted the job, but it was just what I wore," he explains. "I turned up and Andreas [Kronthaler] was in reception when I arrived, looking me up and down. I had my interview and got it, and stayed for three months." Soon after came stints at Savile Row tailors Huntsman and Cad & The Dandy, where he absorbed as much information as he could – from learning how to base stitch at number 11, to why it was common to cut along the diagonal. 
Armed with the tools of traditionalism, he was now ready to add a little subversion. After noticing a Vivienne Westwood pocket stitched so the pinstripes were going against the grain, Oxley came to the realisation there were no rules. During prep for his graduate collection, he questioned the decision to cut on the diagonal, and with the Argyle pattern in mind, he took to his fabric swatch to conceive his now-synonymous markings. 
But where many students finish school and head straight out into the world of work, the end of Oxley's time at university brought with it a farrago of emotions, heartbreak, stress, and copious partying, and left him an allergic reaction to the city. "I kept finding myself in the countryside," he explains. "I was making cash by gardening with my best friend Alfie [Nickerson], which was better than interning for free. But I still wanted to look cool while I was doing it, so I started making clothes we could wear out there." 
Learning about biodynamics from farmers around England while kitted out in indigo outfits, he also helped Nickerson set up Burnt Fen Flowers in Norfolk. With fashion now a distant memory – or at least put on the backburner for a while – he spent lockdown in fields planting flowers and vegetables in his custom denim, contemplating further the notion that workwear can't be beautiful. 
Fast forward to summer 2021, and Oxley decided to launch his namesake label. With collections made up of functional chore jackets and sturdy denim jeans emblazoned with the designer's signature rhombus prints, unsurprisingly, sustainability is a big issue for the brand. "There's no point in having a brand if it's not sustainable," Oxley asserts. "We're never going to be 100 per cent sustainable, but it has to be in the forefront of everyone's minds. Constantly searching for new and better ways to make sure we are doing the right thing." 
"Oxley means a wooden clearing or meadow. I got goosebumps. It was nuts, just meant to be" – Richard Oxley
Right now, for Oxley, that means the use of wastewater when washing denim, transforming recycled plastic into swimwear, and using a knitwear factory that runs off solar power. "Sometimes it doesn't sit well with me having a brand – I just hope I can offset my carbon footprint," he confesses. With sustainability a conscientious part of founding the label, so too was its name. 
"We were going through different flowers, but I didn't want it to be associated with anything people already have connotations for," he says. He reveals he actually wanted to call it 'nothing', as the whole idea is about negative space and finding a bit of peace and calm ("That's the whole reason I started going out to the countryside," he adds). Eventually, it occurred to him to Google his name, which resulted in a moment of serendipity. "Oxley means a wooden clearing or meadow. I got goosebumps. It was nuts, just meant to be." 
Having thrown open the doors to his inaugural pop-up over Christmas 2021, Oxley is now getting stuck into his next collection. Turning his attention to the great outdoors, the 'fitness freak' designer has been working with his team to develop a running anorak and shorts. "To get into that, you need to produce proper product, not some gimmick," he says. Though he's just finding his feet and getting the label off the ground, Oxley has an unwavering understanding of where to take it next. Bubbling under right now, it's currently hovering around that moment between seeing a lightning bolt flash through the sky and hearing the deep rumble of thunder in the distance – a forecasted storm ready to burst.