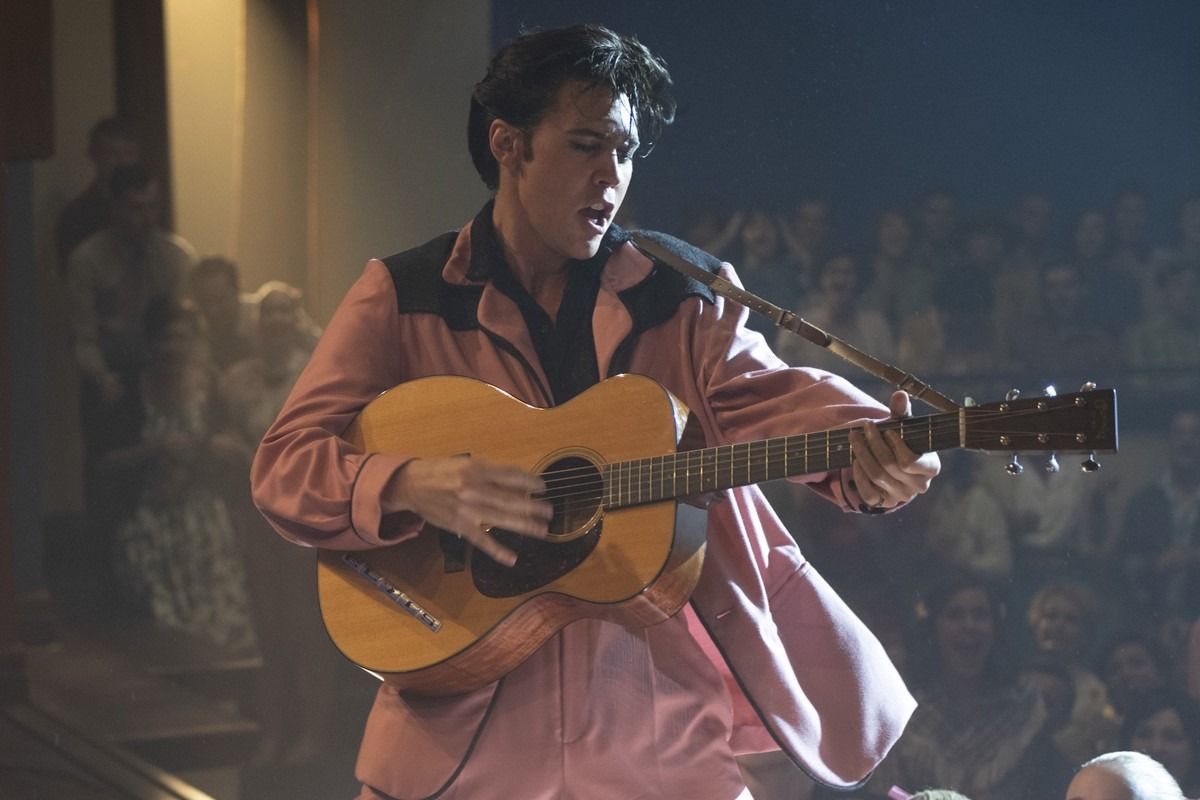 The costume designer kitting Elvis out in custom Prada and Miu Miu
Catherine Martin talks recreating Elvis Presley's famed wardrobe for Baz Luhrmann's
new biopic
By the time he was pronounced dead after collapsing in his Graceland mansion on August 16 1977, Elvis Presley was as famous as Jesus or Coca-Cola. Despite the 80,000 devastated mourners lining the approach to his famous home in the steam-heat of a Tenessee summer, the Memphis Press-Scimitar ran the poignant headline 'A lonely life ends on Elvis Presley Boulevard' as one of the 20th century's most beloved yet lovelorn figures was laid to rest, aged just 42. 
A new biopic by Baz Luhrmann tells the tale of Presley's making and unmaking, from the desperate poverty of his childhood through his ascent to the kind of fame for which there was no precedent, and his parallel decline into a state of isolation, excess, creative desolation, and addiction. Starring Once Upon a Time in Hollywood's Austin Butler as the world-changing King of Rock n Roll, Elvis is an ambitious film that cuts a thrilling swathe through the fashions and socio-cultural revolutions taking place in the 50s, 60s, and 70s, as told through the prism of Presley's life on the vanguard of fashion and showbusiness. 
Read More
Harry Styles has taken over Gucci
Exploring the connection between art, nature, and the body with On
Jonathan Anderson's screen time just went through the roof
Meet Bella Hadid, the bionic sexbot
Fashion is such a vital aspect of this story. The reverberations of Presley's impact on fashion continue to be felt nearly seven decades since his first appearance on television screens across the US. Long before Harry Styles took the stage in a sequined jumpsuit or Tupac walked the catwalk for Versace in a gold lame suit (á la the cover of the 1958 record 50,000,000 Elvis Fans Can't Be Wrong), Presley shocked America with the gender fluidity of his mascara-eyed beauty and his love of bubblegum pink. The red hibiscus shirt he wore in the movie Blue Hawaii no doubt influenced the Aloha chic later adopted by Prada, Dior, and Saint Laurent. His increasingly baroque stagewear and rhinestone-encrusted naval-skimming jumpsuits – made by pioneering designers such as Nudie Cohn – ushered in a new era of androgenous and flamboyant menswear in which Bowie strutted the stage in his cosmic leotards and feather boas, and Jagger pranced onto the stage in Hyde Park wearing a white dress. 
"We spent forever working on his pants… we tried all fabrics and all kinds of cuts so that seething sexuality was really clear without being pornographic" – Catherine Martin
As the film transitions through the decades and the boxy-cut silhouettes of the 1950s give way to the flares and ever-increasing lapels of the 60s and 70s, Presley was at the forefront of changes in style. Catherine Martin, the movie's Academy Award-winning costume designer reveals how she approached the epic recreation of Presley's iconic wardrobe: "We realised we couldn't imitate, we needed to interpret. We had to find a way of being historically accurate, but making sure that we created a synergy with the way that Austin was physically manifesting Elvis, and not just do some kind of weird slavish imitation that made everything look like a Halloween costume. So that meant acknowledging Austin's body and making subtle variations on historical costumes so that they really fit him in the way they fit Elvis' body… the position and the scale of the pocket, say, on the black leather blouson [in the '68 Comeback Special]. It was as if Austin was Elvis, and we were making the clothes for him."
The long-standing relationship between Miuccia Prada and Baz Luhrmann has already enriched the costumes in the director's lavish 2013 reimagining of The Great Gatsby, as well as his career-defining interpretation of Romeo + Juliet back in 1996. Here, Prada and Miu Miu once again revisited their archives to find garments that would echo the look and feel of the Elvis movie. A statement from the maison explains: "The result recalls the years represented in the film, but it is also an expression of the DNA of the two brands."
Their collaboration is perhaps most apparent in the film's portrayal of Elvis' wife Priscilla Presley [played by Olivia De Jonge] whose hyper-feminine, signature triple false lashes and beehive hair made her an icon of 60s style. Ensembles such as the knee-high boots, brocade hot pants, and beaded top as worn by Priscilla to one of Elvis' debut Vegas concerts, or the tweed dress, mohair sweater, and suede jacket she appeared in for Presley's 1968 Comeback Special encapsulate the film's attention to period detail with a contemporary edge. Her trompe l'oeil orange skirt suit is a recurring Prada motif popularised in its SS96 collection, while her Peter Pan collars, Mary Janes, and mini skirts nod to the classic 60s tropes so often paid homage to – and subtly subverted – by Prada over the years. 
Nowadays, Elvis Presley so often exists in the cultural imagination as a caricature of himself – a benign, hamburger-eating, white-jumpsuited, lip-curling club singer. History and nostalgia have flattened his legacy, smoothing the rough edges from his radical insurgence into the conservatism and segregation of 50s America.
Watching footage of his appearances on popular programmes of the day it's nearly impossible for our contemporary PornHub-addled minds to truly understand how his performances were perceived as so sexual as to be a danger to the fabric of society. It wasn't just his "juvenile delinquent" hair and clothes that threatened to destabilise the status quo, or his choice of rhythm and blues and his undisguised veneration of Black music and style – it was the way he moved and the effect it had on the nice white girls in the audience. It was something beyond suggestive – it was subversive. So-called 'Elvis-the-Pelvis' was a potent conduit of pure sex appeal. After being censored on The Ed Sullivan Show in 1957 when producers decided to only film him from the waist up, a twitch of his little finger caused women in across the country to faint or turn feral. And nothing has more terrified and threatened any patriarchal society than unconstrained female desire.
As a costume designer, emphasising that lightning bolt sexuality and translating it for a modern audience while retaining a sense of historical accuracy required consideration. "Elvis' 1950s look is a vernacular that we all speak, so how do we make it feel sexy, sensual, confronting, punk, and rebellious? How do we connect to the 'shocking' and 'vulgar' – in inverted commas – because people were outraged. How do we connect that to a modern audience while still respecting the 50s silhouette and the spirit of Elvis?" Martin asks. "We spent forever working on his pants… we tried all fabrics and all kinds of cuts so that seething sexuality was really clear without being pornographic – we are a PG13 movie, after all! And finding what the jacket needed to be like for him to be able to pull the shapes. We looked to a jacket that Elvis had favoured in his late teenage years. It was what's called a 'Hollywood jacket', so it's very unstructured – almost like a cardigan – and it's unlined and held up by shoulder pads. It just felt so fluid and sensual."
"Elvis, he was a really hard act to follow, even for himself. And you see that in the trajectory of the jumpsuits" – Catherine Martin
The film's vision of the 1950s is underpinned by the legacy of the Lansky Brothers – purveyors of counter-cultural style since 1946 and located on Beale Street in downtown Memphis, the heart of the city's Black community and its febrile blues district. Presley bought clothes from this store throughout his lifetime but in the early-mid 50s, his look was particularly unusual for a young white boy. "I don't think he thought of his style [as rebellious] in that way. I think he was just so admiring of Black musicians and Black style and he just wanted to emulate that. I think he was drawing on all these influences to create his own combination of country and western, rhythm and blues, and gospel and finding his own kind of hybrid style," Martin explains. "But Lansky Brothers played a huge part in his style evolution because he bought clothes from Lansky's right up until his death and they continued to make clothes for prominent Black musicians throughout the 70s. Hal Lansky [the founder's son] said to me, 'In the 70s, we were the only store in Memphis that had a full-time furrier because we were putting a lot of blue mink on capes and bell bottoms for Isaac Hayes.' And so there was a sensibility that was kind of directed by the clientele of the store. It was a really stylish place. I mean, all those musicians like BB King [played in the film by Dazed 100 alumni, Kelvin Harris Jr], how cool was he? Before Thom Browne, King was wearing a tuxedo with a pair of shorts and rocking out… so ahead of his time."
While the styling in Elvis conveys the spirit of Presley's cutting-edge, radical presence, it also traces the correlation between his increased isolation, frustration, and dependence on prescription drugs with his increasingly grandiose outfits. If his life was a tragedy of art versus commerce, it was also a tragedy of excess. And nowhere is this excess more manifest than in Presley's stagewear. "Elvis, he was a really hard act to follow, even for himself. And you see that in the trajectory of the jumpsuits," Martin tells Dazed. "We made a total timeline of every jumpsuit… when it was worn, if there were any anecdotes about it, Elvis' favourites, his not-so-favourites. And you can see, as time progresses and he starts to become a bit more unhinged, the suits become crazier and crazier, and more embroidered until, you know, he's wearing 'chicken bone' [an elaborately bejewelled black jumpsuit with blue puffy sleeves which first appeared in 1975], which is super weird. They're all just getting pretty out there by then." 
In the early-mid 1970s, David Bowie (who shares a birthday with Presley) was also experimenting with jumpsuits. In the UK, Bowie was creating a concept album about a fictional rock star sent to Earth as a saviour, only to fall from grace after being consumed by his own ego (The Rise and Fall of Ziggy Stardust and the Spiders from Mars, 1972). Meanwhile, Presley – the original, sainted rock star – was in Vegas gradually becoming a parody of himself in increasingly lavish stagewear. 
It's impossible to underestimate the effect Elvis Presley had on the world. Apart from anything else, he created and codified the archetype of the rock star as we know it today. "I think that to be Elvis was an incredibly difficult thing," Martin reflects. "He just seemed to get more famous and, as you know, he had lived with that level of fame since he was 21. I think you become untethered from reality and that's certainly reflected in the clothes." There was no blueprint for the kind of fame Presley endured or any manual on how to not eventually implode, broken-hearted amid a mess of paranoid delusions, damaged personal relationships, sycophants, and rhinestones.
Baz Luhrmann's Elvis will be showing in cinemas in the UK from June 24 2022. Watch the trailer below.