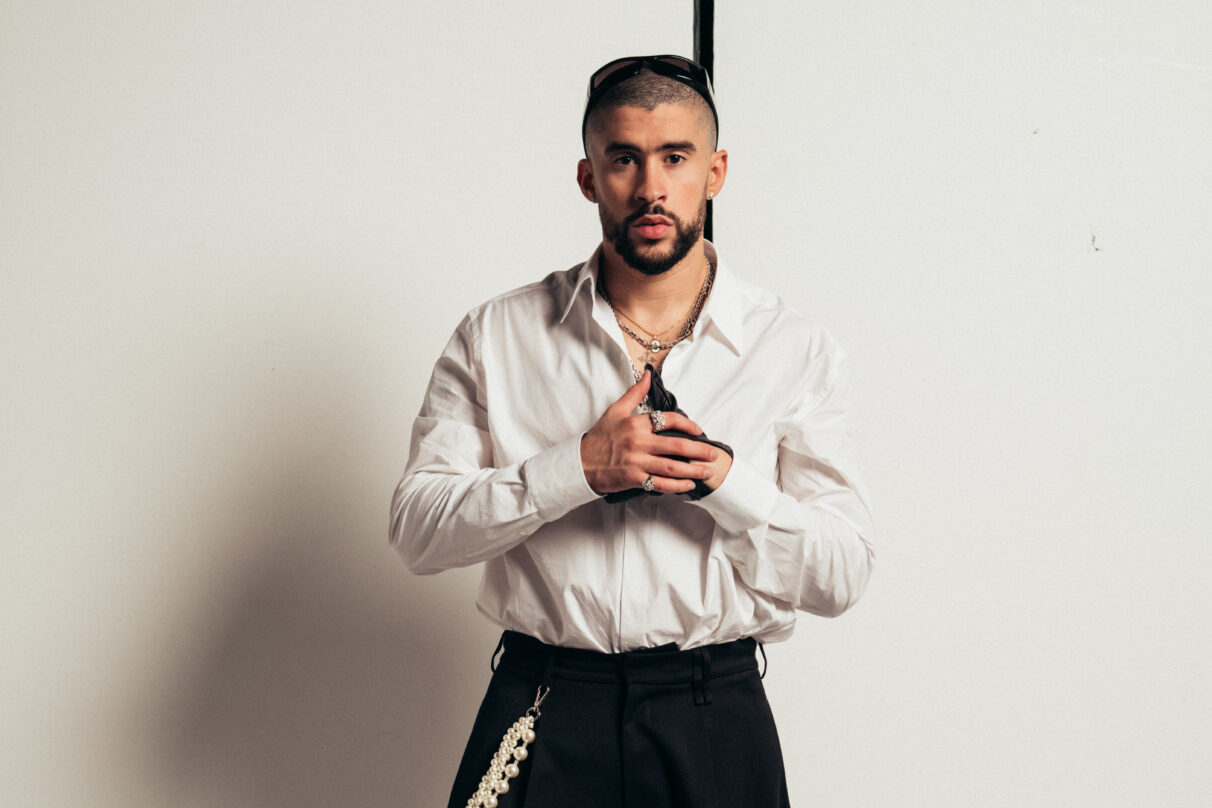 Stop What You're Doing, Bad Bunny's 'Nadie Sabe Lo Que Va a Pasar Mañana' Is Here
It's official – Bad Bunny is back in his trap era. On Oct. 13, the Puerto Rican artist released his fifth album, nadie sabe lo que va a pasar mañana. The new album consists of 22 tracks featuring artists like Arcángel, Bryant Myers, De La Ghetto, Eladio Carrión, Feid, Luar La L, Mora, Ñengo, Young Miko, and YOVNGCHIMI. 
Produced by heavyweights like Tainy, MAG, and La Paciencia, Bad Bunny amplifies his old-school, signature trap sounds, giving us a throwback to 2017 but also tapping new sounds like house, reggaeton, hyper-pop, and jersey club. The first half, "NADIE SABE," starts with orchestral strings, sampling the great 20th singer-songwriter Charles Aznavour's "Hier encore." The famous strings fittingly welcome the listener to a cinematic sonic journey that starts with Benito reflecting on his personal journey. Not only does he mention his mental health state, but he also references his throwing phone incident, claiming that this type of fan isn't real. During the track, he reclaims his fame status by saying: "Ya no estoy en mi peak, estoy en mi prime." The intro track ends with a chilling, harmonizing choir, reiterating that nobody knows what will happen tomorrow.
After the sentimental intro, the album kicks off with "MONACO," featuring more string instruments, this time accompanied by a throbbing trap bass. "FINA" brings in Young Miko, where the duo samples the line "Si las putas son las mas finas," a wink at Tego Calderón's "Pa' Que Retozen." After, "HIBIKI" features Mora in a house-infused banger with a pulsating beat that ends with a piano touch. "MR. OCTOBER" starts with a menacing trap beat as he narrates how he wishes to return to his beginnings. "CYBERTRUCK" continues by giving us a hyper-pop beat as a reminder that he doesn't stick to one genre. "VOU 787" follows as Benito sings about being with a Vogue model and fittingly samples Madonna's "Vogue."
"SEDA" with Bryant Myers slows down the album, featuring an emotive song that reminds us of his first releases. Up next is "GRACIAS POR NADA," one of the album's most sentimental songs about a breakup. To keep listeners on their toes, he speeds up the BPM with "TELEFONO NUEVO," a prime example of what his trap days used to sound like alongside Luar La L – with one of the most explicit lyric sets in the album. "BABY NUEVA" highlights a throbbing club-ready banger about being better off with a new lover. 
The second half starts with heavy with "MERCEDES CAROTA" alongside YOVNGCHIMI, which includes a sample of Kendrick Lamar's "N95." "LOS PITS" gives a shout-out to Brad Pitt while rapping about enjoying the fruits of his hard work. "VUELVE CANDY B" continues with his signature hard-hitting verses about being the best, referencing the famous winning Puerto Rican racing horse with the same name. "BATICANO" follows with heavy synths that complement his lyrics, suggesting a threesome and not caring about those who judge him. "NO ME QUIERO CASAR" reflects on how there was a time when he was going to get married and that now he's completely changed his mind on commitment. The jersey club-infused track "WHERE SHE GOES" continues, followed by the Eladio Carrión-assisted "THUNDER Y LIGHTNING."  
"PERRO NEGRO" continues with Feid, giving a tribute to a reggaeton club in Medellín, Colombia, as they sing on top of a reggaeton banger. "EUROPA :(" serves as a quick interlude featuring the sounds of a canceled flight to Europe. In "ACHO PR," he taps in El Movimiento figureheads Ñengo, De La Ghetto, and Arcángel, who reflect on all the major wins throughout their careers. He wraps up the genre-bending album with the romantic synth track "UN PREVIEW."
The release of nadie sabe lo que va a pasar mañana has been nothing short of a rollercoaster ride. From seemingly denying Vanity Fair's fall album release to creating a WhatsApp channel to filter rumors, Benito has kept official details under wraps. Furthermore, at the end of 2022, he said he'd take a break in 2023 – which we knew wouldn't be the case early in the year. Benito ended up headlining Coachella 2023 and released surprise collaborations with multigenre artists like Grupo Frontera, Travis Scott, and Drake – all before dropping this surprise album.
He sent a message to his younger fans before his album release via his WhatsApp channel, writing, "To the kids who are not supposed to be in this chat, this album is NOT for you. Dad and Mom, you already read… you are responsible; I am not. He continued, "THIS ALBUM IS FOR THOSE WHO HAVE BEEN FOLLOWING ME SINCE DAY 0 !!! NOT FOR LOS YONAGUNITOS jaja just kidding; it's for everyone. I LOVE YOUUUUUU!!!! LOS AMO DE VERDAD!!!" 
Now, we wonder, is a tour announcement on the way for 2024?