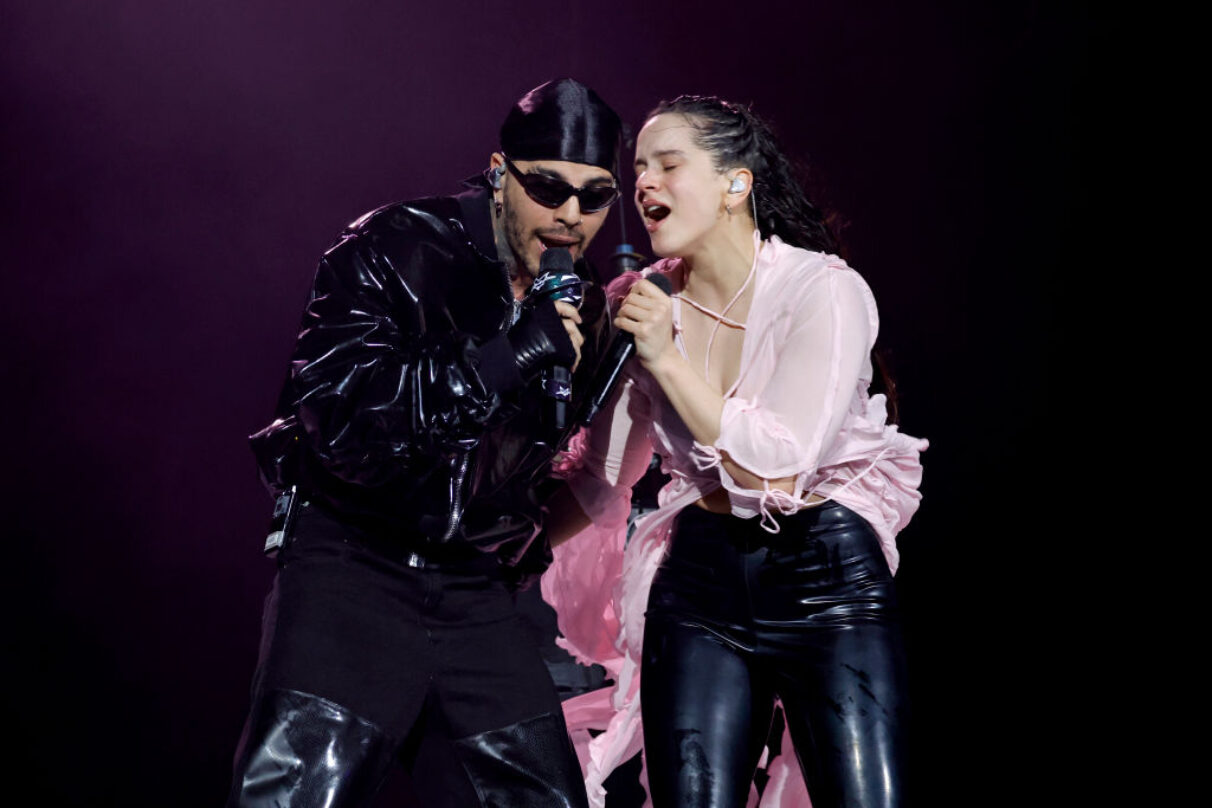 Rosalía Shares Coachella Performance with Fiancé Rauw Alejandro
On Apr. 15, Rosalía brought her MOTOMAMI universe to the desert. Though this is not the first time she's sung at Coachella, 2023 marked the first time she sang with her fiancé Rauw Alejandro—and what better way to do it than at the iconic festival's main stage?
Just after releasing their joint music video for "Vampiros," Rosalía shared her Coachella main stage performance with Rauw. "You know, tonight is very special for me," she told the crowd. "Because four years ago I came to Coachella, and I came alone. But this time, I'm no longer alone." With an emotional facial expression, she starts to sing "Beso."
After "Beso," the two lovebirds performed "Vampiros" with sensual moves and steamy, perreo moments that unsurprisingly exhilarated the festival-goers. Overall, during both performances, their charisma was unmatched—the couple danced together, hyped each other up, and shared multiple kisses.
Fans online are thrilled about the duo's performance. A Twitter user wrote: "Rosalia and rauw alejandro singing beso at coachella, viva los novios and viva el amor." Another Twitter user wrote: "Wow @rosalia is in her own league killed @coachella beautiful performance .. your voice, movement everything ???The moment Rauw Alejandro came out too … the 2 of them! Chemistry and love! Fav set so far! ???."
Besides her MOTOMAMI hits like "SAOKO," "BIZCOCHITO," and "HENTAI," Rosalía also sang her newer tracks like "LLYLM" and a jersey club remix of "DESPECHÁ." She also performed a cover of The Weeknd's "Blinding Lights." Another highlight was her heartfelt cover of Enrique Iglesias' "Héroe."
This isn't the first time that the two newly-engaged artists have performed together. On Mar. 31, Rauw invited his fiancé to perform the same songs at his massive sold-out Saturno show in Puerto Rico.
The Puerto Rican artist will continue his Saturno World Tour on Apr. 20 at the Dickies Arena in Fort Worth, TX. As for Rosalía, she's set to perform the second weekend of Coachella on Apr. 22. Will she bring other special guests during her second performance?