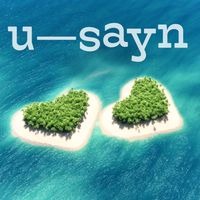 Ready For A Fiery Feast? Listen To "Tiempo" By U-Sayn And Nacho Martin
Rising above mediocrity and sharing a fiery, almost-jazzy latino song are Nacho Martin and U-Sayn. The artists dive into ecstatic singing from the very first moments, supported by the emotional guitar and beats in the background. The Spanish-English singing is simply superb and immediately sets the mood to a party. Not only that, the entire piece is like a vibrant feast for the soul, celebrating the intense emotions of love and sharing a positive ambience all around.
U-Sayn is a multi talented musician, currently based in Switzerland, who collaborated with Argentina's native Nacho Martin for this track. As a producer, songwriter, and composer, he creates an extremely unique sound, with wide ranging influences including R&B, soul, pop, jazz, and funk. Taking his favorite elements of each genre, he synthesizes them all into a sound that only he can make.