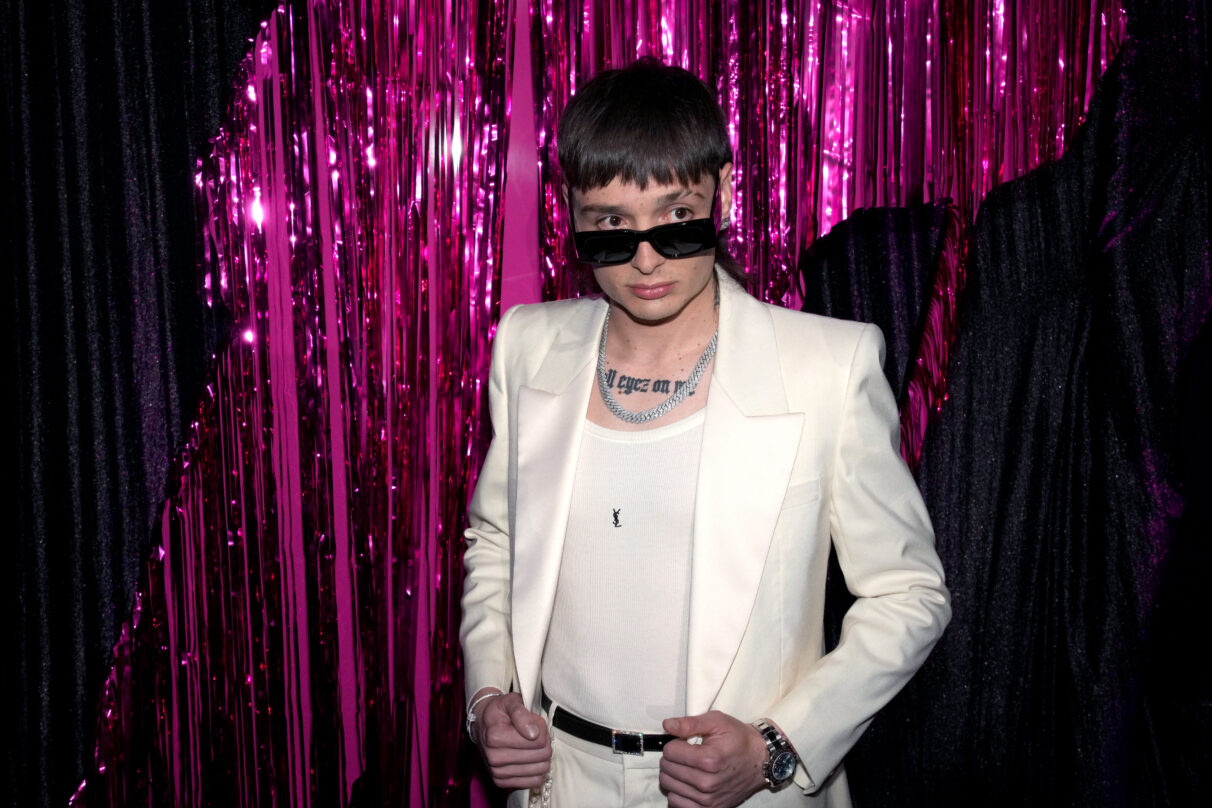 Peso Pluma's Tijuana Show Could Be Canceled Over Organized Crime Uncertainty
Peso Pluma is at his peak right now. From putting música mexicana on top of the charts to making history at the 2023 MTV Video Music Awards, the "Lady Gaga" singer has all eyes on him. However, it seems not all eyes wish him well, as his safety at his upcoming show in Tijuana has been called into question. 
Yesterday (Sept. 12), Mexican news outlets reported news of an organized crime group targeting the skyrocketing artist. The Jalisco Nueva Generación Cartel (CJNG) allegedly threatened Peso Pluma ahead of his performance at the Estadio Caliente in Tijuana, Mexico, scheduled for Oct. 14. It is believed that CJNG sent out a message to the artist in various locations on the border town through narco mantas, or banners put up by cartels in public places with specific warnings or messages. The mantas were set up in the El Mirador and Libertad neighborhoods, per Infobae.
"This goes out to you, Peso Pluma. Refrain from presenting yourself on October 14th because it will be your last presentation for being disrespectful and [having a] loose tongue," the handwritten threat read in Spanish. "You show up and we'll fuck you up." 
Though there's no way of legitimizing the origin of these types of threats, it's worth noting that they aren't to be taken lightly based on past cartel-related incidents with Mexican singers. There has reportedly been an arrest tied to the criminal activity. Vice reported that the CJNG could have threatened the Guadalajara native for singing narcocorridos about El Chapo at Festival Arre last weekend in Mexico City. Though Peso Pluma sings narcocorridos, he has refused to discuss them with the media. 
At the time of publishing, Peso Pluma hadn't commented on the issue. Remezcla reached out to his team for comment. The concert is still scheduled as normal, though Tijuana's mayor, Montserrat Caballero Ramírez, is well aware of the situation. 
In a press conference, she said she was evaluating the situation. "Depending on the progress of the investigation between now and the concert, we will make the decision whether to allow it or not, for the safety of the artist and the people of Tijuana," the city's local newspaper El Sol de Tijuana quoted her saying about possibly canceling the concert. Moreover, she also reassured media outlets that she would offer more security than usual for the concert, including the state and local National Guard. 
This isn't the first time Caballero Ramírez talks about Peso Pluma's music genre in general. Earlier this year, she said she'd look into prohibiting corrido tumbados concerts in the city, though she has yet to proceed.
This year, there has been a growing trend of politicians attempting to ban corridos tumbados concerts throughout Mexico. In May, Cancun tried to ban concerts that "promote violence." Furthermore, in Mexico City, AMLO shared música mexicana songs that young people can listen to instead of corridos tumbados.
Moreover, corridos stars have also canceled their own shows due to unsafety related to organized crime. In February, Grupo Arriesgado canceled their show in Tijuana due to alleged threats from the same organized crime group.