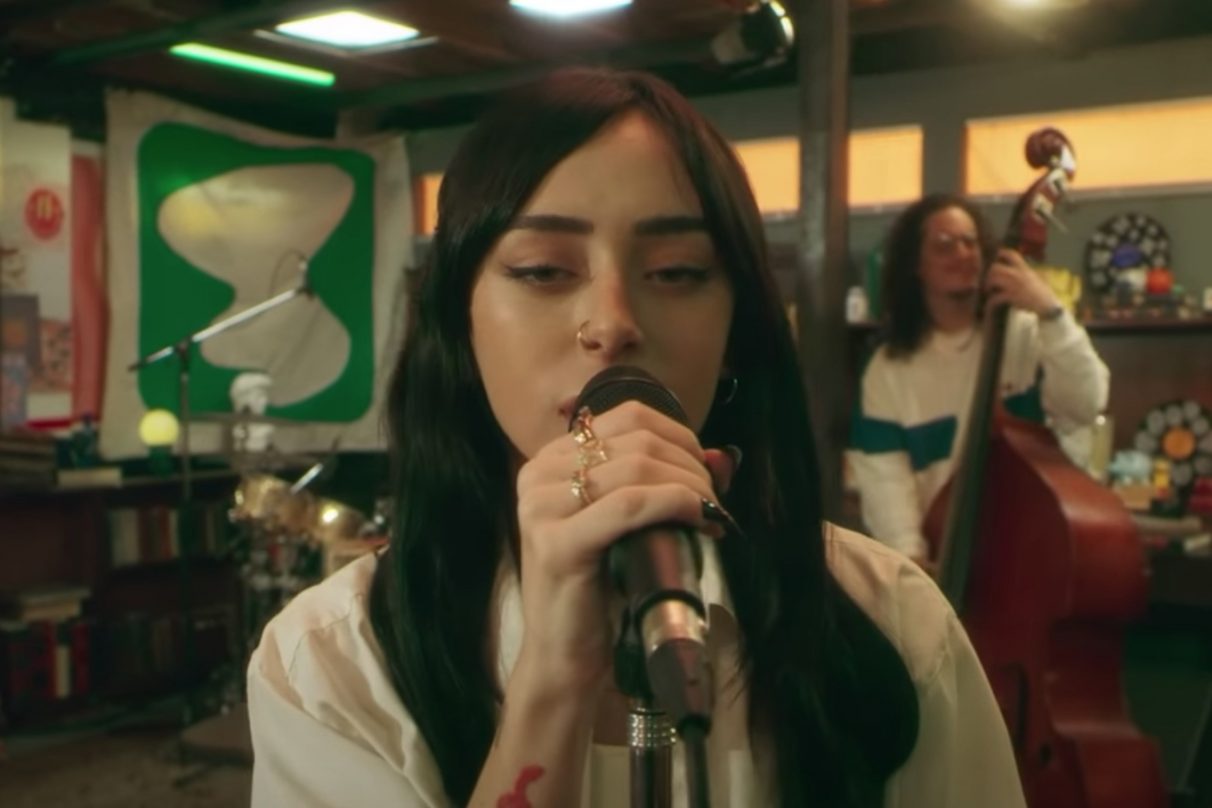 Nicki Nicole Delivers Hypnotizing Performance of 'Parte de Mi' at 'Tiny Desk (Home) Concert'
Rapper and singer and Latin Grammy nominee Nicki Nicole performed for National Public Radio's (NPR) "Tiny Desk (Home) Concert" where she held a bandoneon-style jam session with her band in celebration of Our Heritage Month.
Nicole started her concert with the song "Colocao," which has garnered more than 100 million views on YouTube since its release last year. It reached No. 6 on the Billboard Hot 100 in her home country of Argentina and hit gold in the country as well.
Dressed all in white – pants, platform shoes, buttoned shirt, and sports bra – Nicole sat at the center of her band inside what looked like a used bookstore or antique shop in Buenos Aires. Her silvery voice lent itself perfectly to a track she's described before as "experimental freestyle." One of the cameras capturing the session looked like it was being recorded on a VHS camera, which gave some of the angles a vintage ambiance.
In her second song, "Mala Vida," Nicole sings about a life of struggle that she can't escape from. The track flows effortlessly into her third song "Wapo Traketero" about a charming criminal that has captured her heart.
Nicole then stands up and takes her place closer to the camera for her fourth song, "Parte de Mi," the title track on her upcoming album, which debuts October 28. Accompanied by a string quartet, Nicole's voice radiates innocence and allure as she sings about longing for someone she loves.
"'Parte de Mi' is a song very special to me," Nicole said in a statement. "I would say the most personal track I've recorded to this day. I wrote it for someone who is no longer with us, but a person who touched me deeply. This song is 'a part of me' for you all, and for you to feel it in your own way too. It is also the reason I named my next album Parte De Mi."
Nicole wrapped up the session with the songs "Freestyle" and "Baby," which was the first time the band had ever performed it live. "It's a song that we, as a band, all love, and there's nothing better than to share it here," she said. It was an enjoyable way to end a nearly 16-minute concert that everyone should take the time to listen to as soon as possible.