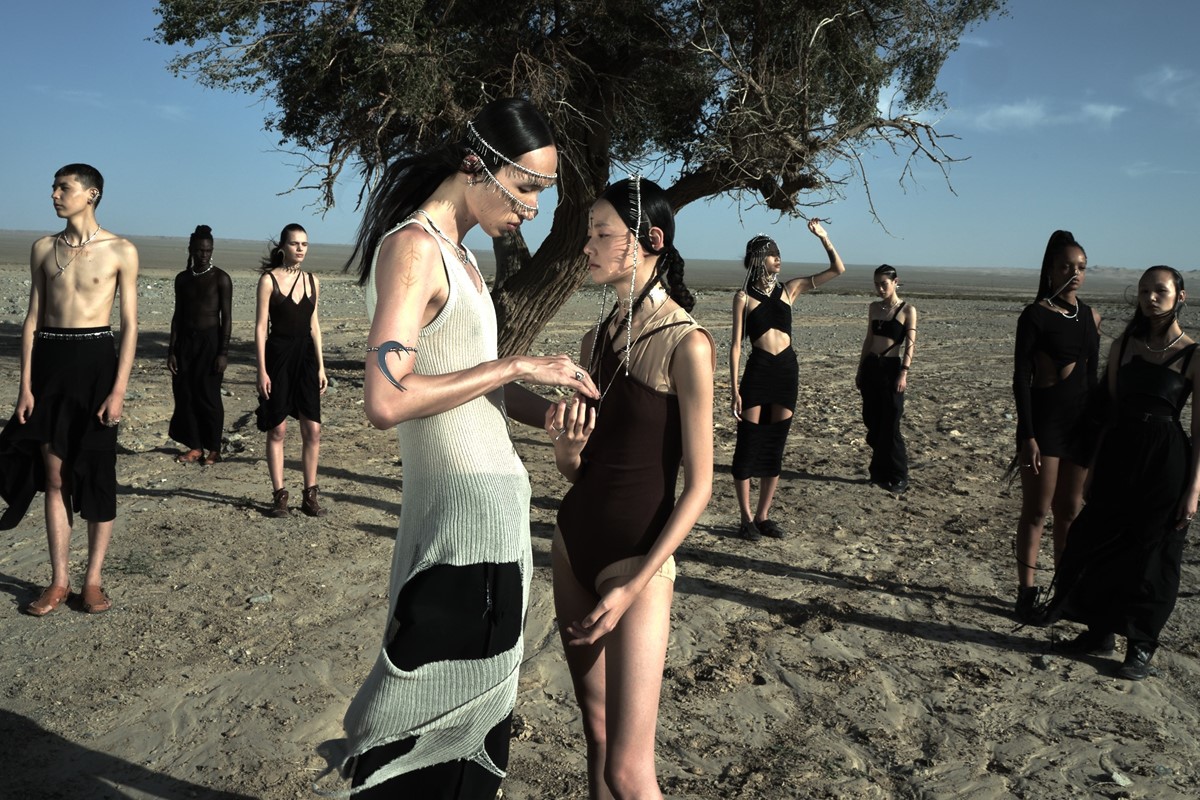 Nahiya Su on launching KVK and their ultimate AW21 accessories trends
The co-founder and creative director introduces the Chinese accessories label's new collection and ritualistic short film and reveals the unconventional future
of jewellery
Blending together elements of sci-fi, nature, rituals, and femininity, Nahiya Su's subversive China-based accessories label, KVK (Kill Via Kindness), explores a world of contradictions through its jewellery. Drawing inspiration from Japanese novelist Ryūnosuke Akutagawa's words, "cunning tenderness often kills," the co-founder and creative director creates pieces which are fluid, sleek, soft, and unsettling, all at the same time – an attempt to capture the multifaceted identities of youth today. "It's like a spider spitting silk (or) a deadly weapon that seems slender," she tells Dazed.
The brand's newest offering, titled Hunting collection, collides memories from Su's Mongolian upbringing with references to futurism and technology. The result: a selection of subversive metal accessories, which – unlike conventional jewellery – appear as intricate, alien-like extensions to the human body. 
Read More
The next generation of biotech fabrics sending fashion sustainable
Drug fronts, murder, and Paris Hilton: the rise and fall of Von Dutch
This holiday season, Rihanna is making the yuletide assless
The Institute of Digital Fashion swears that NFTs are no token gimmick
Complimenting the drop, KVK has released a three-minute short film, titled HUNTER, MOTHER, SISTERHOOD. Directed by Jeremy Qin, the abstract film pays homage to Su's favourite sci-fi films, Dune, Star Wars, and Prometheus – telling the story of a galactic hunting tribe which comes across a human baby. Layered up in the collection's spider-like rings, spiny ear cuffs, spiralling earrings, and snaking bracelets and standing before a prehistoric desert background, the tribe performs a sacred ritual together. "I think it captures the spirit of the times: whether we can, like our ancestors, honour all things as teachers and return to the most natural, prosperous relationship with the other and humanity itself," explains Su.
Take a look at the gallery above for a glimpse at KVK's collections. Below, we talk to Nahiya Su about KVK's primitive yet forward-thinking aesthetic, embracing fluid femininity, and their ultimate AW21 accessories trends – from vintage baroque to camouflaging face ornaments.
What are the main influences and inspirations behind KVK's accessories?
Nahiya Su: The way in which the spider survives and hunts and its dual identity as both hunter and prey has always been an inspiration for the brand. The creature has an aggressive elegance and a powerful talent, which are what we want the brand to bring to the table. This is where our first collection, Spider Sequence, came from – we noticed that spiders have always played a negative role in pop culture as a sort of seductive sin of desire and the ultimate price that comes with it, such as death and so on. These 'aggravating words' may sound reasonable, but we want to express something different. KVK wants to celebrate the tough, strong, sharp, and contemporary feminine beauty represented by the spider.
How would you describe the KVK aesthetic?
Nahiya Su: A coarse, primitive creature worship; an unsettling femininity; an intimidating tenderness; an opportunistic proactiveness; an omniscient atheist (Kenosister Via Knowingness); and a human-centred vision of the near future. We focus on the changes in human lifestyles, cultural orders, and habitats of the near future. With a philosophy of 'free combination' of accessories, we provide inspiration and convenience to the citizens of a new world of changing identities, tasks, and places of work and life. We aim to create a pure future space that is not part of any established culture and comes from the fusion and collision of the most primitive biological nature and future energy.
"We aim to create a pure future space that is not part of any established culture and comes from the fusion and collision of the most primitive biological nature and future energy" – Nahiya Su
You just released the HUNTER, MOTHER, SISTERHOOD campaign video. Can you please explain the story behind this film, and why this felt important to make? 

Nahiya Su: We created a complete science fiction storybook that peeks into the life of future people. With abstract visuals, the short film tells a story of the matriarch of a galactic hunting tribe who finds a baby from an unknown civilization on the eve of a coronation ceremony, and brings it back to the tribe. You'll notice that the film has a mysterious open ending, leaving you wondering whether this alien baby will be accepted by this future tribe or not. When we were making preparations for the film, it may have carried a blessing to the return of the truest emotional connection of humanity in the post-COVID era.
Everyone is reaching for glam clothing right now after two years stuck indoors, especially with the return to regular nightlife and holiday parties coming up. What accessory trends have you noticed popping up this season? How has this influenced KVK's collections?
Nahiya Su: We actually talked about this recently, the baroque revival movement that is bound to emerge after the great depression, or as you said, the glamorous aesthetic and the mass optimism behind it. We're trying to combine vintage baroque with a contemporary minimalist aesthetic… And "minimalist baroque" might be the core style of the next collection!
It's worth noting that this trend to fight the current depression with a glamorous aesthetic didn't suddenly emerge. As early as when we DIY'd the luxurious face ornament for the HUNTER, MOTHER, SISTERHOOD film, we saw more and more brands focusing on increasingly glamorous headpieces and even body accessories. This trend came up without a leader, but from the spontaneous sensitivity and raw resistance power of the fashion world. We are proud to be part of it.
What accessory trends excite you most right now and why?
Nahiya Su: Since the beginning of accessories, they have been used to highlight one's identity, to differentiate from others, to create personal style and recognition, and to stand out from the crowd. But as digital surveillance becomes pervasive, a whole opposite function of accessories starting from the face piece, has been born – an anonymous mask over the face to escape tracking, to confuse people, and to become invisible from the crowd. You can imagine a tribe of anonymous people with face ornaments. It can definitely be a symbol of defiance and a manifesto of freedom.
"You can see the collision between ancient rituals and future energies in the Hunting collection, and we use this conflict to reflect the times we live in" – Nahiya Su
KVK's shapes feel very sleek and forward-thinking, and some – like the Hunting collection rings and earrings – almost give the appearance of a futuristic, sci-fi type of creature. Can you please explain the story behind this choice? Do you feel like this reflects the state of jewellery right now? 

Nahiya Su: On the one hand, the story of the Hunting collection kind of originates from my Mongolian background, where my childhood memories are always accompanied by traditional celebrations, such as bonfires, archery, and horse races held by herders and hunters. On the other hand, I am a lover of futurism and its manifestations. You can see the collision between ancient rituals and future energies in the Hunting collection, and we use this conflict to reflect the times we live in – our endless longing for technology and conceptual hype and the primitive natural order that is inherent in human beings.
From our perspective – beyond the cyberpunk trend that has been practically dead for over 20 years – we want to express the possibility of focusing on the collision of primitive nature and future energies to create a completely uncivilized, pure world.
You mentioned that the brand aims to embrace the fluidity of 'femininity'. How does this show through in KVK's work? Why is this so important in fashion/jewellery right now?
Nahiya Su: Femininity has always been a great inspiration to me. I think there is a feminine side in everyone, like the yin and yang of Tai Chi, which exists inseparably in everyone. We have always wanted to explore the deeper appeal of femininity, to design accessories from a new perspective of femininity, to show people that femininity is not limited to this – It can also be strong, cunning, sharp, and androgynous. It's not just soft, meek, accepting, and passive under the perception of female-oriented gender. Thankfully, there is a growing public dialogue about this today. In the Hunting collection, we invited Liu Hao to play the female protagonist, highlighting the beauty of his unique femininity.
What's next for KVK?
Nahiya Su: This collection is a beginning, and I am going into a whole new area. You can imagine something bigger – a new collection or a new brand or organization. For me, brands and accessories are ways to express ideas, creativity. You are reading the first verse of the first chapter of my book whose pages are infinite. 
Watch KVK's HUNTER, MOTHER, SISTERHOOD film below.