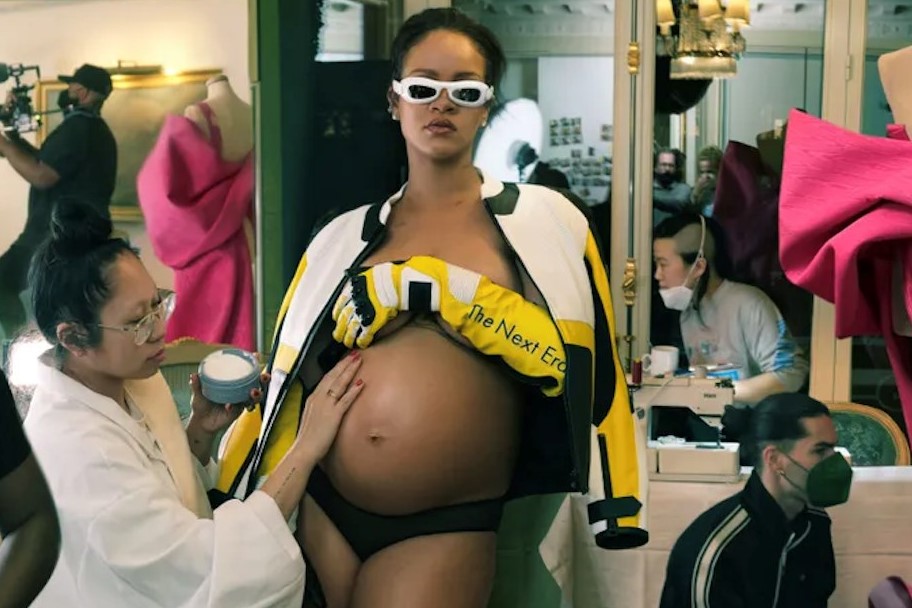 Moto Mami! Rihanna christens the biker jacket an AW22 must-have
Just PLEASE don't call
it bikercore
Things that this trend has absolutely nothing to do with: sports, the freewheeling need for escape, the pandemic, Marlon Brando. Things this trend has absolutely everything to do with: being a petrol-guzzling, bad-mouthed rock chick. It's Rosalía rapping about Prince Albert piercings at an incomprehensible, tongue-tripping speed on "MOTOMAMI", it's Pamela Anderson brandishing her bare arse on a 1994 Triumph Tiger in Barb, it's Rihanna huffing "no shit" to the time-keeping prefect at Dior's fashion show. 
For whatever reason, straddling a motorbike when you've got leg cramps and swollen ankles is considered poor pregnancy practice, but, as evidenced in her latest Vogue spread, on Rihanna, the moto jacket is all about this kind of subversion, placing her orb-like bump in dangerous liason with the open road. As pictured above in Dior, fashion designers were putting their pedals to the metal this season, inspired (perhaps) by the Caramel Curves, an all-Black biker gang, that the musician-mogul happened to recruit as part of her Savage x Fenty crew last year.
Throughout the AW22 season, oversized biker jackets came overdyed, bruised, and battered. At Miu Miu, Diesel, Prada, Jordan Luca, Ambush, and Acne Studios, tattered leather outerwear looked as though it had been thrown out by the exhaust of some old dirt bike. But it was Maria Grazia Chiuri who engaged most closely with the moto-motif, proffering neon-striped rider gloves, airbag vests, and rubber-mat skirts. Otherwise, the style emerged in more structural iterations at Marni, Junya Watanabe, Celine, Balmain, Alaïa, Versace, and Y/Project. Not to mention Sarah Burton, who has been absolutely desperate for a moto-moment, sending out the same spliced leather jacket at Alexander McQueen for seasons on end. 
All this is to say: the moto jacket was a constant. But, then again, when is it not? The item is a fashion fixture, a style staple, and so reading the runes on the number of buckles, belts, and flailing straps that made their way down the AW22 runways can prove a little futile. And, lest we forget, the motorcycle trend was unavoidable in the late 2010s, hawked by influencer-models like Leomie Anderson, Vetements, and chequerboard ASOS two pieces. It felt a bit costumey, a bit 2D, a bit Herbie Reloaded. In 2022, however, it's stinky and worn-in, like a second-hand Balenciaga city bag. 
In fact, it's a little middle-life crisis, styled with off-hue jeans, trucker hats, and blustering, open shirts. Just look at Glenn Martens' recent collections for proof, but please, let's not call it "bikercore". With no overriding consensus from fashion designers or street stylers, it can often feel like everything is popular at once, the trend pipeline frozen into a million sprouting fractals. Microtrends are, obviously, a thing, but generally speaking, fashion is a flat circle. If this moment teaches us anything, it's that we should all learn to ride over its wide, open planes.