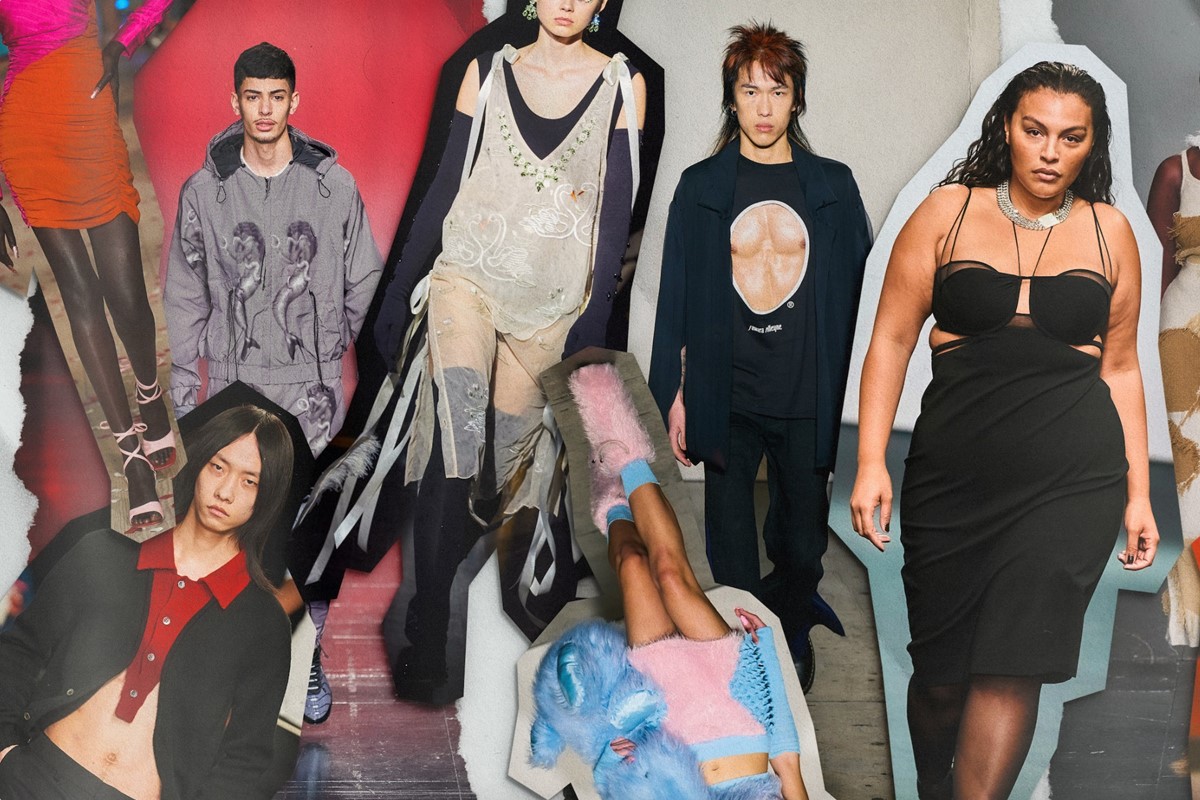 London Fashion Week, these were your best bits
As the curtain falls on LFW AW22, we've rounded up our must-sees – from Ahluwalia's clash of Nollywood and Bollywood, to Conner Ives' party girls, to Maximilian's incredible Fashion East
swan song
London Fashion Week is here again, and if you're under any assumption that big bad Storm Eunice was going to steal any of her thunder, you're v much mistaken. This season, LFW will play host to a bunch of firsts – including Priya Ahluwalia and Conner Ives' debut runway shows – and lasts, as Maximilian reaches the end of his time clutched in the bosom of the Fashion East fam, as well as appearances by KNWLS, Supriya Lele, Nensi Dojaka, and loads, loads more. As usual, we'll be rounding up what's going down right here across the weekend – so switch off Big Jet TV Live (or at least minimise it for five minutes) and get involved.
Read More
Snoop Dogg and Miley Cyrus star in Gucci's Love Parade campaign
Julia Fox isn't crying over Kanye because she is too busy being a MUSE
Imruh Asha is appointed Fashion Director of Dazed
Protesters assemble outside Molly-Mae's not so pretty little runway show
SAUL NASH
Saul Nash was going it alone for the second time this season, and unsurprisingly the former Dazed 100er continues to go from strength to strength. For AW22, Nash debuted a short film alongside his runway show, which paid tribute to legendary Kensal Rise figure Gee Artery – one of London's first Black barbers, who passed away in January. The collection itself, RITUAL, was a deep dive into Nash's Guyanese heritage and British Afro-Caribbean culture, all set against the backdrop of Gee's barber shop. That translated to a study of what kids want to wear in 2022, as Nash turned out dynamic, adaptable outerwear, logo-emblazoned baseball tees, and lightweight mesh pieces which incorporated his skewed and adjustable seams. Punctuating the collection were a series of mermaid prints which drew on folkloric tales told across Africa, the Caribbean, and Latin America, and Nash dipped his toe into tailoring, too – a series of merino jackets and trousers "with the ease of track pants" were dotted throughout.
CONNER IVES
Oh, we'd been waiting for this one! Given his massive cult following and the fact Queen Ri herself hand-picked him to help start up Fenty, it's hard to believe Conner Ives has never staged a runway show (leave it to the pancetta to put a pin in that one). This season saw all that change. The rising designer debuted his AW22 collection in the bowels of Selfridges' Old Hotel, where he reworked and remixed all-American archetypes – each of his girls had a whole backstory, as he drew inspo from the likes of Carolyn Bessette-Kenedy, Rosamund Pike in Gone Girl, past contestants from America's Next Top Model, and Andy from The Devil Wears Prada (are you wearing the… Conner Ives boots? Yeah, I am). The clothes themselves were slinky and sexy, with glittering mini-dresses, tasselled sarongs, pithy logo tees, and neon-hued butterfly hair clips evoking the wild mish-mash style of the early 00s. Club kids and party girls: Conner has you covered.
MATTY BOVAN 
Matty Bovan was looking in the direction of the US of A this season, sending a troupe of bold-shouldered American footballers through the belly of St. Martin-in-the-Fields' crypt. Having spent last summer in Connecticut with his boyfriend's family, Bovan had a whole lot of fun subverting some of the country's most famous iconography. The stars and stripes, for example, were slashed, spliced, and diced, and turned into flowing skirts and pinafores with ragged hems, or else strewn garishly across gowns of outlandish proportions, while Varsity-style jackets were transformed through clashing panelling and painted slogans reading 'Bad Dreams' and 'Hopeful'. Closing the show was a big surprise: Irina Shayk strutted down the catwalk in a pouffy scarlet and pink number. Didn't have her down as a Matty Bovan kind of girl tbh, but who wouldn't want to be transformed by the brilliant designer's fair hand? We rest our case.
SS DALEY
After a pretty magnificent debut last season, Steven Stokey Daley was back for AW22 with yet another avant-garde, out of the box runway show. Employing members of the National Youth Theatre to model once more, this time the class-dismantling designer set out to queer the traditionally English stately home: think a debauched dance party at Downton Abbey and you've just about got the idea. With a four-poster bed, a chaise-longue, and a picturesque picnic taking centre stage, Stokey Daley's cast of couples and throuples twisted and writhed around each other, in a selection of his dynamic tailored pieces. On the menu for next winter? Ultra wide-legged trousers and matching jackets in tactile velvet and tweeds, button-down vests with bare chests beneath, wafting silk and cotton shirts bearing delicate floral prints, and a stand-out coat bearing motifs of birds of the British Isles.
NENSI DOJAKA
There was big news at Nensi Dojaka this season, as the former Fashion East designer and LVMH Prize recipient sent a series of larger models down the runway – and honestly, the show was so much richer for it. Now a few years into her career post-CSM, Dojaka is really honing what she does, with her signature cobwebby dresses accompanied by louche tailored suits and a bunch of slinky knitted dresses designed to kit out the kind of women whose lives don't involve a regular step-and-repeat moment (ie; us normies). Making a fair few appearances this season, Paloma Elsesser strutted Dojaka's runway in a sexy LBD that demonstrated the designer's skill at dressing bodies beyond a size eight, while Schiaparelli muse – she of the most regal, incredible face – Maggie Maurer also showed up, debuting a tiny baby bump encased in glittering diaphanous chiffon. Big congrats to both her and the woman who dressed her.
AHLUWALIA 
As with Conner Ives, Priya Ahluwalia has been chipping away at fashion across the course of the last few years, but up until now hasn't had her own runway show. The good news is that she's finally ticked that off her to-do list, taking over 180 The Strand with a standout presentation barely anyone's stopped talking about. Like basically everyone else on the planet locked indoors due to the pandemic, Ahluwalia spent a vast amount of her time vegging out in front of the TV, which is where the inspo for her AW22 collection came from. A clash of Nollywood and Bollywood, Ahluwalia sent a strong collection of printed denim sets, psychedelic tracksuits in tactile fabrics, and slinky little party dresses ideal for the dancefloor down a petal-strewn catwalk. "I'm making the kind of things me and my friends want to wear," she explained ahead of the show. Elsewhere, silky shirts were emblazoned with poppy film posters, and there was also a selection of standout hats – as worn by a cast largely made up of Black and Brown models.
LABRUM
Foday Dumbuya made his London Fashion Week debut last season, presenting a collection that seemingly whet the appetite of the entire industry – everyone was out in force at Labrum's second coming, including a huge number of the blossoming designer's friends and family who cheered him on from the front row. This time around, the show opened with a moving poem by Julian Knox, who led the choir that provided its soundtrack. Looking to his West African and British heritage for inspiration once more, Dumbuya revealed he'd been thinking about the role of a refugee for AW22, tackling feelings of displacement within his new offering. Styled by Dazed's own IB Kamara, this translated to slick tailoring in the form of boxy jackets and slim trousers bearing embroidered florals, sharp-shouldered coats, and neat knitwear, all crafted in an understated palette with pops of citrus bright using fabrics sourced from his hometown of Freetown, Sierra Leone.
STEFAN COOKE
This season, Jake Burt and Stefan Cooke presented the menswear equivalent of Vivienne Westwood's knockback skirt, which saw the designers take trims of coloured tulle and sling them beneath bomber jackets and above smart trousers as if they were bristling mini skirts. Though the collection relied on plenty of these titillating styling tricks, with bare torsos poking beneath diamond-cut knitwear and tailoring slashed at the lapel, AW22 was the result of handicraft techniques learnt from ancient textile manuals and costume stores. Mediaeval chainmail tops were inspired by an old tabard found in a theatre archive, while trompe l'oeil denim embroideries were constructed with rope inserts, and one pleated shirt took a particularly painstaking week to construct. By applying those methods to a youth-driven wardrobe, comprising jewel-capped vests, intricately-knitted bombers, and bright, decorticated cardigans, Stefan Cooke produced a realistic collection bolstered by craft.
FASHION EAST
Set in the gallows of a Shadwell nightclub, Lulu Kennedy's cohort of prodigies, Jawara Alleyne, Chet Lo, and Maximilian, maintained Fashion East's reputation as a proving ground for cool, with each designer pressing at the borders of their own little worlds. Alleyne, who's slashed-up approach won him entry into the non-profit, presented a newly elegant look, inspired by a sunbaked childhood in the Caribbean. While he doubled down on his signature safety-pinned creations, fastening squares of fabric across the body like punkish bunting, he also draped jersey into smart, strapless columns and inverted men's tailoring to subversive effect. Elsewhere, Lo continued his exploration of aleinoid spikes, which he fashioned into sherbet-hued halter-neck dresses, asymmetric mini skirts, and moon boots. The designer also introduced fur, with a cyber goth agenda, in trailing hats and knee-high boots, alongside silken, snow bunny puffer jackets and matching minis. But the star in Fashion East's crown was Maximilian, who took his final bow on the incubator's runway. Tipped to win this year's LVMH Prize, the designer combined his religious upbringing in rural Shropshire with the svelte, sensual touch that has scored him fans in Rihanna and Kim Kardashian, proffering Christ-like thorns on sinuous white gowns, nunnish habits whipped sensually around the body in lilaz gauze, chocolate cocktail dresses, and wipe-clean, nipped-in bombers.