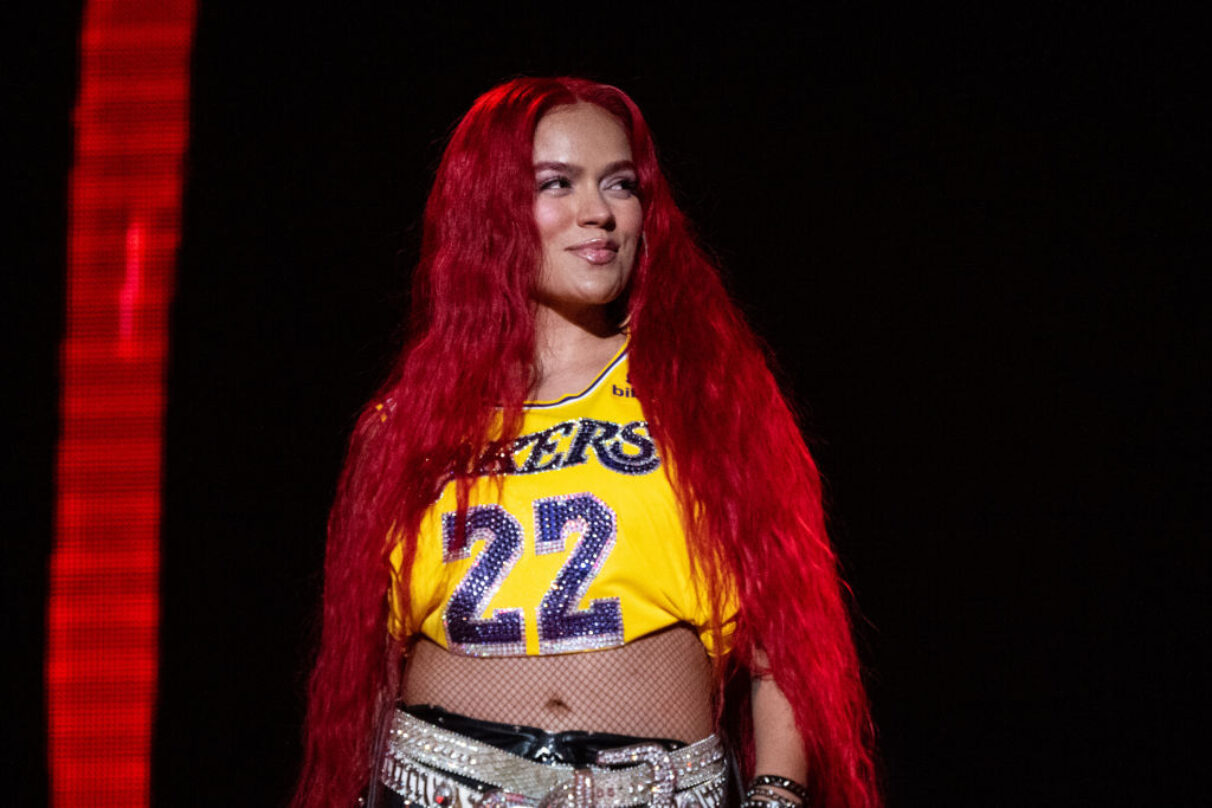 Karol G Unveils Album Cover Art, Release Date & Tracklist
After releasing her latest sensual collaboration, "X Si Volvemos" with Romeo Santos, Karol G is now revealing the details of her upcoming album Mañana Será Bonito. Today (Feb. 10), the Colombian artist unveiled the album's cover art and the release date of Feb. 24. She also announced a pre-save option to see the album's tracklist (and collaborators), along with video teasers via Spotify.
"This is the face of my album. I present it to you with all the love and pride that this little chest keeps ❤️🔥," Karol G wrote in Spanish on an Instagram post. "To tell you the truth, I can't believe I held out so long to reveal this date, and today I can finally tell you about it ……… Family: MYYYYYYYYY ALBUMMMM COMES OUT IN 14 DAAAAAAAaaaaaYSSs in 14 I'm happyzZ… And counting [down] the days."
The eagerly anticipated album's colorful art cover features Karol as a sirenita with her now signature red hair, animals and dancers with anime-looking eyes, Karol's signature thorned-heart design, and flowers. It also shows a pink rabbit in a two-piece bathing suit, the Egyptian pyramids of "Cairo," a laughing skull, the yellow car with a rainy cloud from "Provenza," and a black cat, presumably for "Gatúbela." 
The Spotify pre-save option also unveiled the album's tracklist and collaborators. Besides the already-known collaborations with Romeo Santos, Ovy on the Drums, and Maldy, other collaborators include Quevedo on "PERO TÚ"; Justin Quiles and Ángel Dior on "OJOS FERRARI"; Bad Gyal and Sean Paul on "KÁRMIKA"; Sech on "DAÑAMOS LA AMISTAD"; and Carla Morrison on "MAÑANA SERÁ BONITO." The official tracklist contains 17 songs.
The Spotify pre-save option also featured two new teaser videos. One of them shows Karol in a bathtub talking on the phone about her time in Puerto Rico with a special someone; the video clip ends with the title "DAÑAMOS LA AMISTAD." The second video clip shows her in a pink convertible ride with white sunglasses; the teaser ends with the title "TUS GAFITAS."
This release will be Karol's fourth album, following KG0516 back in 2021.