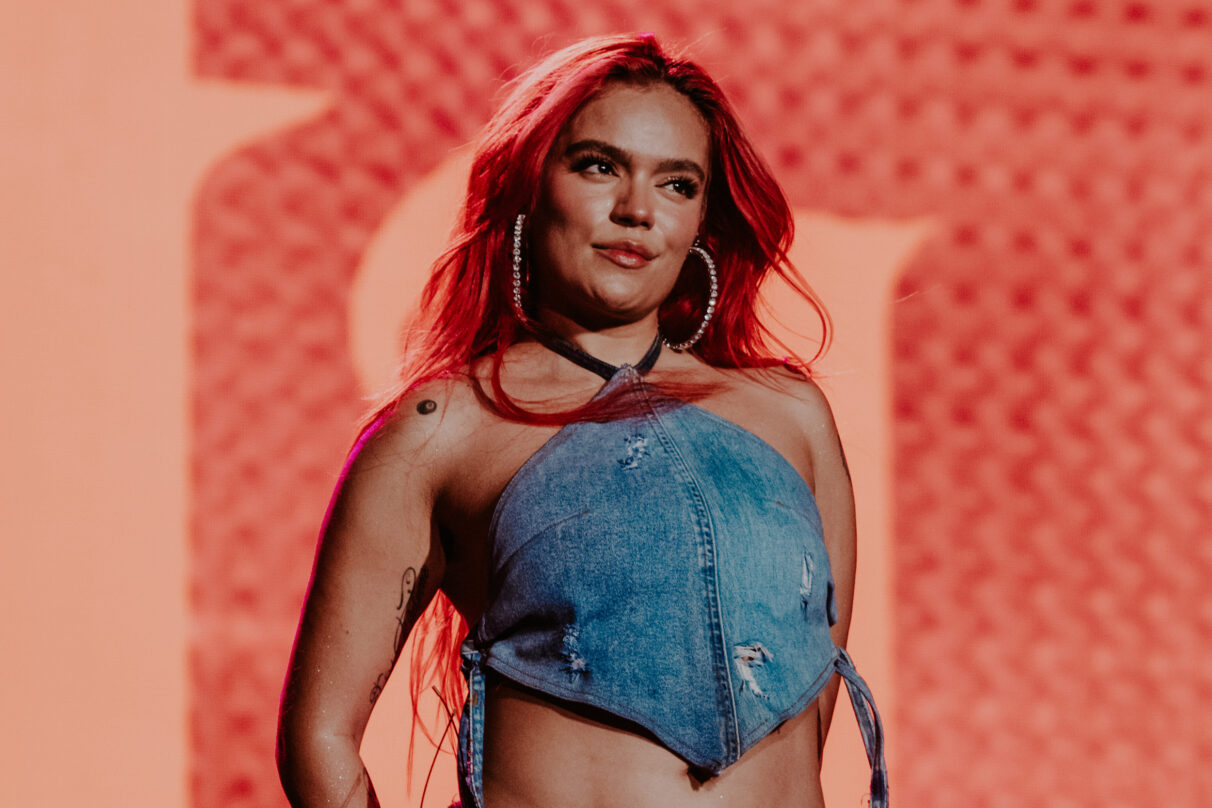 Karol G Calls GQ Mexico "Disrespectful" for Botched Magazine Cover
Karol G is expressing her displeasure with a magazine cover shoot she did. Today (Apr. 6), the Colombian superstar claimed that GQ Mexico made her look unnatural in the photos from the shoot.
Karol G is one of the honorees for GQ's Global Creativity Awards. She is the only Latine artist up for the honor, also including Tim Cook, Donald Glover, Yohji Yamamoto, and Hoyeon. The interview was originally published in English in GQ U.S., and GQ Mexico used one of the photos from the shoot as the magazine cover. Instead of celebrating this big moment in her career, Karol G was unhappy with how they portrayed her on the magazine cover. She called out the publication on Instagram in a post with the cover. 
"Today my GQ magazine cover was made public, a cover with an image that DOES NOT represent me," she wrote.
In the era of her Mañana Será Bonito album, Karol G has noticeably embraced a more natural look with less makeup. For the GQ Mexico cover, she is pictured with tons of makeup on. She was also unhappy with how her body was portrayed in the photo. 
"My face does not look like this," Karol G wrote. "My body does not look like that and I feel very happy and comfortable with how I look naturally." 
Karol G revealed that she oversaw the edits to the photo, and she let GQ know that she didn't like what was being done to it. "They didn't do anything about it, as if to look good I needed all those changes," she added. Karol G used this as an example of how women are held to unreal beauty standards.
"It's disrespectful to me," she wrote. "It's to the women that every day we wake up looking to feel comfortable with ourselves despite society's stereotypes."
Karol G received a lot of support in the comments for calling out GQ. The G in her name was originally inspired by her love for G-Unit, so it was a full-circle moment to see The Game in her comments. "You're naturally beautiful and the person that was responsible for this should be fired," he surprisingly wrote in Spanish. "So beautiful," Bebe Rexha wrote in another comment.
Last month, Karol G made history as the first woman to debut at No. 1 on the Billboard 200 chart with an all-Spanish album. She reached the summit of the chart with Mañana Será Bonito.