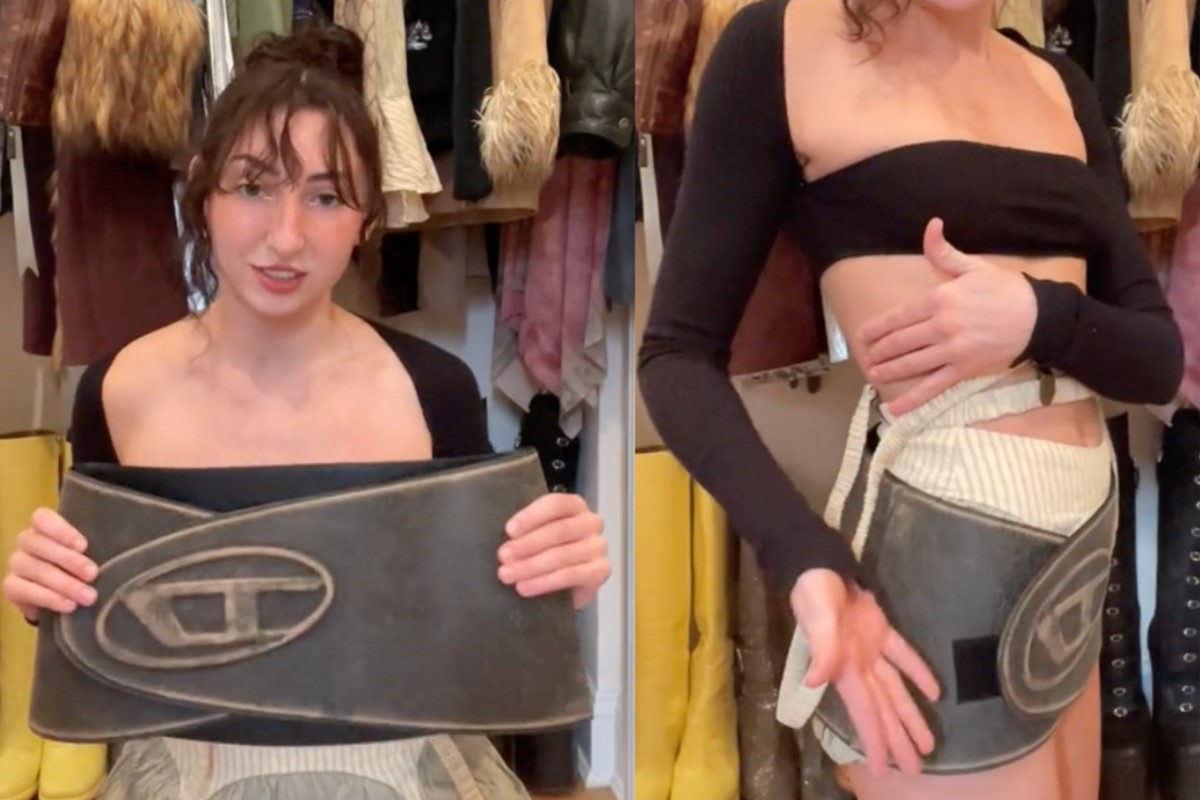 In defence of useless skirts
Diesel's belt skirt has divided the internet, but when will we accept that sometimes fashion isn't
always functional?
Fashion police, we have another one. Diesel's darling AW22 wrap belt skirt is the latest casualty of divisive internet discourse, appearing in a now-viral TikTok review by user @ageorama who points out the impracticality of its design. Dubbed the hot successor to Miu Miu's ubiquitous slashed mini set when it first appeared on runways in February this year, the reality of its $1,000 price tag and apparent inability to be considered as adequate bottom coverage when seated has now fanned the flames of internet ire – but, beyond the fair complaints about its velcro construction and price point, why do we get so het up about the functionality of fashion?
The cycle is nothing new. Periodically, some unconventional hot ticket fashion item will find its way to some corner of Twitter, Reddit, or the like, and explode across the internet, comment sections filled with incredulous exclamations like "Who is wearing this?!?!?" and "How is this fashion?!" Muttered in the same way modern art can be derided as "something a four-year-old could do," the age-old argument about the functionality of fashion routinely rears its head, an off-shoot of broader discussions about the purpose of art that has been debated since time immemorial. What seems to be forgotten every time is that high fashion ought to be appraised as art. Like good art, the best of high fashion challenges our perceptions of its subject through the creation of a fantasy, sometimes at the cost of practicality. Pieces like Diesel's AW22 belt skirt are less about everyday wearability than the communication of the designer's overall aesthetic explored through collections. 
Read More
Portraits of the sliving dead at the Whitby Goth Weekend
'I would never eat a worm': Heidi Klum's costume designer speaks his truth
Bella Hadid is just another bloke in Balenciaga
Charithra Chandran is the diamond of Levi's new season
@ageorama looks good on camera tho ? #dieselskirt #diesel #dieselfw22 ♬ Sunday – HNNY
The confusion is understandable. Where once more conceptual fashion remained within the realm of haute couture, the boundaries between couture, ready-to-wear, and street style have converged exponentially in recent years. Mugler's impossibly cinched muses have become Gucci x adidas tracksuit wearers in 2022, made possible by Supreme bridging the luxury gap collaborating with Louis Vuitton in 2017. Through his experiments at Vetements and later Balenciaga, Demna Gvasalia further enmeshed the everyday into his designs. Post-2014, lighters became heels, IKEA bags were knocked off for 2133 times their original price, car mats became skirts, and even Lays packets popped up as bags – each causing their own internet meltdown, some eliciting company replies from IKEA, Argos, and more. A commentary on the surreal banality of our reality or a piss-take of how far we can push the limits of what can be defined as fashion? Like the reaction to Diesel's belt skirt, the discourse was disproportionate to the topic, exacerbated by social media commentary.
This new Diesel skirt will be the new Miu Miu! Diesel Fall 2022 pic.twitter.com/6vNrKMOaL3

— SinnamonSCouture (@SinnamonCouture) February 23, 2022
In a culture of trends regurgitated endlessly as -core suffixed nouns, our critical consumption of fashion is being reduced through a cumulation of try-on hauls and placing value through relatability content contextualising things in real-life situations, when the fun of fashion is often the dissociation from this. As with pre-makeover Andrea fromThe Devil Wears Prada, the masses consuming fashion through isolated video clips like @ageorama's are outsiders looking in on a world that can be absurdly ridiculous at times – but in the case of Y/Project's Glenn Martens at Diesel actually does make sense.
A match made in denim heaven, Martens' mastery of the material and fresh injection of creativity into a label now establishing itself as one of the season's biggest hitters has elevated Diesel beyond expectations. So the skirt doesn't totally translate to IRL, but it still photographs beautifully and has been styled ingeniously across editorials that document an exciting era of Diesel by Glenn Martens, just as Miu Miu's impractically short skirt set is a symbol of an unprecedented collective fashion moment despite most of my arse hanging out of it. "Fashion," after all, "is not about utility," as Andrea's friend explains to the group – "an accessory is a piece of iconography used to express individual identity." To which I'll leave you with the ever-resonant words of Paris Hilton: "Skirts should be the size of a belt. Life's short, take risks."