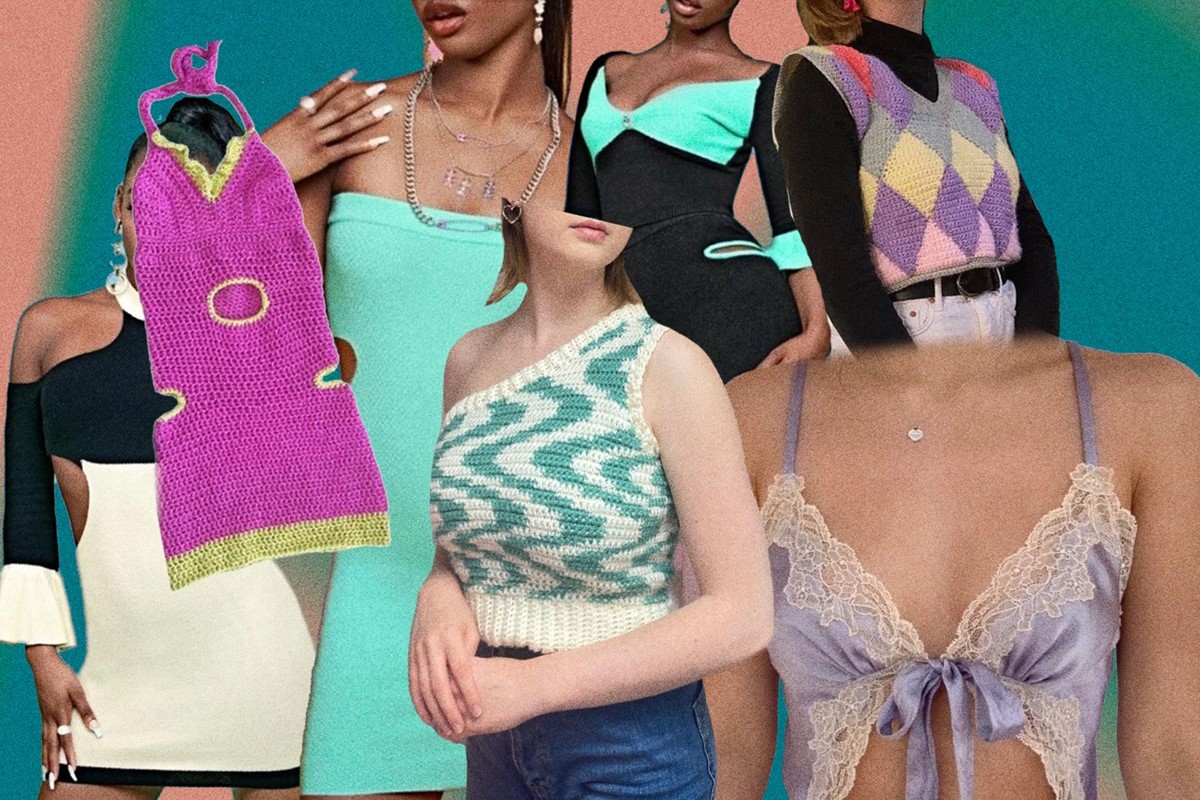 How Shein got away with daylight robbery in 2021
Be it plagiarising independent designers or exploiting its strung-out workers, this was the year that fast fashion birthed
a monster
Whether you cringed at the $900 haul videos or did a double take at the infamous Rick Owens knock-offs, in 2021 you couldn't escape Shein. This year, the e-commerce giant was responsible for some of the worst fashion faux pas, and quickly became the fast fashion villain we all love to hate. The Chinese company is plagued with reports of labour exploitation, abhorrent working conditions, and environmental abuse. But more publicly, it's developed a reputation for allegedly stealing designs from established global brands and small businesses and up-and-coming fashion designers alike.
Founded in 2008, Shein enjoyed a rapid ascent to the top, becoming the most talked about brand on TikTok and YouTube in 2020. The fast fashion giant topped that feat in 2021 by surpassing Amazon to become the number one app in the United States under the shopping categories for both iOS and Android. It parallels Amazon, known for its galling work schedules and conditions for its factory staff, beyond the numbers too – reports suggest that the company pushes its young workers to do 75-hour weeks, so that it can add thousands of items to its site daily. And with such low prices – from bikinis for £4.49, to a crop top for £1.99  – it's a trend-loving bargain hunter's wet dream. It probably comes as no surprise that the company is now valued at over $15 billion – but those billions are, in part, credited to cutting a lot of corners, one of those being producing original designs.
Read More
An ode to WAG style, an iconic moment in British fashion history
Rick Owens has gifted an ambulance to Italy's emergency services
From pandemic to pandemonium, this is the fashion year in review
The Matrix's costume designer on the franchise's chokehold on fashion
When it comes to the big players at least, the court cases are piling up. In 2018, Levi Strauss accused the fast fashion giant of copying a stitch pattern trademarked by Levi's. It wasn't long before the case was settled. This year, AirWar International – the company that makes Dr Martens – filed a suit against Shein for infringing IP. And this was followed up by Ralph Lauren, who sued Shein's parent company Zoetop Business Co for using an image that was "confusingly similar" to its signature polo player logo. According to The Fashion Law, Zoetop Business Co has been named in numerous copyright and trademark infringement lawsuits this year, most of which are being settled quietly out of court. 
For smaller, indie designers, however, it's not so straightforward. On November 3, Tracy Garcia (22), who sells clothing as Transformations by Tracy discovered Shein had ripped off her sustainably-created, one of a kind silk cami blouses. "One of my followers on Instagram sent me a DM with a link to Shein's website and when I clicked it I couldn't believe I was seeing an exact replica of my design." From the moment the New York-based designer graduated from The Fashion Institute of Technology (FIT), she's made sustainability a priority, especially after witnessing how fast fashion companies operate first-hand through internships. "These bigger companies have designers go on Pinterest to 'be inspired' – and I say that in quotes, because they're just replicating what's already been done because they just need new products," she adds.
"One of my followers on Instagram sent me a DM with a link to Shein's website and when I clicked it I couldn't believe I was seeing an exact replica of my design" – Tracy Garcia, designer
Despite her bid to be more sustainable, Garcia understands that some people simply cannot afford these price points. To remedy that, she sells copyrighted personal use sewing patterns of her tops, with accompanying YouTube tutorials, on Etsy. It's perhaps this that unfortunately explains how Shein's $10 poly-blend imitation of her original top (which ranges from $85 to over $100) is a seam-for-seam remake. "I know a lot of people who don't have a design background may not really understand the mechanics of sewing and patterns, or the difference between an inspired top versus an exact replica," Garcia explains. "I've photographed it on. I know how it falls. I know all the stitching details. They even have the top stitching I do right under the bust that gathers and everything. Shein just completely ripped it off."
At first, the designer felt she had no other recourse besides sending it to Instagram fashion watchdog, Diet Prada, who previously posted about Shein selling Nazi symbol necklaces and ripping off handmade crochet designs from Bailey Prado. However, Shein's unrelenting forgery is near-impossible to cover in its entirety. On TikTok alone, to date the hashtag #sheinstolemydesign has 2.4 million views – and Garcia's video explaining her ordeal is listed at the top, having racked up 1.2 million views and over 300,000 likes. Eventually, Shein removed the listing, which Garcia says "completely proved they stole my design, like 100 per cent. It just blows my mind that Shein gets off the hook all the time for copying small designers." 
@transformationsbytracy Shein knocked off my design. #sheinstolemydesign #slowfashiontiktok #handmade #latinxbusiness #fyp ♬ SAD GIRLZ LUV MONEY – Remix – Amaarae & Kali Uchis
Although Garcia received a tidal wave of support, the comment section of her video also drew in naysayers that questioned the originality of her garment. "This is not an original design, this top has beeeeen made (sic)" one comment reads, with hundreds more just like it. 22-year-old AJ, who's behind sustainable brand Run & Follow, faced similar questions after she resorted to TikTok to share that Shein copied her uniquely modular Big City Button Down shirt . "A lot of people tried to invalidate me and I saw people claim that my design was also unoriginal, but I developed this two years ago, and spent hours researching it to make sure it was an original design." Shein created three variations of the original shirt (which retails for $145) that ranged from $6–$16. However, what really made this a "slap in the face" was that she'd been in contact with the company for years prior. Run & Follow started as a personal fashion blog, and Shein reached out to AJ to be an ambassador for the company in exchange for product in 2017.
"I knew Shein was a shady brand from the start – even before they started to get media attention – but I eventually learned that their products were so cheap because Shein shops directly from the factories so there's no real markup or overheads. That's how I kind of justified working with them at first." But disorganised emails and eventually understanding the company's environmental impact led AJ to sever the relationship in 2019 – though Shein continued to reach out hoping to rekindle the ambassador relationship.
Besides her design being stolen, what stuck with AJ is one comment. "It said something like, 'Thanks for telling me when I can buy your design cheaper.' We spent hours picking the fabric. We did wrinkle tests. We even found snaps from a small family-owned company here in the US. It was a year of work I did with no financial backing, just my own finances. They sell three versions for $8. How do you compete with that?" She eventually consulted with a lawyer who focuses on patents, but quickly learned that it's almost impossible to patent a design, since the requirements are restrictive, and the process is prohibitively expensive and time-consuming. 
"There are intellectual property and design laws that protect certain designs, but it depends on the territory and not everything is protectable. In the United States, there's limited protection for the fashion designs themselves, whereas in other jurisdictions, like Europe, there are broader protections," explains Francesca Witzburg, a fashion and tech attorney. "Many times it's a business decision or business model to get as close as possible to someone else's designs without infringing; or even more boldly, to directly infringe if it will bring them a profit that makes financial sense to simply cut a check down the road."
However, according to these indie designers, Shein isn't exactly running to give people their money back. While the copyright section of Shein's website offers an email to contact their team about trademark or copyright infringement, designers I spoke with say that the company ignored their emails. And in the best scenarios, it quietly removed the listing without Shein facing any repercussions.
"Shein fully respects the intellectual property rights of others" – A spokesperson from Shein
"Shein fully respects the intellectual property rights of others," a spokesperson from the company explained over email. "When legitimate complaints are raised by valid IP rights holders, Shein promptly takes action to address the situation. Part of this process includes making it very accessible to reach our team at the link you noted, where we respond directly to inquiries that come through." A spokesperson from Shein further explained that once their legal team receives an infringement claim or a cease and desist letter, listings are taken down while they do an investigation. However, they only respond to claims that qualify under the law as infringements. 
Interestingly, the spokesperson pointed to designer Sashagai Ruddock – and her brand Flaws of Couture – as an example of a copyright infringement claim that went right. This year Ruddock won the Shein X 100k Challenge, backed by the retailer's "designer incubator programme," Shein X, which launched in January to counter "recurring infringement issues within the industry." But in 2020, Ruddok shared in a now-deleted post on Instagram that the fast fashion giant had copied her designs without permission. "The lies. The exploitation. It. Never. Ends," Ruddock posted.
The spokesperson explained that Ruddock reached out to the company to submit an infringement claim but what started as a contentious relationship went on to seemingly become a mutually beneficial one. Additionally, Shein has now transitioned a number of brands this way into working with the company. While this appears to be a Cinderella story for Ruddock, not all designers will be vindicated by aligning themselves with Shein.
@mysticumluna @SHEIN stole our Cobweb Heart jewellery design so we had to do a comparison? #boycottshein #stolendesign #smallbusinessuk #gothicjewelry #jewelerytok ♬ Monkeys Spinning Monkeys – Kevin MacLeod & Kevin The Monkey
Brooklyn-based college student Joanna Cosentino (20) managed to get Shein to remove her listing with the help of a family friend who's a lawyer. As Joella Crafts she sells charming, handmade clothing and accessories after teaching herself to crochet in August 2020. "Something that took me hours and weeks to design, create, test, and publish was being stolen, mass produced cheaply, and sold for a mere $12," Coesntino explains. "It was exhausting to say the least, and more frustrating to know I was only one of the countless designers who went through it, and will go through it." After sending a barrage of cease and desist letters and commenting on their social media, the listings for her knock-offs were quietly taken down. But not all designers are so lucky. 
Paige (28) is part of the three-person team behind UK-based gothic jewellery store Mysticum Luna. She first found copies of her work on Aliexpress – the £3.63 billion online retail service owned by Alibaba. "It's pretty impossible to battle with them, since they'll take down listings and make another a week later." As recently as November, she started finding her designs plastered across Shein for as low as £1.75. The original earring and necklace set retails on the site for £50. Paige ended up buying the Shein copy and comparing the quality on TikTok, though she laments that she hasn't had much luck fighting the e-commerce giant. "I've just admitted defeat. A few small businesses reached out with advice but I didn't want to face this huge company and get squished," she adds. "We're a small team and don't feel we have the knowledge or ability to fight it."
"I actually had to take a break… I'm not sure If I'll ever start (my business) back up again and a very big part of that is what happened with Shein" – Florentine Röell, designer
While it's difficult to determine the financial blow these small designers face, the emotional toll it's taking on the future of the fashion industry is a serious concern. "I actually had to take a break… I'm not sure If I'll ever start (my business) back up again and a very big part of that is what happened with Shein," Florentine Röell explains. The 22-year-old, who lives between Brussels and London, started crocheting "useful items" to relax, but that changed as she began to post her creations on TikTok and gained attention. Her gateway to fashion? The JW Anderson cardigan Harry Styles made famous.
Röell's designs are feminine, cosy, and eclectic, a reflection of the joy that crocheting brought into her life. Though when she discovered that Shein had stolen two designs – one of which she hadn't even had a chance herself to produce or sell – that was the last straw. "This whole thing with Shein has totally taken all my will to produce and show people my work," she laments. "I never know if someone will just rip it off and make money off my creative abilities – I'm just so tired and so discouraged."
Counterfeit designer items have long been a contentious topic, with the rise of replica sneakers and websites that sell fake designer bags like Aliexpress, DHGate, and Amazon making these items easier to buy than ever before. Amazon reports that in 2020 it invested in AI to block 10 billion attempted counterfeit listings and destroyed 2 million fake goods in its warehouses. However, counterfeit items are still easily accessible on its website. 
The designers affected are often multi-million conglomerates like Chanel, Gucci, and Prada, who are equipped with more than enough resources to fight long legal battles. But what recourse do indie designers have? As Shein copying designs becomes a bitter rite of passage, it leaves in its wake a disheartened generation that's abandoned by the very industry it operates in, which under capitalism thrives on the monster that is fast fashion. 
Fashion Revolution is a not-for-profit global activist organisation that demands a clean, safe, fair, transparent and accountable fashion industry. Policy and research manager Liv Simpliciano explains that the end to Shein's global domination and destruction comes down to policy. "We urge policymakers to consider working with the apparel, textile, and footwear industry to develop thoughtful trade policy mechanisms to drive uptake of environmentally preferred materials by mitigating the price premiums." She adds that we also need to reframe the binary of 'fashion' and 'sustainable fashion' to 'fashion' and unsustainable fashion. "Sustainability should be the norm, not the exception."
While Shein has succeeded off the back of the concept that it's somehow democratising clothing by selling trending items for dirt cheap prices, the true cost is the human rights violations, the communities that suffer innumerably as a result, and ultimately, the environment. But to this long list of atrocities, they can now add the emotional torment it inflicts on up-and-coming designers who are just trying to live out their dream.