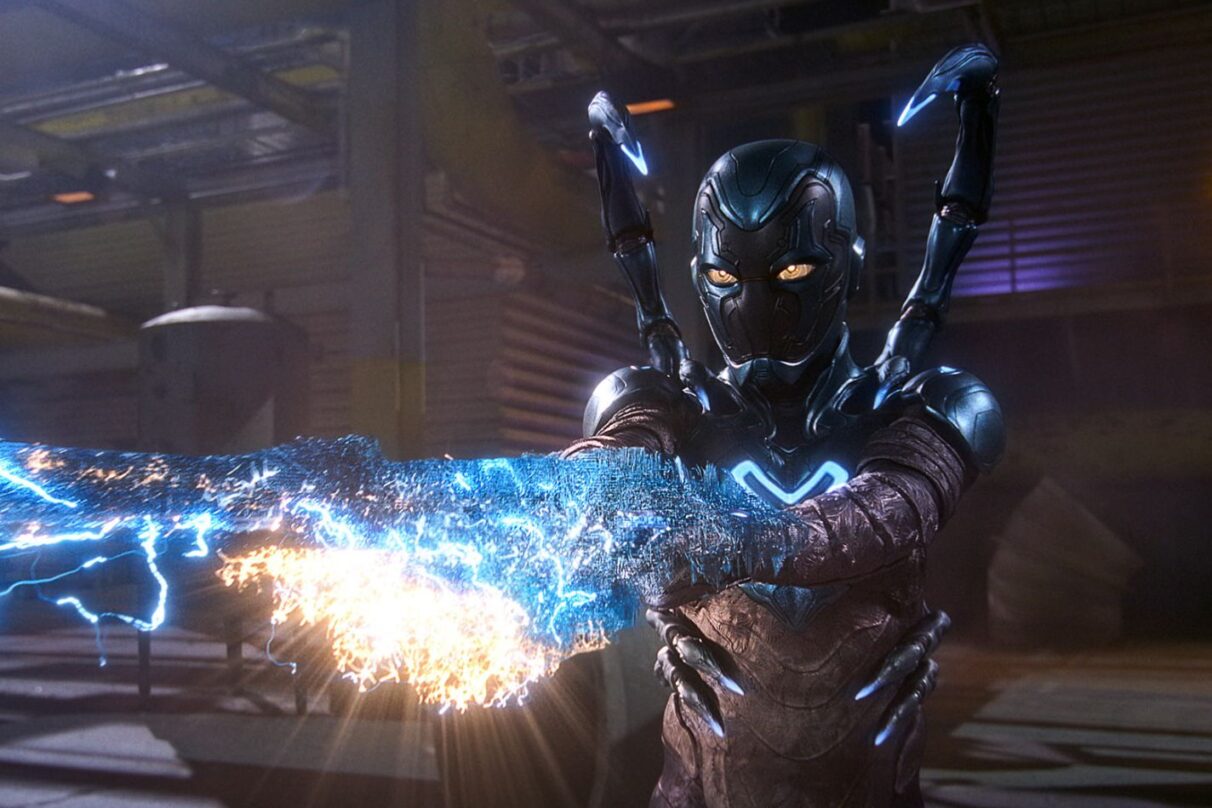 Here Are All the Spanish-Language Songs on 'Blue Beetle'
If you've already done your part to support Latine films by watching Blue Beetle at the movie theater, then you know how much attention director Ángel Manuel Soto paid to honoring the Latine storyline. From references to shows like El Chapulín Colorado and María la del Barrio to the family speaking Spanish, there were plenty of things that made Latines proud to call Blue Beetle their own.
This includes the music featured in the movie, mostly songs in español. While watching the superhero movie, did you feel like Uncle Rudy (George Lopez) when he was singing "Bidi Bidi Bom Bom" in his truck like no one was watching? We did.
Here are all the Spanish songs and songs written or arranged by Latine musicians that show up during Blue Beetle.
"Atrevete-Te-Te" by Calle 13

"La Chona" by Los Tucanes De Tijuana

"Cumbia Poder" by Celso Piña

"Sin Ti" by Los Panchos

"Sera Que No Me Amas" by Luis Miguel

"Deportivo" by Álvado Diaz, Cazzu and Caleb Calloway

"Gracias a la Vida" by Alberto Cortez

"Yo Soy el Rey Putos Malnacidos" by Tribal Nation

"El Rey" by Vicente Fernandez

"Muchos Quieren Tumbarme" by Ivy Queen

"Demolicion" by Los Saicos

"Cumbia Sampuesana" by Celso Piña

"Al Revés" by Los Walters (feat. Andrea Cruz)

"Armando Sanchez" by Chalino Sanchez

"Bidi Bidi Bom Bom" by Selena

"Solo Contigo Basta" by Alfredo Linares

"Tu Seras Mi Baby" by Juventud Crasa

"Maria la del Barrio" by Thalia

"Perseverance" by NuFects (remixed by Ignacio Sanchez)

"Sabor a Mi" by Eydie Gorme & Los Panchos

"Nada Personal" by Soda Stereo

"Cue from Cronos" by Javier Álvarez

"No Vamos" by RaiNao

"Koonex Koonex" by Daniela Lalita
There's a lot to love about Blue Beetle, and the music is definitely one of the movie's main draws. Head to the theater and pick up the soundtrack as soon as possible.