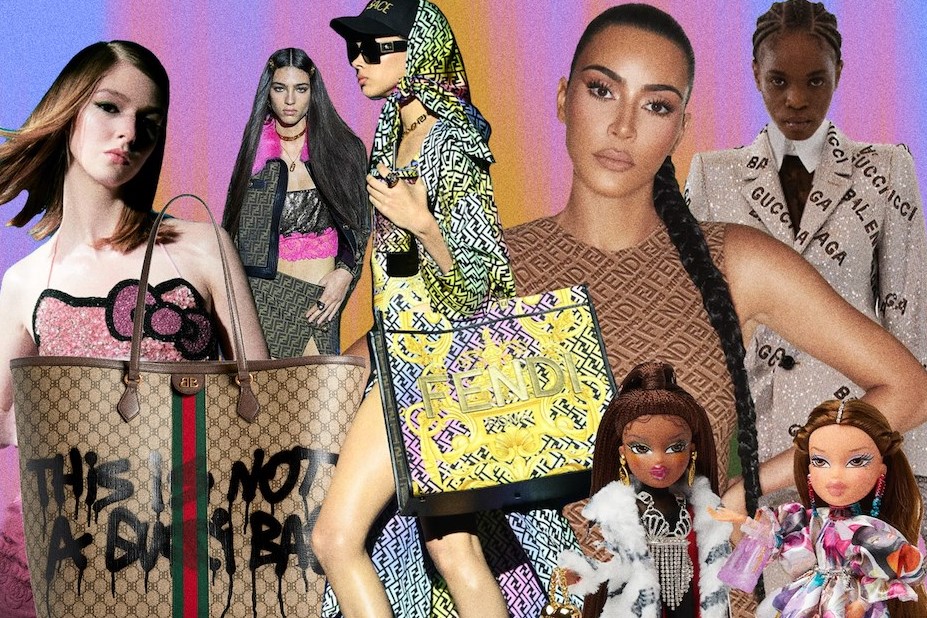 Hacking the newsfeed: how supersized collaborations defined fashion in 2021
A serotonin surge or sell-out? From Balenciaga and Gucci, to Versace and Fendi, to Dior and Sacai, this was the year of the
luxury link-up
"My team and I were sitting around a table at the Fendi studio in Rome," Kim Jones told Instagram back in November, describing the eureka moment in which #skendi first entered his mind. "Suddenly, all the women went silent and started looking at their phones. I didn't know what was going on, but they were waiting for the launch of the new Skims collection. It was then that I thought: let's do something together." Even if Jones had completely sensationalised this story, which seems likely, it would seemingly speak more to reality than if it were an accurate retelling. After all, the idea of Fendi's white coat ateliers short-circuiting while they order a pair of Kim Kardashian's shapewear perfectly embodies all the theatre, greed, and spectacle surrounding the high fashion collaboration – 2021's most unexpected, and perhaps most definitive, trend.
Over the past few years, collaboration has been framed as an increasingly enriching way to work. A marriage of minds evoking endless creative possibilities, it conjures the image of Elsa Schiaparelli and Dalí or Vivienne Westwood and Keith Harring. But it's also practical. Smaller labels receive a cash injection and mentorship when working with big brands (like Richard Malone and Mulberry or Ahluwalia and Ganni) while once-forgotten labels (like UGG or Crocs) are given a second life thanks to team-ups with Balenciaga, Telfar, and Molly Goddard. But this year, the cool-commercial blueprint for collaboration has been surpassed by behemoth power couplings. Dior and Sacai; Jean Paul Gaultier and Sacai; Versace and Fendi; Fendi and Skims; Gucci and Balenciaga; Balenciaga and Gucci; Miuccia Prada and Raf Simons; and Daniel Lee and Bottega Veneta, which was officially a "collaboration" according to the label. We are living in the era of the blockbuster collaboration, and in 2021, that seems as integral to a brand's popularity as social media or a must-have accessory.
Read More
Drug fronts, murder, and Paris Hilton: the rise and fall of Von Dutch
The next generation of biotech fabrics sending fashion sustainable
This holiday season, Rihanna is making the yuletide assless
Valentino Garavani's Tan-Go platform will stomp this season's dancefloors
Somehow though, beneath all the glitzy showdowns and pithy portmanteaus, collaborations have begun to feel cannibalistic, with big budget labels feasting on each other, birthing an engorged, two-headed beast in the process. Over the past 12 months it's felt as if we have borne witness to the Americanisation of luxury fashion, where everything comes supersized, star-spangled, and smoothed over. Goliath collaborations might be hawked as rebellious or cheeky, but really, they celebrate the marriage of high fashion (by which we mean legacy brands owned by LVMH, Capri, and Kering) and the boardroom. Despite the pandemic calling for a break in fashion's production cycle, the new normal – flashier, bigger, busier – confirmed that top designers were never truly capable of being countercultural. They cannot speak back to the system because they are wedded to its billionaire overlords. So, they replicate its vanities (logos, more stuff, logos) and pledge allegiance to the conglomerate kerching. European fashion houses become McMaisons and clothing becomes merch. 
Once the only arbiters of style, these brands are now forced to compete with invisible tastemakers. With anonymous accounts on High Fashion Twitter, Lotta Volkova, or TheKimbino. And where the industry is brimming with new designers, influencers, and stylists, all elbowing for attention, megabrands resort to their one true superpower – money. This jostle for eyeballs saw the industry double down on its regular programming this year as fashion businesses went to extreme lengths to stand out. Fendi and Versace debuted their collaboration just days after presenting their SS22 offerings while other parts of the industry fell to 2021's bizarre "creative director" phenomenon, giving top office roles to Molly Mae, Cardi B, Emily Ratajowski, and Kendall Jenner, inaugurating the next tier of influencer.
It makes sense. Designers are celebrities so why can't celebrities just become designers? We all saw videos of Travis Scott feeding fabric through a Dior sewing machine in preparation for his Cactus Jack collab. And what are collaborative capsules if not repackaged Cruise and Resort shows? Didn't we literally just put a stop to producing extraneous collections? Then why do I want a Fendace Baguette so much? Fashion has us scratching for constant novelty and though we read about the perils of capitalism, nobody is actually willing to stop buying things. Of course the irony is that, for the most part, our collective thirst for newness goes unquenched because these collaborations produce nothing that we haven't seen before. Collections made up of hundreds of repetitive looks and a slew of crossbred monograms, which read more like a designer's greatest hits than anything particularly innovative. 
It's little wonder as to why fashion nerds on Twitter and in High Fashion Talk's comments were left so unimpressed, critiquing the formulaic, cut-and-paste designs that collaborations proffer. That was to be expected, though. The modern, logo-heavy collaboration started at Louis Vuitton with Marc Jacobs and Stephen Sprouse in 2001 but reached new heights when Kim Jones saddled up to Supreme in 2017, irrevocably fusing the worlds of high fashion and streetwear. In fact, it's streetwear which shoulders most of the responsibility for the collaborative climate of 2021. Brands like Supreme, Vetements, Palace, and Off-White built a menswear dialect around co-branded t-shirts, hoodies, and sliders. Drip fed to the public through scarce product drops, streetwear bent the tenets of luxury further in the direction of hype and novelty – and that which was once derided by those at the top has now been completely normalised.
Yet none of that changes just how fun a collaboration is. Versace and Fendi's swap was bombastic and incestuous. Gucci and Balenciaga's hacking was thrilling and actually surprising. And much like seeing an 11-year-old Lindsay Lohan reunite her divorced parents on a cruise ship, there's something intoxicating about rival entities suddenly acknowledging each other's existence. Isn't that the whole premise of fanfiction? TV soaps often come together on one-off specials and comic book film crossovers are practically an industry in and of itself, so in fashion's era of entertainment, where labels are reimagining themselves as production studios and media brands, why can't we just sit back and clap? Why can't we just enjoy it? Ultimately, Fendacciaga felt like an event. A symbolic union after the drudgery of lockdown when once warring designers put down their weapons and came together for a glam Christmas Eve in the trenches. Demna would agree. He said that "things have become too serious, too corporate," on a Balenciaga podcast in June, adding that the Gucci collaboration was "the manifestation that fashion can be fun, and can kind of laugh about itself also, which is necessary." 
For Gvasalia and Michele, collaborations are not meaningless marketing ploys or frivolous cash grabs, they're an opportunity to do things differently and to experiment. Six months on, though, and these hackings did not so much break down fashion's corporate culture as buttress it. The industry has always believed in the artistic autonomy of its designers but the truth is that fashion is now as white-collared as any other business. Apart from the rush of seeing mini Donatellas strut through Versace's gorgeous landscaped gardens, the unpredictability of collaboration just feels… predictable. Of course, the industry is not some monolithic, all-consuming monster, though. From Glenn Martens, to Feben to Daniel Roseberry to Abdel El Tayeb, there are plenty of young (and established) designers going against the grain, producing hugely affecting work. Collaborations will always scream the loudest but they will run out of breath. The most important question, therefore, is not "how did we get here?" but "what are we doing next?"
Author