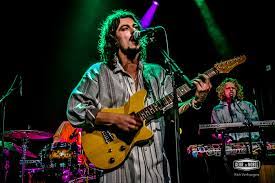 Gus Walker Unleashes Full Skill Set In Brand New Reggae-Pop Hit Titled "Come Find Me"
Gus Walker is releasing brand new sounds. His latest release is titled "Come Find Me" and is truly a modern-day Reggae hit single set to appeal to millions of reggae lovers around the world.
The independent artist based in The Netherlands is known for his fresh, poppy and recognizable blend of styles with a solid foundation of reggae and hip-hop beats. Diving deep into the complexities of life with an open-minded message of affection and unity, Gus is a true artist in all its multi-layered depths.
Gus Walker always speaks from the heart and is not afraid to explore new horizons through his music. He encourages listeners to think for themselves, to look critically at the world and to be open toward what is different; without boxes or frames.His performances are energetic and push forward atmospheres of unity and love.
"Come Find Me" is the creator's debut single, a fresh pop and reggae crossover track with elements of hip-hop produced by Boudewijn Pleij. The fast rising artist has also announced that he will be releasing a debut album to be titled Pink Skies set for release early 2023!
Follow Gus Walker on Instagram