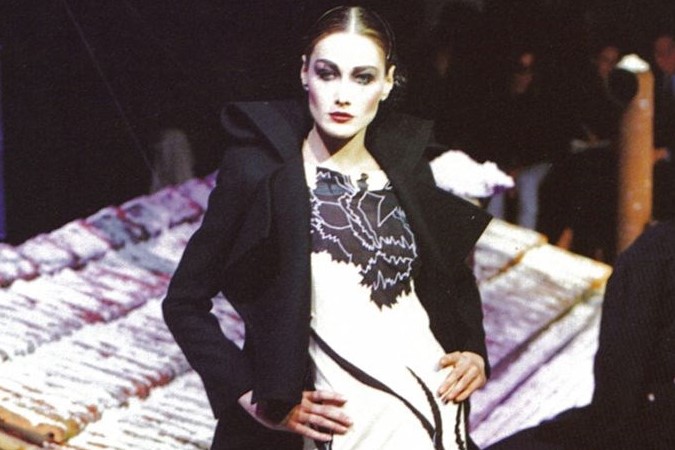 Go inside the mind of one of fashion's biggest galaxy brains
AnOther director, author, and self-proclaimed fashion nerd Alexander Fury's new column takes a deep dive into vintage fashion and his own
fabulous archive
To sit in a car with Alex Fury during fashion week is to take a brilliant deep dive into a fashion obsessive's mind.
No sooner have the doors closed and the vehicle began to speed off to the next show on the schedule, AnOther's fashion features director and self-proclaimed fashion nerd is reeling off obscure reference points and influences from throughout fashion history and name-dropping specific looks from specific collections – all while barely looking up from his phone. 
He's also a great person to live vicariously through, as he disappears off to meet fashion dealers, or for appointments in hidden-away vintage stores, before arriving back and detailing the fabulous old Lacroix, or Galliano, or Westwood pieces he's just managed to score for his growing archive.
Read More
Schiaparelli's Daniel Roseberry is entering his dinocore era
FourFiveSeconds to jail: Kanye West allegedly owes 400k in unpaid fashions
Minions: are these turgid little men the future of fashion?
Prepare your plastic: Marc Jacobs is having a massive Heaven sale
Though Fury has mostly kept this archive, which now boasts over 3,000 pieces, under wraps, lending select pieces to exhibitions around the world, or otherwise to various magazines for editorial shoots, during this season's Haute Couture shows in Paris, the writer and editor opened it up for a small exhibition. 
Conceptualised in partnership with OG luxury resale destination Re:SEE, Fury pulled a selection of black and white pieces from the vaults – namely a full-to-bursting room in his East London home, and a decidedly non-glam storage unit a few miles away – to herald the launch of a new column dedicated to vintage fashion on the site.
Landing every month, Behind the Seams will revisit iconic collections, hone in on legendary garments, unpack historic fashion references popularised on the runways of today, and, more pragmatically, detail how to start your own archive, should you be into that sort of thing. 
"It's going to be very instinctive," explains Fury of the column. "I'd probably say it's obsessive for other obsessives, talking about the passion for collecting and trying to open up the stories that I think inspired people like myself to start collecting. I think when you think about vintage you can look at it in so many different ways. There will be ones based on specific designers, ones on eras, and so on."
Given its debut coincided with the AW22 couture shows, unsurprisingly, the first edition discusses the excitement to be found in slipping into some of fashion's most grandiose, exquisitely made garments. 
"When people ask me what would I save if the house was burning down, I always say it's the black and white Galliano dress from AW95 [worn by Carla Bruni, of which only six were ever made]" – Alexander Fury
With Fury sticking to a theme of 'black and white' for the launch exhibition ("There was no deep and meaningful there, it just felt quite concise – I could have just as easily done pink, or denim"), a vintage Westwood bustle and corset from the designer's AW95 collection stood alongside that SS97 Gucci thong, while a cocktail dress by "criminally overlooked" British designer Antony Price rubbed shoulders with a coat from Gaultier's controversial 'Chic Rabbis' show of 1993.
But it's John Galliano who features most heavily within the small edit, with a selection of looks spanning the course of the 90s, including Fury's own holy fashion grail, on the line-up. "When people ask me what would I save if the house was burning down, I always say it's the black and white Galliano dress from AW95 [worn by Carla Bruni, of which only six were ever made]," he says. 
"For me, it was the start of this journey into fashion as something magical and transformative and transporting, which is why I also love fashion and why I think fashion's important and why so many kids fall in love with fashion. It's always my counterargument when people talk about fashion being elitist and for the chosen few. The images are available to everyone. They can make all kinds of little kids dream."
Read the first edition of Fury's column here.