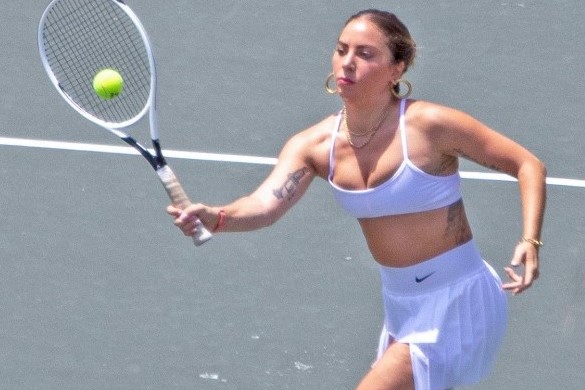 Game, set, match! Lady Gaga resurrects the tennis skirt for 2021
Don't think for a second the trend
is over
Last year, as the pandemic gripped the world in its clutches, the tennis skirt took over the timeline. Never mind toilet rolls and tinned tomatoes: the athletic classic was harder to get your hands on than anything you'd find down the aisles of Tescos, with Nike and Lululemon versions selling out as soon as they hit the shelves, and Depop searches for the style soaring into their millions.
Now, tennis skirt fever looks like it might just spike again, given Lady Gaga was just spotted getting in on the trend this week. Snapped on the court with a racquet in hand – unlike the rest of us, who were just in it for the aesthetics – Mother Monster slipped into a pleated Nike skirt and matching crop-top to play a couple of sets with her boyfriend.
Gaga joins the likes of Arca and Hunter Schafer as fans of the style, which, as our 2020 deep dive clarified, is yet another trend that has its roots in fashion's obsession with all things Y2K, which, for better or worse, still has most of us in a chokehold. Tumblr and Euphoria particularly have a lot to answer for – perhaps this time around tennis champion and Louis Vuitton ambassador Naomi Osaka's influence might be felt, too. 
Beyond this, however, sports kits are a bit of a talking point in fashion right now. With the Olympics kicking off in Tokyo last week, all eyes have been not just on the games themselves, but the lewks the teams have been wearing. At the opening ceremony, Telfar Clemens joined the three athletes from the Liberian team out on the track, after he designed their unsurprisingly iconic kits, while later, on Sunday, the internet went wild for looks worn by the skateboarders competing in the games' newest sport. 
Meanwhile, also at the Olympics and in Lady Gaga related news, those watching the taekwondo were quick to point out similarities between Jordan's martial arts master Julyana Al-Sadeq and the singer. "This is Lady Gaga at the Tokyo Olympics and no one can convince me otherwise," wrote one fan on Twitter of the surprising doppelgänger – and you know what? We see it. 
Revisit 2020's tennis skirt trend in the gallery above.