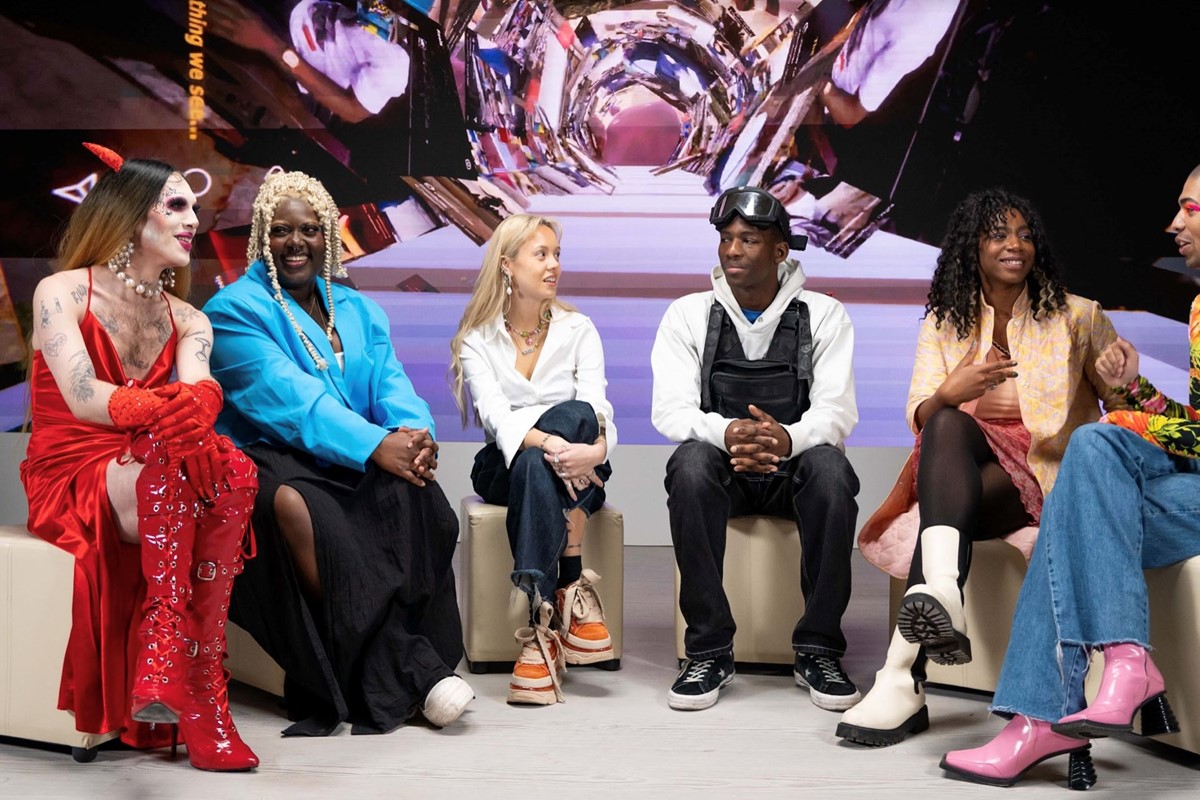 Five things we learned from Instagram's next gen of culture-makers
Shaden, Dominique Palmer, Josie Man, Myla, and Charity Kase discuss how they use the platform to explore who
they are
Since its launch in 2010, Instagram has become so much more than just a photo-sharing app. Now a mainstay in our lives, it has empowered an entire generation of young creatives who use the platform to experiment across short and long form content.
With limitless boundaries, countless creatives have started out as upcoming names and made it big by sharing their work and inspiring people from all around the world. More than that, it's become a haven for people to find themselves and others just like them – connecting with communities for support, resources, and inspiration.
Read More
Skinwalkers: the creepy creatures terrifying TikTok
Rihanna crowned national hero of Barbados after republic ousts Queen
The 'world's strongest' pill has been seized in a Manchester nightclub
Join a London vigil marking 40 years since the discovery of AIDS
Reflecting on this, Instagram launched its 'Yours to Make' campaign – a celebration of how British youth are  using the platform to help shape who they are and in turn shape youth culture today. To get a snapshot how this experimentation is taking place, Instagram and Dazed collaborated on 'Making Britain' – a panel featuring model and professional bike rider Shaden, climate activist Dominique Palmer, singer/songwriter Josie Man, make-up artist Myla, and drag artist and performer (you'll also recognise her from season three of Drag Race UK) Charity Kase.
Filmed inside an Instagram x HERVISIONS collaboration at Saatchi Gallery, the panel is backdropped by a motion art installation, 'Yours to Make: Fluid Imaginarium', an experimental artwork that transports you through various futuristic dimensions. The work is created in collaboration with 50 young British creatives – including model and Dazed Beauty Community member Ellie Goldstein, artist Trackie McLeod, and author and broadcaster Jamie Windust – who each created a Reel illustrating how they explore their identity.
Sharing their wisdom, the five panellists discuss how they use Instagram as a platform to connect and create, how important showcasing an authentic identity online is, and who they think is set to make it big in 2022. Here, we share the five main takeaways.
CONNECT WITH YOUR COMMUNITY
Despite coming from different creative backgrounds – music, beauty, drag, biking, and climate activism – each of the panellists stressed the importance of finding your community. "You realise you're at one with people and you feel less isolated and that there's people you can relate to," Josie says. "If you feel alone, you realise I'm not the only one who feels like this and it's really nice to have a sense of community throughout your life." More than a way to connect, it also allows people to share information and vital resources, something that has been valuable for Dominique as a climate activist. "We all learn from each other and also can stay up-to-date with on the ground activists and events that are happening," she adds. 
DON'T LIMIT YOURSELF CREATIVELY 
The beauty of the next generation is that they refuse to be limited by labels and put into a box of what they can or can't do – they embody everything. "I do way more than biking and modelling, I photoshop and edit my pictures and do music too," says Shaden. Myla agrees, adding: "I don't just do beauty, I dabble a bit in everything." The multi-faceted nature of the group, and the wider generation of young creatives that they represent, is summarised best by Charity. "We are producers, directors, editors, creative directors, there's so much to it," she says. 
BE EXPERIMENTAL WITH YOUR CONTENT 
Don't be afraid to diversify and be open to new opportunities to learn different skills. "When I first started out doing make-up, I wasn't doing what I'm doing now," says Myla. "It opens up ideas, you go on your Explore feed and get inspired and it makes you want to expand your skills. It definitely opened doors for me to step out of the box and create bigger things." 
Dominique goes on to explain how being open-minded has allowed her to develop and evolve as a climate activist. "Along the way, I realised that apart from using Instagram for activism, I have a voice as well, my own personal voice and that my identity ties in with my experience with the climate and the environment," she says. "I started speaking out more about that and that helped push the intersectionality aspect of the climate that people don't really focus on. It's helped me put that all together and put it out there." 
ALWAYS BE YOURSELF 
While it's easy to get caught up with other people and what they're doing or achieving, the group assures that the best way to present yourself online is authentically as yourself. "I would only post my work and not share anything about myself," reflects Myla. "If you want to be in the creative scene in the UK, I would suggest getting your voice out there." She's echoed by Dominique, who says you're in control of how much you share. "You don't have to put out every aspect of yourself but there's a real beauty in being real online and sharing that and we can all connect a bit better in that way," she adds.
Navigating negativity can also be difficult, especially when you're sharing things that are personal to you, but Charity's advice is simple: "The only people whose opinions are important to you are those who appreciate what you do or those who you care about. Show it all, hairs, warts, and all and people will love you for it."
AND… REMEMBER TO HAVE FUN! 
It's important to note that there aren't any rules when it comes to creativity and using Instagram as a platform to share and collaborate, so remind yourself the most important thing is to have fun. "I see Instagram as my own personal art gallery where I can put up my art pieces and the amount of people following me is the constant audience that's coming through the door," explains Charity on her approach. "Don't compare yourself to anyone because comparison is the thief of joy," Myla adds. "Focus on pushing your work out there, get better at your skills and your talent."
As a final piece of advice, Josie shares a mantra that has helped her remain positive and in the right headspace to create. "Knowing that you are enough is really important," she concludes. "Those three words 'you are enough' are so powerful for your body and mind and you can get so far with that mentality."