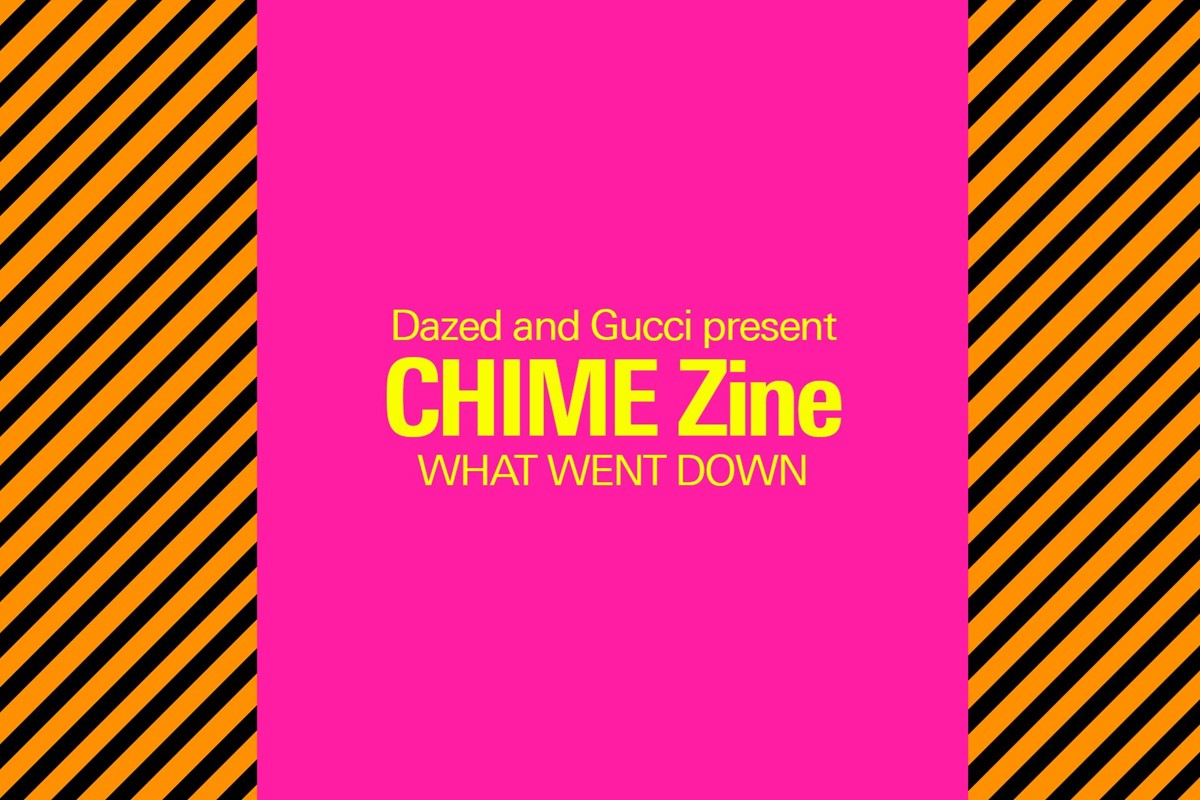 Five things we learned from Gucci's CHIME Zine Instagram live
Dazed's Lynette Nylander and the Gucci CHIME zine's editor-in-chief Adam Eli explore the publication's compelling themes, from human rights and menstruation stigma in Turkey to lived HIV experiences
in Kenya
This month, Gucci launched a special digital issue of CHIME Zine, bringing together youth activists and organisers of the Generation Equality Forum, and calling for transformative action to advance gender equality across the world. Featuring youth voices from all over the world, the Zine spotlights urgent issues facing feminists today, including HIV/Aids and period poverty, which were the topics of an Instagram live discussion chaired by Dazed's executive digital director Lynette Nylander and the zine's editor-in-chief Adam Eli.
Joining them were two contributors to the publication, Doreen Moraa Moracha, a Kenya-based HIV advocate who was born with the virus, and uses her lived experience to destigmatise and break down barriers facing those with a positive diagnosis. And human rights lawyer İlayda Eskitaşçıoğlu, who lives in Turkey and founded NGO We Need to Talk, an organisation fighting against period poverty and menstruation stigma. Here's five key takeaways from their conversation.
Read More
Palace's latest drop features fat frogs, dead dogs, and 90s supermodels
How fashion's erratic sizing is fuelling a clothing waste crisis
Watch BTS star in Virgil Abloh's new Louis Vuitton show here
Rising model Lovisa Lager channels Namio Harukawa's femdom heroines
Most HIV cases in Kenya are experienced by women aged 15-24
"Women are not in a position to negotiate for safe sex," says Doreen Morraa Moracha. "Condoms are not free everywhere. In Kenya, we have an issue with teenage pregnancies as women and young girls are engaging with unsafe sex to (obtain) sanitary towels." She adds that these women, aged between 15-24 in most cases, often become pregnant and contract HIV this way. 
Period poverty is not just about not having access to menstrual products
"It's also about having access to clean water, to a trash bin, to clean and safe toilets," says  İlayda Eskitaşçıoğlu. "A big part of the problem is also the stigma surrounding menstruation." Not only does We Need to Talk supply products, but also works closely with communities to advocate for just taxation of those products to ensure that they are affordable for marginalised groups. Eskitaşçıoğlu adds that they also create digital content for trans, non-binary, and intersex people to talk about their mensturation experiences.
Fighting HIV and period poverty must be intersectional and human-centred 
Eskitaşçıoğlu and Moraa Moracha both take intersectional approaches to their work. Moraa Moracha in particular notes that a human-centred approach is key to what she does, when so much of the conversation around HIV is statistically focussed. "We forget that the 'H' in HIV stands for 'human'," she says. "We keep leaving those human beings behind. Donors give funds to us, but they don't come down to see what exactly the problem is and why people are not taking the prevention methods [such as PrEP]." She continues to explain that the issue also lies with lack of development in creating functional condoms for women living in poverty, and for sex workers in particular, and that existing prevention methods are often not tailored for the individual lived experiences. 
Gucci's CHIME Zine was inspired by The Young Feminist Manifesto of the Generation Equality Forum (GEF)
"When I came on board to make the issue, a lot of voices in the GEF Youth Task Force felt like they were being tokenised, and that their voices weren't really being heard," said Adam Eli. "Out of that struggle came an amazing living document called The Young Feminist Manifesto, and to me that was exactly the same page that I was on. [It is about] active inclusion of trans people, a directly intersectional approach when it comes to absolutely everything… It spoke to everything that I was hoping CHIME Zine would be about." 
Gen Z are laying down important foundations
In working with Gucci's Equilibrium and Chime for Change platforms, local conversations around HIV and period poverty are given a global platform. As Nylander puts it: "[It's about] understanding our interconnectedness." So how can Gen Z – and Generation Alpha, its successor – get involved with this work? "Gen Z and Gen Alpha don't need much of a push as the pace has been set," says Moraa Moracha. "The spaces have been created; they are there. Inclusivity is there. You just have to ensure that the meaningful engagement comes in. We are breaking that glass ceiling for real."
The title of Eskitaşçıoğlu's essay for CHIME Zine is There is No Night That Doesn't Dawn, meaning that she is hopeful for the future. "It's not an empty shallow kind of hope, but there is still a long way to go. I am amazed by the strength of Gen Z, but for Generation Alpha, I have hope that they will be able to experience a truly equal future." 
Read the latest edition of CHIME Zine here.