Experts Only: The story behind the new name of John Summit's label and event brand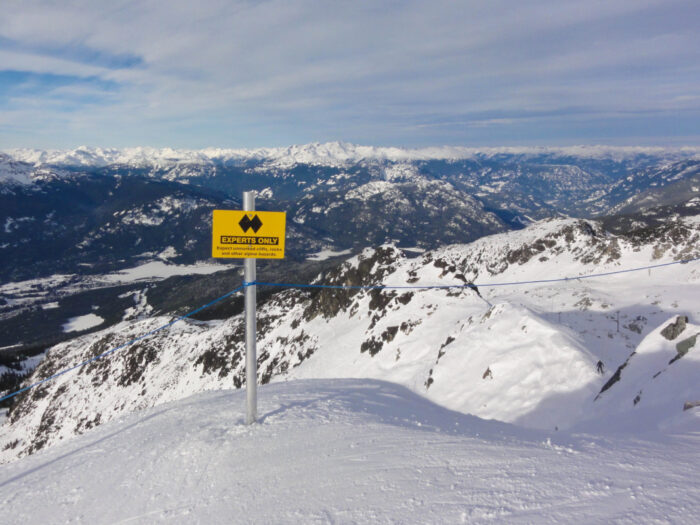 In skiing, the signs pointing to double black diamond runs are emblazoned with a blunt warning: "Experts Only."
Beyond them lies extreme and often unpredictable terrain. What may look manageable from the chairlift can be rife with hazards: steep gradients, unmarked rocks and trees, and no fall zones, denoting areas where one tumble could result in grave harm, even death. Double black diamonds consequently require expert technique. In this way, they're not unlike the music industry, which is replete with its own twists, turns, and general challenges. Of this, John Summit is well aware.
The subject of our call, after all, is the rebrand of Off The Grid Records, founded in May 2022. Since its establishment, the label, complete with a live events arm, has hosted Summit's own releases, as well as compelling outputs from Danny Avila, Mau P, Max Styler, and Deeper Purpose, among others. Off The Grid has also plotted several live events, most notably its "cave rave" in The Caverns, a 400-million-year-old limestone sediment cave in Pelham, Tennessee. 
Guided by the ethos of "music and events without limits," Off The Grid's propulsive stride temporarily stalled in July, when Summit announced via Twitter that he would be required to rebrand the label and event brand, owed to allegations of trademark infringement. Though the situation was not one that he could have foreseen from his figurative chairlift overlooking the slopes of the dance music industry—a double black diamond in its own right—Summit, who has been skiing since he was three years old and says he was "basically raised on skis," is applying the same principles that he would on the slopes to Off The Grid's rebrand: adaptability, skill, and resilience. Not coincidentally, these are the characteristics that have enabled him to deftly navigate the most difficult skiing runs and the commensurately challenging music industry. 
On September 6, the "Where You Are" producer announced that Off The Grid would become Experts Only—a nod to his nearly three decades of experience with the adventure sport. (And yes, he owns the trademark).
"My parents were born in Michigan, so they've been skiing their whole lives, whether it's snow or water skiing," Summit told Dancing Astronaut. "Skiing was a big part of my life growing up, from being in the ski club in middle school to going [with family] to ski. Because my dad's a pilot, we would fly out to Breckinridge and Beaver Creek, et cetera, et cetera. Those were our family vacations—we never did Cancun or anything like that. It was always going to the mountain and skiing."
Pictured above: John Summit with his dad. Pictured below (left): John and his sister. Pictured below (right): John. All photos courtesy of John Summit.
While the moniker "Experts Only" is inspired by what can be called Summit's first love, what many may not realize is that it also has a unique tie to Off The Grid's earlier days. 
"We had 'experts only' on [Off The Grid] merch that we released over a year ago," Summit notes. "It wasn't like, 'Oh, we gotta rebrand, what name do we do?' and scrambling. I always thought 'experts only' was a super badass slogan, and that's why we made that merch."
The double black diamond symbol synonymous with the high-intensity ski runs and now, Summit's label-event brand, will figure prominently in creative assets affiliated with Experts Only, including its logo. In line with Summit's intention for Experts Only to function as a "more mature brand," it debuted with a noticeably darker color palette and cleverly leverages the outline of the double black diamond symbol, enclosing the brand's existing mountain-inspired logo art within it.
The Miami-based producer, fittingly clad in a black t-shirt and baseball cap turned backwards on his head, talks animatedly. He exudes a sense of excitement about the new name that feels potent, so much so that it seems almost as if it could cross through his computer screen, which he leans closer into as he talks. There is no tinge of wistfulness about the need for change, but rather bright enthusiasm and the tacit resolution that the outcome of the need to rebrand is and will continue to be well-suited to what he's already built. He doesn't need to explicitly say this, and he doesn't need to–I can hear it in his inflection, can see it in the way he carries himself during our interview. It's not verbal or physical, it's energetic. 
As he tells it, the choice of how to rechristen Off The Grid was clear, not only for its existing presence in the world of Off The Grid, but also for its synchronization with the motif undergirding the name "John Summit" and the label/event brand's general outdoorsy aesthetic. Before the multiple Beatport No. 1s, his first-ever headline stadium show, and all of the commercial acclaim in between, the former accountant turned then, too, to his love of skiing to inform his creative decision-making process. 
"I was just like, 'I need a DJ name, I love skiing in the outdoors, I'm gonna name myself Summit.'" He fiddles absentmindedly with one of the two silver chains that encircle his neck and, with a touch of incredulity, remarks, "It was a simple name because I never planned on becoming a big DJ at all."
Though the label/event brand is now known as Experts Only, its ethos remains unchanged. On the label side, Experts Only will continue to champion rising talent while serving as a hub for the dance floor-facing strains of house, tech-house, and techno for which it has won early success. 
Meanwhile, on the events end, it will "[take] what we have learned over the past year and take things to new heights," per Summit. He means that literally—in concert with his team, the label head is actively exploring event planning in the Swiss Alps. "Hopefully, we can do a little ski tour sometime," he shares. "The goal is to do an Experts Only event not just out West, but in the Alps someday." There is nothing on the books for 2024 at present, but there is much, he assures me, to come.
With active planning for next year's Experts Only event calendar ongoing, the dance music A-lister is concurrently preparing for the brand's November 3 show at Frost Amphitheatre in Stanford, California, where he will premiere Experts Only in the live setting. Keeping with the motif not only of his artist name but also of his label/event brand, the show will greet fans with the Experts Only caution signs quintessential to the double black diamond slopes. "I think I'm gonna have the dancers wear snow goggles too," he adds with a good-natured laugh. 
While live events are an integral part of Experts Only, the Chicago-born tastemaker's main focus for the rest of the year is on the music. "It's gonna be pretty nonstop with the releases," he says.
Before Summit fires off his first single on Experts Only, Australian DJ/producer ODD MOB and Los Angeles' own OMNOM will be responsible for making the label's first tracks with their titillating ID, "Losing Control." Out September 15, the one-off, says Summit, "is the definition of kicking it off with a bang," and represents "probably the most requested track in my sets all summer." The timing couldn't be more serendipitous, considering that Summit signed the song in the Off The Grid days.
Of course, the barrage of new music to come includes a slew of Summit's own productions, many of which will harken back to what he calls "the old John Summit tech-house underground"—a stylistic diversion from the more anthemic, cross-genre, vocal-centric productions (think powerhouse single "Where You Are") that he's recently put out. 
"Because we're having a fresh start with the label, I want to go back to making real club records—that's where I got my start," Summit concludes. "And that's not to say I'm not gonna keep making big vocal tracks and anthems, because I do love making those records, but I think it's a fun way to get back into my roots."
Categories: Features