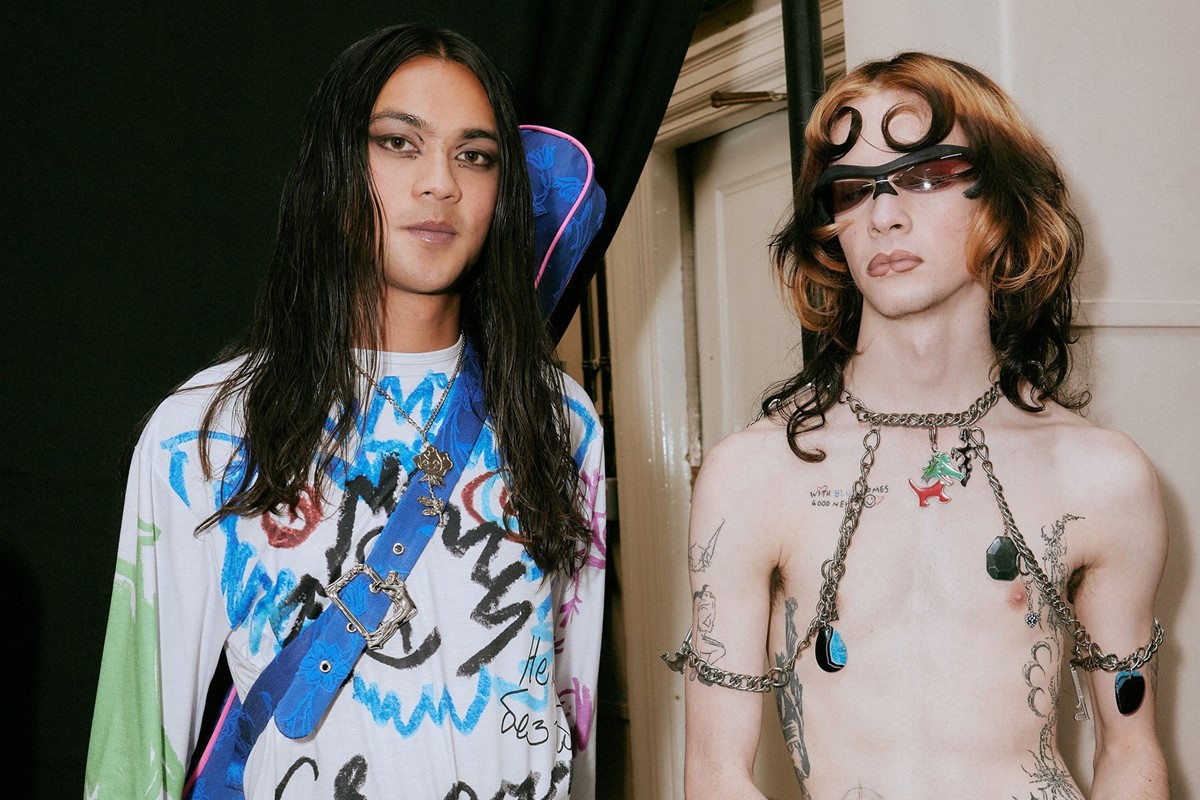 Chopova Lowena on their ecstatic, pageant-meets-pitch runway debut
The cult label's SS23 show drew inspo from the pageantry of Bulgarian village Kazanlak's traditional Rose Festival, and crossed it with the exhilarating climax of a
lacrosse match
"Rose is a rose is a rose is a rose," writes Gertrude Stein in the 1913 poem Sacred Emily. It's a famous line well agitated by society and culture, that's lost some intended meaning – it's Stein's truer ethos that has inspired Chopova Lowena's SS23 collection and debut LFW show. 
"Today, we think of the quote as meaning that we should let things be just what they are, but I think it's more about the strength of an image," says Emma Chopova, alongside Laura Lowena-Irons. The rose is imbued with personal weight, cultural meaning, and an immediate multisensory experience. "The rose was a defining image of the Romantic period, that through literature gave people a visual and a scent – that's so powerful," Chopova continues. "We interpreted that with a collection that displaces images, styles, and silhouettes – in the tailoring and formal dresses that take you somewhere, skirts with hoodies, subtle juxtaposition and surprising textures."
Read More
Welcome to the new age of the It bag
Wait, is Jordan Peele's Nope alien wearing Iris Van Herpen?
Peter Do just unveiled his menswear debut on NCT's JENO
Kourtney's new Boohoo job isn't even greenwashing, it's just a cash grab
To just 'let things be' wouldn't really be the Chopova Lowena way. Since graduating CSM with their rapturously received 2017 MA collection, they've built their eponymous label on an allegiance to Bulgarian ancestry and folkloric craftsmanship, staying true to sustainable sensibilities with upcycled and carefully sourced deadstock fabrics, in collaboration with Bulgarian artisans and craftswomen. This is all melded together with a total punk insouciance. It's won them an LVMH prize nomination, sold-out runs on Matches, and fans from Dua Lipa to Harry Styles. The dramatic pleated skirt with punky carabiner clips in a kaleidoscope of colours and patterns is a much-photographed signature style. 
The Chopova Lowena aesthetic is founded in a playful mish-mash of traditions and sport, with previous collections fusing mediaeval dressing with ice hockey. SS23 finds us amid the pageantry of the Bulgarian village of Kazanlak's traditional Rose Festival, and at the climax of a lacrosse match. "It was important for us to go back to our roots as we get to the runway," says Chopova. "The festival of the rose is all about its beauty and abundance. They nominate a rose queen, and have a parade all through the town in these pink, tacky prom-like dresses."
"We have researched the traditions and costumes through the years," says Lowena-Irons. "We've incorporated more textiles – even more so than we usually do! – into newer categories, like denim and tailoring. I'm just so excited for people to see our whole world in one place all at once, its movement."
Personal narratives thread through the collection – the denim is inspired by Chopova's parents' experience under communism, buying jeans on "the black market in the back alleys of Sofia". The show is dedicated to Chopova's two grandmothers, Emilia Minkova Ioveva and Antoaneta Kostova Shopova, who passed away recently.
"The sport inspires the collection's mood: schoolgirl intensity, the primal competitiveness on a pitch," adds Lowena-Irons. 
We speak two days before the show in their Deptford, South London studio, a heaving ventricle of clothing rails. There's the wind-whipping kilts, rose and swan clip buckles, arcade machine charms, and clinking carabiner clips, pastoral and dense tapestry fabrics, tinsel-knitted jerseys and taffeta prom dresses spray painted with doodles, rose-flocked and chain-braided denim, a fil coupé-patterned skirt that spells "CL" in Bulgarian. Sumptuous pinks and lacey bridal whites sit alongside Hot Topic-fuschias, reds, blacks. A table of accessories features lines of reflective sunglasses that recall lacrosse goggles, tinsel-pocked shoes, and macramé bags knotted with healing crystals. 
There is a frenetic interplay of heritage and modernity, a sly take on uniforms from the prom dress to the sportswear, punctuated with the teen angst and rebellion that they knew well themselves growing up in the 00s as self-described "outsiders". "That mood clash with the highs of a lacrosse game and the tacky pageantry is really exciting," Lowena-Irons says.
The duo fizz with trepidation, but there's also a sense of calm and assuredness – that's all despite the hasty reschedule, following the British queen's death. We sit in the studio to chat, a cakestand of wonky, colourful cakes on the table and Chopova's grey and black spotted pug Jello nestled in the pleats of Lowena-Irons' skirt.
"We really are lucky to have the team around us that we do," says Lowena-Irons. They credit casting director Sarah Small for their diverse, street cast line-up and known models, including Lowena-Irons' brother Harvey, designer and CSM mentor Louise Gray, artist Maggie Dunlap, and jeweller and SS21 collaborator Georgina Kemball. "It was important for us to have people walking in our show who have been there for us from the beginning, who helped us shape our identity. They all bring their own character and movement." 
As the label grows – from childrenswear to more genderless designs – they're mindful of staying innovative as well as sustainable. "It's difficult to scale with deadstock fabric, truthfully," says Chopova. 
"And denim is notoriously polluting, indigo dyeing is the worst," adds Lowena-Irons. The collection incorporates raw and vintage denim, and deadstock fabrics sourced by Chopova's mother – now a full-time employee – with connections in Bulgaria's markets and auction sites. Rare fabrics sourced some time ago will make their debut.
So too, is Chopova Lowena committed to a customer that transcends gender, size, and age. "It has been so cool to see all kinds of people buy our clothes and incorporate them into their own sense of style. It is so personal to us, so to see how people connect with it is touching," says Lowena-Irons. "We design for personalities more than anything."
"The only thing that differs when designing for different genders and bodies is fit," says Chopova. "We can be constrained by retailers' categories, but that's even changed so much since we started."
The commitment to togetherness and community shines, even more so on the night, taking place in west London's Porchester Hall – "it's dark, David Lynch vibes, loads of fun," says Lowena-Irons. The brand's kilts and aprons pock the crowd. It is an empyrean, ecstatic debut. The models stomp the maze-like runway with the intensity of athletes ready to intimidate opponents, to a soundtrack of Bulgarian choirs, death metal, and lacrosse game dialogue and chants. The delectable details of every brooch, button, and tinsel catching the light, the carabiner clips clink a joyous jingle. 
"I just really want to do it for us – I want us to have our fashion show dream," says Chopova. "We're so happy with the narrative we're building."
"We have the opportunity to have complete control, and you don't always get that," says Lowena-Irons. "This is a moment we've gotten to curate and craft the experience to exactly what we want."
And where next – dog wear? "If Jello can hold still!"