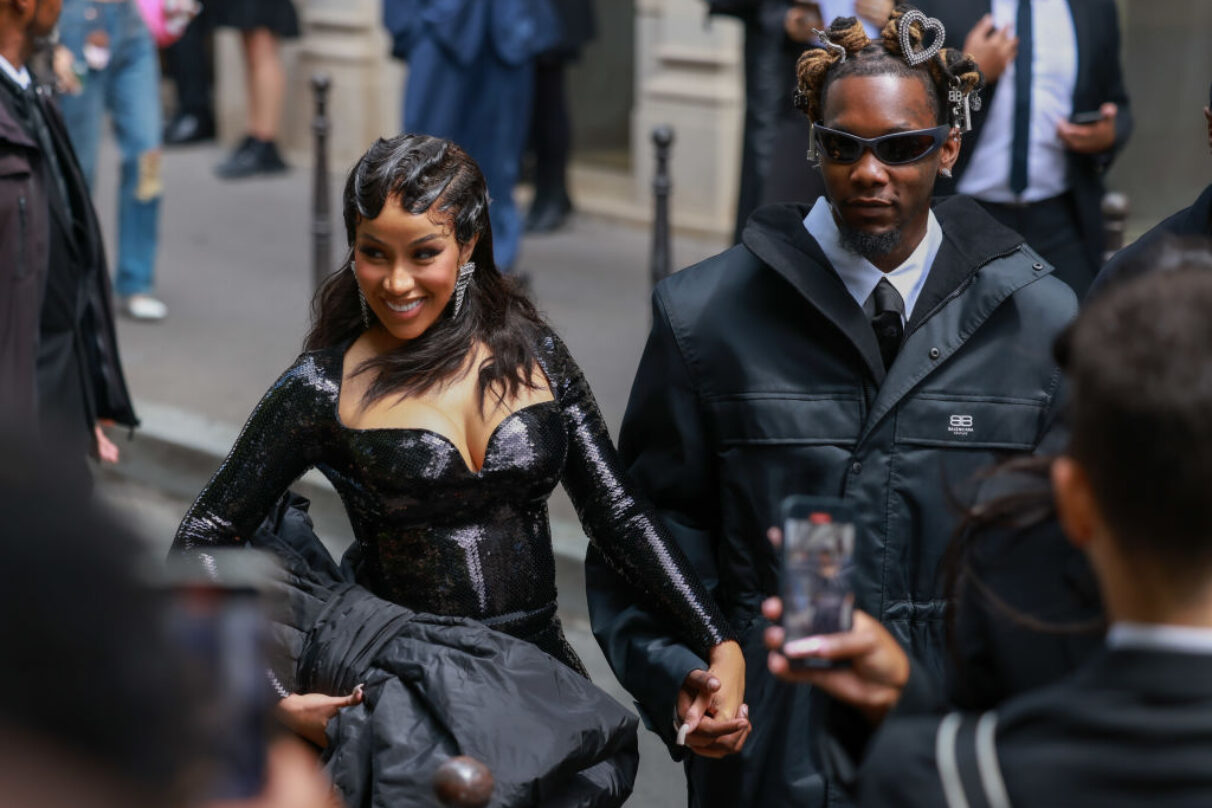 Cardi B & Offset Announce New Collaboration – Here's How Fans Are Reacting
After unexpectedly performing with Offset at Rolling Loud Miami's stage last weekend, Cardi B has another surprise lined up for her fans. The married duo is dropping a new collaboration, "Jealousy," on Friday (July 28).
The single's teaser featured a fake news television interview with Jamie Lee Curtis and Offset, impersonating James Brown's CNN interview from 1988. In the parody interview, Curtis asks Offset about the lovebirds' recent rumors. Curtis tells the rapper: "Your fans are really, really concerned and are going to social media, talking a lot about this drama between you and your beautiful wife, Cardi B." Offset then lets out a yell. "Wow, you know how to evade an answer like the best of them," Lee tells the Atlanta-bred rapper. 
After the Halloween actor asks about the recent "tensions" again, Offset keeps yelling and avoiding the question, just like Brown did in the original interview. Later, the rapper says: "I love everybody. I feel good. This is a man's world!" He then ends the supposed interview by saying, "Can't listen to the rumors. Let's talk about some music." 
Fans are highly anticipating the new collaboration. "CARDI B & OFFSET. ANOTHER ONE ?," a Twitter user wrote. "I still don't think anyone really took Clout in the way they should!!!!!!! That song. Bar for bar. Verse for verse and the video too!!!!!!! A perfectly executed masterpiece. I stannnn. I know they won't disappoint." Another social media user echoed the same sentiment: "Ooooooh can't wait to hear Cardi B and offset's song ???? seated fr ?‍??‍?."
"CARDI B AND OFFSET ARE GONNA BE LIT ON #Jealousy I can feel it in my bones! I love you so much Cardi! I'm so excited!!  @iamcardib ❤️❤️❤️❤️❤️❤️," another Twitter user wrote.
Other social media users are talking about the duo's relationship. A Twitter user said: "I love Cardi B & Offset. They were made for each other ???." And others, want more than just a single: "Offset & Cardi B gotta give us a collab album one day man."
Besides "Jealousy," the married couple has a few joint tracks together. They released "Clout" in 2019 as part of Offset's album FATHER OF 4. They also collaborated with Migos on "MotorSport" in 2017 and "Drip" in 2018. Moreover, the duo released "Lick" together as a part of Cardi's Gangsta Bitch Music Vol. 2 in 2017.