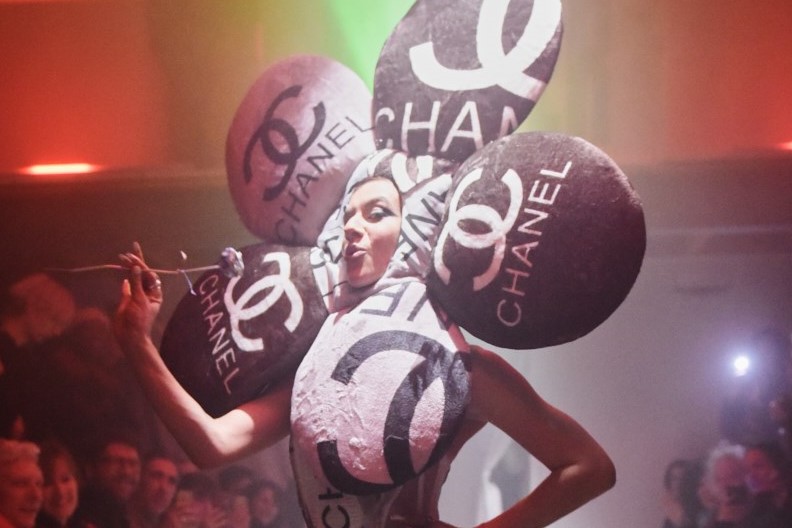 Blow my whistle, baby: inside Sports Banger's ravey comeback show
The Seven Sisters-based fashion disruptor talks Paco Rabanne, tearing down fences, and Maison De Bang Bang's
bright future
Jonny Banger, AKA Sports Banger, isn't new to the game anymore; he's been there, done that and got the t-shirt. Well, several thousand, actually. It's been nine years since the Seven Sisters-based bootlegger dropped his 'Free Tulisa' tee, sparking a near endless slew of cut-and-sew designs, knock-off tracksuits, subverted corporate logos, and digs at the establishment. But was he ever it in for the long run?
"Yeah, there's never been much time to think, you know, it's just like what you do in the day," he tells me over Zoom ahead of his upcoming show. "Do it on a wing and a prayer, and just fucking keep doing it," he continues. For Banger, the key to his success lies in never pigeonholing the brand. "It gets to be quite fluid, it goes through raves, t-shirts, museum stuff, books, record labels, and fashion shows now," he says. "We get to bring them all under one umbrella."
Read More
Julia Fox isn't crying over Kanye because she is too busy being a MUSE
Snoop Dogg and Miley Cyrus star in Gucci's Love Parade campaign
The intimate book exploring sexuality and desire in the pandemic era
Supreme appoints Tremaine Emory as creative director
Banger first spliced it all together in 2019, when he brought his tearaway mischief to the runway for the first time, showcasing his knock-offs in the space where knocked-down walls once stood. "[Our first fashion show] was in our old studio, we'd just gotten rid of a wall that had been there for three years. As soon as we got that down, I just saw a runway."
He was bang on time, too. "It seemed to be fashion week all the fucking time, so I was like 'You know what let's do a fashion show'. We pulled it together in a week." While it was a different game to the raves Banger had been throwing ["A fashion show is some next level"], it was equally euphoric, paving the runway for shows featuring everything from a dancing Jeremy Deller to Skream hidden in a giant yellow hazmat. 
Now, he's inviting us all to THE PEOPLE DESERVE BEAUTY, an unofficial LFW show promising the usual diabolical mix of sportswear couture, techno, and organised chaos. No-one can argue with the title: we're all owed something good after months of misery. "With the last couple of years of the pandemic, the country is down the toilet, and it's run by bastards," he explains. "People deserve a bit of beauty." When he talks about people, he's including himself in that, too. "I've got bills coming out my arse, I'm paying more rent than I've ever paid… It's ridiculous," he says.
So beauty is what we'll get, delivered by the barrel-load at Banger's new space – one that, unlike his last digs, wasn't shut down by an "terrorist squad" or housing a secret brothel. Although the original plan was to feature the show half inside, half outside, Storm Eunice has thundered in and moved it last minute into the neighbouring space, as part of a serendipitous act from above. "You know what, it's actually worked out. It's going to be much better, I should have been doing this all along. It's some storm from the fashion gods."
While t-shirts are still his bread-and-butter, he's never been afraid to sandwich himself between multiple media, and this show sure shows it. It's soundtracked by his label Heras, which started in 2020 and churns out techno banger after techno banger. The name comes from the fencing you see at every festival site, which Banger calls "a proper bit of street furniture". "They're basically used to restrict public access, and there's nothing more satisfying than seeing a whole load of them stacked up."
Last year, he called on his followers to nick as many of the plaques attached to these fences as they could, and unsurprisingly, the people delivered. "I was getting packages every day from the postman, like bricks of cash… I was getting these and no one knew what we were doing with them."
"With the last couple of years of the pandemic, the country is down the toilet, and it's run by bastards. People deserve a bit of beauty" – Jonny Banger
Now, we do. First, he origamied them into 30 individual roses, which acted as buyable invitations that helped fund the show. The rest? "We made a corset bodice out of them and scanned some more to make a couple of denim pieces." There's also a "pair of Heras socks, which has the tracklisting of our new release, because the cover has a sock on the smoke alarm of a hotel room." It's metal turned techno, as Banger reconstructs barriers to enter into new dimensions. 
It's not the only object on offer. Banger's also collaborated with Acme, otherwise known as the world's oldest whistle manufacturer. "It's quite mad, looking at the history of the whistle in rave," Banger starts, wired on his own research. "Originally, a couple of acts used them to communicate with each other on stage, then people in a crowd started using the whistle to signify good tunes."
As part of the AW22 collection, a bunch of them have been strung together for a hefty dress inspired by Paco Rabanne's seminal Unwearables collection and made with longtime collaborator Anna Lomax. "We had to engineer a way to join all these whistles together. We 3D printed some which we were then going to get plated, but then we had to go with a laser cutting route and get them folded, drilled, riveted so we can build this thing in a modular fashion." Banger's not coy about the end result, and fair play. "It's fucking amazing," he says. Styled on Banger model Ami Benton, who's previously walked for Jean Paul Gaultier, it also apparently weighs a ton. 
Other old friends return, too. Emma Brewin, the queen of faux fur hats, has collaborated with Banger again, while Max Allen returns for a deliciously titled 'fast cars and soft cocks' link-up. Costume designer Maria Bradshaw has also fittingly worked with Banger on a Chanel toilet seat cover dress that pays homage to Mugler, "because the country has gone down the toilet." Unused Slazenger Banger pieces, not seen before, also make their debut, and Lucozade have proved their bottle by helping to support the show. "They've come in at the last minute and helped us out with support, which is amazing. You know, we're ravers and Lucozade energy is connected with that. We hope to continue working with them within the community."
New heroes have got involved too, including Spitting Image creator Roger Law. "I asked him about a t-shirt I'd seen because I wasn't sure if it was an official one," he says. It turns out it was the first one they'd made in the 80s, and thankfully for Banger, it was up for grabs. "[John said] anything from the 80s, if you want to use it, help yourself. And I was like, I already fucking have Roger." 
Naturally, all this came to life a few days after our conversation, in Banger's new Seven Sisters studio – where there's a little more room than there was at his first outpost. Models cavorted on the narrow catwalk, Vogueing and carrying on, as the audience cheered them on from the sidelines. Alongside the custom looks were some old faves, too, as Banger remixed, rehashed, and reworked offcuts, slashing hems off HM Government Truth Twisters tees and turning classic logo tops into long, trailing skirts and matching bikinis. All in all, it was a far cry from the polite clapping that finished most shows across the weekend, and a welcome return to familiar chaos post-pandemic.
"It's quite mad, looking at the history of the whistle in rave. Originally, a couple of acts used them to communicate with each other on stage, then people in a crowd started using the whistle to signify good tunes" – Jonny Banger
It's this interdisciplinary way of doing things, as he ties together rave, politics, and fashion, that continuously proves Banger's got many strings to his (Strong)bow. Up next is an interactive website ("It looks amazing, I can't shout about that enough"), and he also talks gleefully about Build Hollywood letting him use their billboards, especially since he'd previously vandalised them to speak out against Brexit. Armed with endless ideas, one thing's certain. Like the walls of his last studio, and that stolen Heras perimeter fence, Banger will continue to break down boundaries and battle his way down his own wild path.