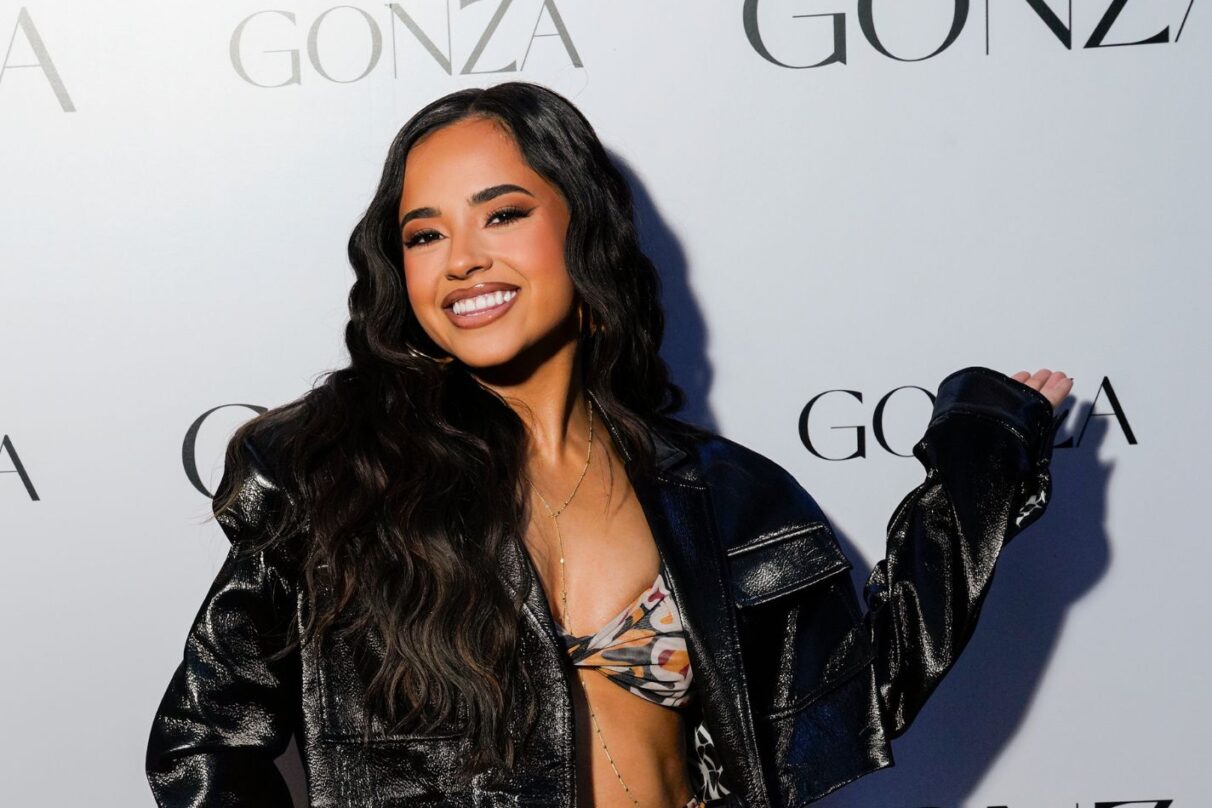 Becky G Caught in Controversy Involving Gonza Swimwear, Kylie Jenner, & More
There's drama unfolding around Becky G with some unexpected celebrities throwing shade on her latest project. 
On July 1, the singer shared an Instagram post announcing that she was the Creative Director for the swimwear brand Gonza. "As a proud Latina, I'm joining GONZA to break boundaries, empower women, and redefine fashion. Check out the new collection and get ready because this is only the beginning," Becky G wrote in the caption. 
While many fans celebrated this news, it seems that the brand's original founders and former owners — Victoria and Sofia Villarroel — weren't too pleased with the news. Apparently, their separation from the brand was a negative experience. "It's no secret that Gonza was named after our grandfather and created in honor of our heritage and story. Extremely disappointed that Becky G would work with this brand that we creatively conceptualized and made popular in the mainstream," wrote Victoria Villarroel in an Instagram Story. 
She continued," We have been silent due to potential ramifications, but Sof and I will no longer be silenced as the story of Gonza is ours only to share." 
They additionally claim that there is still an ongoing legal battle and that Becky was allegedly informed of the situation "and is now creative director." 
Soon after, celebrity friends of the sister duo came to their defense, not just any celebrities but Kylie Jenner, Kendall Jenner, and Hailey Bieber, along with other industry friends that commented on Becky G's post and shared Instagram Stories. While these celebrities didn't comment directly on Becky G or the matter, they did repost Instagram posts of the Villarroel sisters' new swimwear brand Casa Gamero in support. Victoria was formerly the assistant of Kylie Jenner. 
And it didn't end there. Just minutes later, Selena Gomez entered the chat. Gomez, who was at the center of a viral, seemingly made-up feud with Kylie Jenner and Hailey Bieber earlier this year, followed Becky G and supported her newest endeavor by commenting on the post, "Yas girl." 
Many fans are now showing support for Becky G as they speak to how Hailey Bieber was caught in a lawsuit recently for trademark infringement for her beauty brand Rhode. Another brand of the same name claimed that Bieber knowingly and wrongfully used their brand name. Kendall Jenner was also at the center of controversy when she launched 818 Tequila in 2021. She faced backlash for allegedly appropriating Mexican culture in the brand's campaign, which critics called tone-deaf. 
With that, many on the internet are begging the question: "Why is Becky G unable to get her coins, too, especially when it's not appropriating?" 
The brand, Gonza, released a statement today following all the controversy in an Instagram post. "In August 2022, both parties amicably decided to part ways. The decision to leave the brand was initiated by the Villarroel sisters, as they wished to pursue their own new venture," read the statement. 
Some disapproving of Becky G on the matter have reignited her past controversies with brands. Last summer, Araceli "Cely" Ledesma, the founder of the cosmetics company Araceli Beauty, posted on social media accusing singer Becky G of stealing ideas from her and incorporating them into her own beauty brand, Treslúce Beauty. Becky G posted a video on social media responding to the accusations. 
Becky G has yet to comment on the Gonza backlash. However, many fans are speaking on her behalf. "It's unfortunate their brand was stolen, but it's not cool to have your whole friend group attack Becky when they can message Becky privately," wrote user Karen Alvarez on TikTok, while another asked, "Wait. They kept quiet when they got schemed but only spoke up when Becky G got involved?"