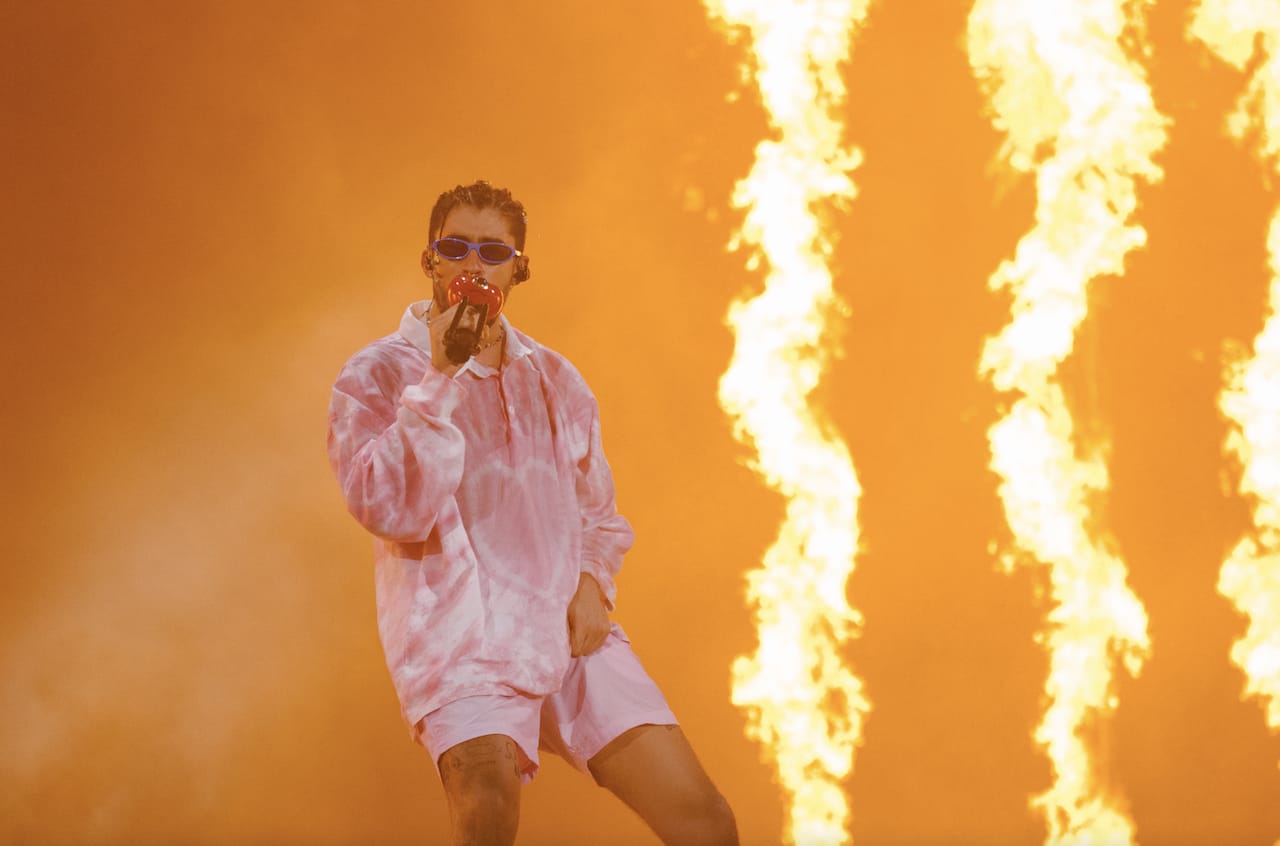 Bad Bunny Day is Officially a Thing in Boston
Last week, Bad Bunny's legacy was commemorated in a special way. Aug. 18 has officially been named Bad Bunny Day in the city of Boston, MA.
While Bad Bunny was in Boston for his World's Hottest Tour, Mayor Michelle Wu decided to honor the Puerto Rican superstar. She invited him to Fenway Park, where she declared Aug. 18 as Bad Bunny Day in Boston, the day the singer held his concert in said city. The scoreboard was updated to include Bad Bunny's name. The Boston Red Sox also celebrated the news on Twitter.
"Thank you Mayor Wu for welcoming @SanBenito to Fenway Park & declaring today Bad Bunny Day in the City of Boston!" wrote the baseball team.  
Backstage at Bad Bunny's concert at Fenway Park, Mayor Wu took a picture with the city's honoree. She also shared a sweet message to Bad Bunny on her Twitter account in Spanish. "Bienvenido a nuestra diversa y hermosa ciudad, @sanbenito! Déjame saber si quieres recomendaciones de comida Latina y buena en Boston," Mayor Wu wrote.
While Bad Bunny was in Boston, he also went to another global pop star's concert. It's no secret that he's a Lady Gaga fan. During the Nov. 2020 elections in Puerto Rico, Benito was spotted in line to vote wearing a Chromatica t-shirt. Through Lady Gaga, he learned about the drag culture that inspired his "Yo Perreo Sola" music video.
Lady Gaga's Chromatica Ball took over Fenway Park the day after Bad Bunny's concert, and he was in attendance. He posted a few videos from the concert on his Instagram stories. In one message, Benito wrote, "Anoche yo estaba rompiendo aquí, hoy está Lady Gaga… wow!!!" Lady Gaga was performing "Bad Romance" in the video.
After Lady Gaga's concert, fans noted that her manager, Bobby Campbell, started to follow Bad Bunny on Instagram. Maybe there could be a Benito and Gaga collaboration in the future.