Anitta, Kali Uchis & Cazzu Respond To Arcangel's Insulting Instagram Story Slut-Shaming Women
Just one day after International Women's Day, Arcangel has taken to social media to spew hate at women. The "La Boca" singer posted a slut-shaming message–and after Brazilian singer Anitta responded–he essentially doubled-down in a non apology.
"They want to be respected as women, bla bla bla, but you spend your time showing your a** on social media for likes," Arcangel posted in his Instagram story.
Brazilian singer Anitta quickly posted a photo on Instagram seemingly in response, calling out the rapper's hypocrisy.
"Can you use women's asses in your videos and put explicit songs to get more views, but at the same time say that women who show their own asses on their social media don't deserve respect? I'm confused," she posted.
Arcangel responded with a careless non-apology where he essentially doubled down. First he said that the post was referring to someone specific, then added that he respects all women while at the same time showing that he does not by specifying that he didn't mean to offend "respectable ladies."
"A la mujer seria, decente, trabajadora. Yo no me referia a ese tipo de dama que se merece respeto," he said. ("To the serious, decent, hard-working woman, I wasn't referring to that type of woman," he said.)
He then said he'd kiss Anitta's ass.
The insulting post is careless after women across the globe took to the streets and to social media to protest against gendered violence, often with signs and chants that take a stand directly against these beliefs that seek to control women's sexuality and sexual expression.
Argentinian rapper Cazzu also responded on social media, posting on her Instagram story that reggaeton is dominated by men, making it a difficult space to navigate not only as women but as feminists.
"Si deberiamos plantarnos ante toda opinion, estariamos enemistadas con todos, creo que ninguna se salvaría, Cazzu posted on her IG story, saying reggaeton is a genre dominated by men." ("If we had to take a stand for all opinions, we'd be enemies with all of them [men], I think none of them would be saved," she said.)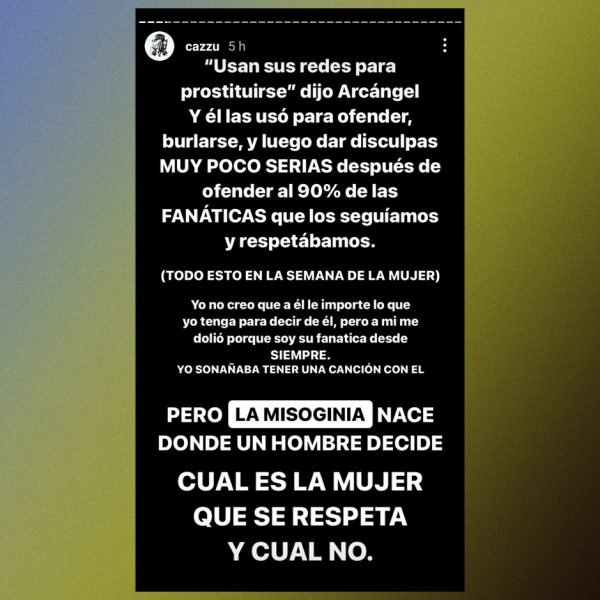 Unfortunately, Cazzu is right as Arcangel's thoughts are shared by many men in the Latinx music industry, particularly when referring to Black and brown women. Who can forget when J Balvin said that Rihanna wasn't the marrying type?
Kali Uchis also chimed in.
For Arcangel, this isn't the first time Arcangel puts his foot in his mouth, last year when Bad Bunny dropped his video for "Yo Perreo Sola," Arcangel was accused of throwing shade at el conejo malo also on IG story.