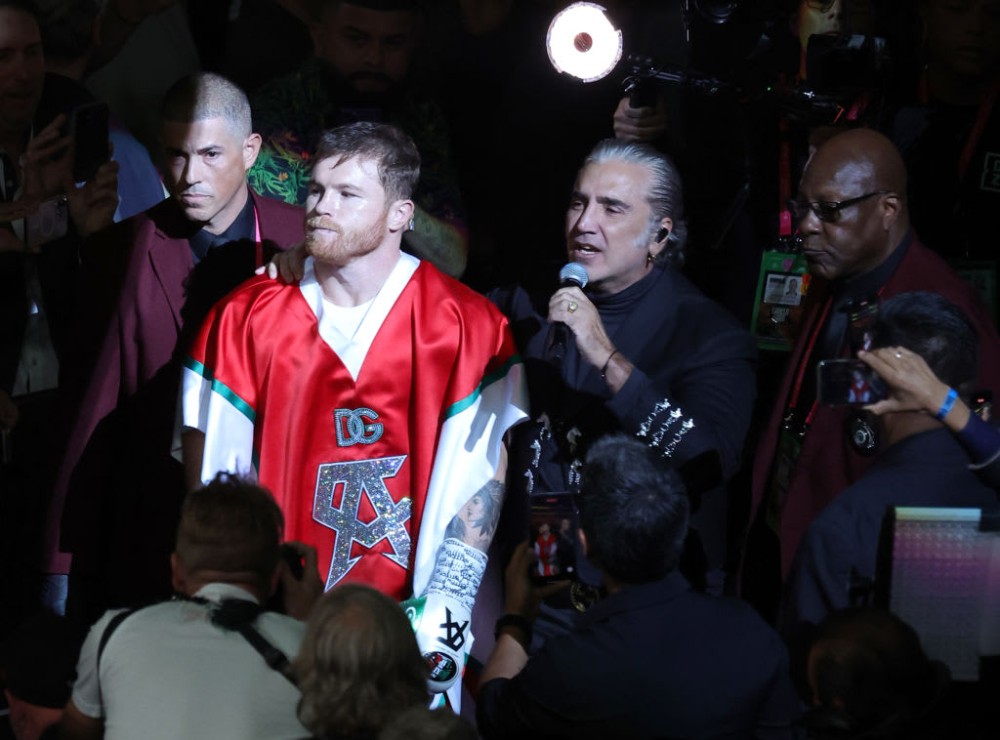 Alejandro Fernández & Eduin Caz Serenade Canelo Álvarez Before Winning Match
Canelo Álvarez emerged victorious in his final match against Gennady "GGG" Golovkin in Las Vegas on Saturday night (Sept. 17). On the way to the ring, the Mexican boxer shared musical moments with Alejandro Fernández and Grupo Firme's Eduin Caz.
Back in 2017, Canelo and Golovkin kicked off a legendary rivalry in boxing with their first match against each other. Saturday night marked the end of their trilogy of matches over the years. After 12 rounds in the ring, Canelo won against GGG with a unanimous decision.
Canelo represented his Mexican roots proudly in moments leading up to the match. As he was warming up in the locker room, he was serenaded by Grupo Firme's Eduin Caz. With the Mexican flag in the background, Caz belted his band's hit "Calidad." One of the song's writers, Iván Gámez, expressed his excitement to see it performed before the match.
"I can't get over the fact that Eduin Caz sang a composition of mine to Canelo!" Gámez wrote. "I can't believe how far 'Calidad' has come. Blessed music."
During his ring walk, Canelo was accompanied by Alejandro Fernández. The Mexican crooner belted out "México Lindo y Querido," a song that was popularized by his father, Vicente Fernández. Canelo's poncho and boxing gloves featured the colors of the Mexican flag as he walked into the ring.
Ahead of the match, Fernández said in a statement, "This weekend is about coming together to celebrate Mexico, our culture, our music, and our sporting icons. For over twenty years, we have transformed Las Vegas into one massive celebration of Mexican Independence. It's an honor to accompany my friend Canelo as he makes history tomorrow night. Que Viva Mexico!"
Canelo isn't the only fighter. Last month, Fernández had a Dr. Simi plushie handed to him during a concert in San Luis Potosí. Using his fighting skills, Fernández promptly kicked the plushie off the stage and into the audience.