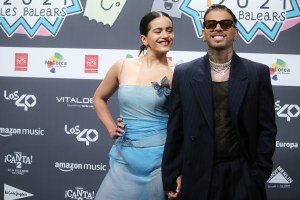 A Timeline of Rosalia & Rauw Alejandro's Relationship
Rauw Alejandro and Rosalia met in person in 2019 at a Las Vegas hotel lounge during the Latin Grammys. It was love at first sight, the couple told Billboard for their cover story interview, but it seems it wasn't meant to be.
People reported on July 26 that the Spanish singer-songwriter and Puerto Rican star have ended their relationship and decided to not move forward with their engagement. Representatives for Rosalía declined to comment. A representative for Alejandro did not immediately respond to a message from Billboard.
Just months ahead of their reported split, the former couple announced their engagement on March 24 via their music video "Beso." It was also the same day they dropped their first-ever joint project — the three-song EP RR.
Since the moment they first met, the two artists had been each other's biggest supporters both on and off the stage. Before RR, the couple had subtly collaborated on previous projects. Rosalía sang backing vocals on "Dile a Él" from Rauw's first album, Afrodisiaco (2020) as well as on "Corazón Despeinado" from Saturno (2022). Meanwhile, Alejandro co-wrote some lyrics for Rosalía's "Chicken Teriyaki" from her Grammy and Latin Grammy-winning 2022 album, Motomami.
"In terms of collaborations, the big difference is you're collaborating with the love of your life. At least, I am," Alejandro previously shared with Billboard. Rosalía added, "I'm lucky to be your partner, and I want to be there for you, sabes? And I feel you're there for me, independent of the careers. For me, our relationship is first, and then there's everything else. Of course my career is super important in my life, but at the same time, in my life, you're my companion, and everything else comes second."
Read on for a complete timeline of Rosalía and Rauw Alejandro's relationship.
November 2019: Meeting IRL

Image Credit: Isabel Infantes/GI

After telling Billboard that they began exchanging Instagram DMs in 2019, the couple officially met in person at a Las Vegas hotel lounge during the 2019 Latin Grammys. "I was nervous, I'm not going to lie," Rauw says. "Rosi came down and I saw her. I got even more nervous." The couple also reveals in our interview that it was "100% love at first sight."

2020: First Collaborative Efforts

Long before going public, the couple had subtly collaborated on each other's previous projects; Rosalía sang backing vocals on "Dile a Él" from the Puerto Rican artist's first album, Afrodisiaco (2020). 

Later, she also did vocals on his "Corazón Despeinado" from Saturno (2022) and helped pen  "Caprichoso" from Rauw's EP Trap Cake, Vol. 2 (2022). Rauw also co-wrote some lyrics for Rosalía's "Chicken Teriyaki" from her Grammy and Latin Grammy-winning 2022 album, Motomami. 

September 2021: The First TikTok

On September 24, 2021—after a few paparazzi photos circulated the internet and much speculation that they were dating—Rauw and Rosalía posted their first TikTok video together on Rosalia's account. In the clip, they are in a living room setting and are seen making a heart gesture with their arms to a viral sound. The clip has nearly 100 million views at time of publishing.

September 2021: Instagram Official

Image Credit: Courtesy photo

The next day, on Rosalía's 28th birthday (Sept. 25), both artists shared never-before-seen photos on Instagram. "BlisssssSSSS, Libra, and blessed," the Spanish singer-songwriter posted, along with photos in the arms of Rauw as he plays video games. On his Instagram, the "Todo de Ti" singer shared pics with Rosalia out in the ocean. "Even if the sun leaves, the day never ends with you. Happy birthday, bebe," he captioned the post, referencing the heartfelt lyrics of his track "Aquel Nap ZzZz."

November 2021: Red Carpet Debut

Image Credit: Isaac Buj/Europa Press via GI

On November 12, the new "it" couple made their official red carpet debut at Los40 Music Awards held in Palma de Mallorca, Spain. Not only did they look adorable hand-in-hand, but later in the show, Rosalía presented Rauw with the best international Latin urban artist or group award and they smooched on stage. Rauw thanked his "beautiful girlfriend" for being his "muse." 

May 2022: First Hints of a Collab

During his panel at Billboard's MusicCon, Alejandro talked about collaborating with Rosalía. "For sure, we have a few [things planned] in the studio already," he confirmed. "It's a surprise. Those songs are [under] extra security. We're planning to do the release — I'm not going to say when, but soon. We're doing it for the love of the fans and she's my girl and I did those songs with more love. No. 1 for sure."

June 2022: Engagement Rumors

Last summer, the couple took time from their busy schedules to spend quality time together in Greece — and many fans believed that Rauw popped the big question during the vacation. On their Instagram accounts, they were seen eating frozen yogurt, riding a bike around town, and enjoying a day out on the boat. Among the countless photos and Instagram Stories they shared, Rosalía posted a blurry photo of herself with a shot glass in hand and a bright diamond on her ring finger, making social media users believe they got engaged. 

November 2022: Lovers at Latin Grammys

Image Credit: Christopher Polk for Variety

The couple was all cute and lovey-dovey at the 2022 Latin Grammys in Las Vegas. First, they walked the carpet together serving nothing but power couple vibes. Then, they danced reggaetón for viewers back home during Rosalía's performance, followed by one of her many wins that night — that one for the coveted album of the year award — for her Motomami album. 

"Many, many, many thanks. Motomami is the album that I've [most] had to fight for, that's been hardest to do, but I kept going," she said. "Thanks for always supporting my music, because my music is always changing," she added, before launching into a long list of thank-yous that included her famous boyfriend, Rauw Alejandro. "Thank you to the love of my life. Baby, I love you," she said pointing toward Rauw in the first row.

December 2022: New Year's Eve in Japan

To close off a successful 2022 for each of their careers but also as a remarkable couple, Rauw & Rosalía spent their end-of-year holidays in Japan. On since-deleted stories posted on Instagram, we saw the couple singing songs by Daddy Yankee and Cher at a karaoke spot, and also spending New Year's Eve with new couple Christian Nodal and Cazzu, along with other friends.

https://www.instagram.com/p/Cm7MMX4h1ea

March 2023: The EP, The Engagement, The Cover

Image Credit: Pili Vila Tobella

Come Spring 2023, the couple are going stronger than ever. They dropped their EP RR with tracks "Beso," "Vampiros," and "Promesa." In the official music video for the former — following a joyous collage of beautiful moments the couple has spent together during their three-year relationship traveling the world — teary-eyed Rosalía flaunts her engagement ring. And on March 29, Billboard unveiled its Touring Issue, with both Rauw and Rosalía in their first joint cover, where they opened up about their relationship like never before.

April 2023: The Last Selfie

One of the last photos of the couple together on social media was posted in April on Rauw Alejandro's Instagram account. The set of selfies shows the artists on the set of their "Vampiro" music video, part of their joint EP. Rauw simply captioned the photos, where they are both dressed as vampires, with various blood drip emojis.

https://www.instagram.com/p/CrEt-6SLseQ

July 2023: Rosalia Crying

Each artist has had a busy summer. Rauw Alejandro with the release and promo of his latest studio album Playa Saturno and Rosalia with the wrap of her Motomami World Tour—which explains why they haven't been spotted together as of lately. However, a recent Instagram post by the Spanish singer alarmed fans, believing that things may not be going so well in her personal life. "Dias de Todo" (Days of everything), she captioned a photo carousel that's led by a selfie of herself crying.

https://www.instagram.com/p/CuxRaolsoiO

July 2023: The Breakup

Image Credit: Pooneh Ghana/Courtesy of Coachella

On July 26, People reported that the power couple had ended their relationship after three years together and called off their engagement. Representatives for Rosalía declined to comment. A representative for Alejandro did not immediately respond to a message from Billboard.

Following the news, Rauw Alejandro posted photos of himself in Puerto Rico. "I have been spending time at home with the family but it's time to get active. Next stop: Europe then Latin America," he said of his touring plans.