20 Cool Homecoming Outfits for Guys That Aren't a Plain Black Suit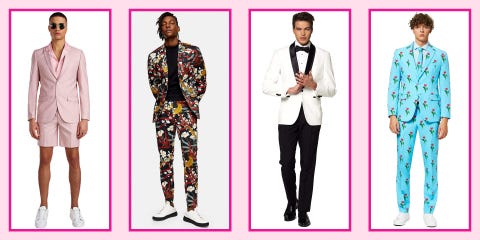 Summer break just began, but somehow homecoming is only a couple of months away. And there's literally no better time than now to get a jump on your suit shopping, cause let's be honest, with no school and a potential second lockdown on the horizon, you have the time. This year, you will NOT be settling for a boring suit that every other guy at your school will be wearing. Nah, you're gonna bring the drip to the highest degree in an elevated homecoming outfit.
Whether you end up going classic in pin-striped black or fully flexing with a wild pattern (floral print, anyone?), these suits are all the dapper-as-hell style inspiration you need for your next formal dance. Ahead, shop the absolute coolest, sickest, most daring homecoming outfits for guys.
This content is created and maintained by a third party, and imported onto this page to help users provide their email addresses. You may be able to find more information about this and similar content at piano.io