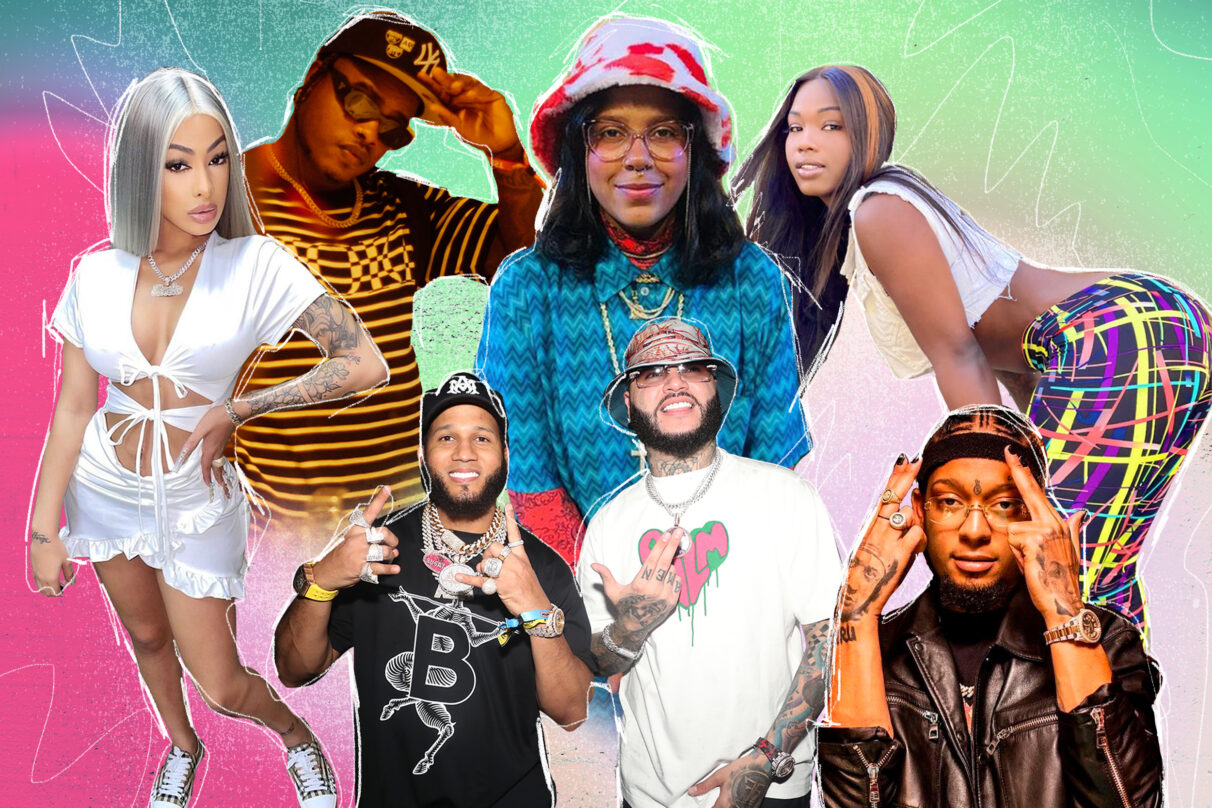 10 Best Dembows of 2021
Rising from the barrios of Santo Domingo and exploding onto dance floors around the globe, dembow has long been heralded as the next dance music craze to burst forth from Latin America. Dembow is a faster, younger, sibling genre of reggaeton, both of which are rooted in Jamaica's dembow riddim and have become monuments to the ingenuity and constant evolution of Afro-Caribbean music. However, unlike the growing decentralization of reggaeton from hit-making havens like Puerto Rico, Colombia, and Panama, dembow is uniquely Dominican— built on a lightning-fast percussive style, paired with irreverent colloquialisms, and drawing fresh textures from bachata, merengue, and even baile funk.
Like every growing sub-culture, dembow has faced its share of critics ranging from the Dominican Republic's old guard of rap trailblazers such as Lápiz Consciente and Dkano, to government officials arbitrarily banning chart-toppers by Chimbala and La Materialista. While censors have argued for morality in the face of dembow's devilishly explicit lyrics, rap traditionalists looked down on the genre for its repetitive nature, dismissing it as beat-driven hooks rather than "real" music. But dembow's numbers have always been undeniable, and with greater demand from the people of Quisqueya, more rappers began changing their tune while censors looked the other way.
Now, dembow is the riddim on everyone's lips and asses, attracting the ravenous attention of trend-setting producers Diplo and Marshmello, and leading El Alfa to sell out massive venues like Madison Square Garden, performing alongside fellow luminaries Kiko El Crazy and El Cherry Scom. Dembow's underground pedigree has also fostered a more diverse roster of stars, platforming women, queer, and trans performers early on and launching the careers of Milka La Más Dura, La Insuperable, Tokischa, La Pajarita, La Delfi, and Shakatah Astoa. 
For a deeper read on the state of dembow today, here's a look back on our favorite bangers of 2021. Both the songs and order were based on the input of the Remezcla editorial team and our music writers.
10. Chiki El De La Vaina, Freddie Gibbs – "Entrégala"
From the opening bars of "Entrégala," Chiki El De La Vaina proclaimed the marquesina party had officially begun, taking the lead both as master of ceremonies and host to his honored guest, American rapper Freddie Gibbs. What follows are two and a half minutes of raunchy, pounding dembow, where the track's barreling digital percussions bounce just as hard as the culos featured in the music video. Gibbs flows effortlessly on the rapid-fire beat, also channeling the irreverent, hilarious spirit of dembow with quotable Spanglish hooks like, "Face good, but culo magnífico," practically begging to be put on a T-shirt. — Richard Villegas
9. Kaly Ocho – "Piri Bambam"
With tracks like "La Cartiele" and "Play Boy," Kaly Ocho is undeniably rapidly rising in the dembow-sphere for his interesting beat selections and references and impeccable bars. On "Piri Bam Bam" he puts a spin on the late Queen of Tejano music Selene Quintanilla's "Bidi Bidi Bom Bom," embracing a sample snippet of the original chorus seamlessly added throughout his verses and chorus. While Selena is traditionally referenced lyrically, "Piri Bam Bam" creatively fuses the influential song, the iconic "pilita" culture—a style of mixes that connects mambo, EDM, guaracha, dembow, and samples of other genres— popular in the Dominican Republic, and a beat sample of 2007s most celebrated "Calabria" by the late Enur towards the end. – Jennifer Mota
8. Rochy RD – "Alta Gama"
With a year like Rochy RD's 2021, where he amassed millions of YouTube views and even a nod from former U.S. President Barack Obama himself, he has rightfully earned his place in the top range of dembow, just like he proclaims in his song "Alta Gama." Thanks to his hip-hop background, the Dominican star has no trouble crafting and delivering witty bars, highlighting his journey to money and fame. He's got his peer's respect and he's making money with every step he takes, so he created the perfect party track to celebrate his accomplishments. – Cheky
7. Tokischa, Haraca Kiko, El Cherry Scom – "Tunkutaso"
What happens when you unite DR's most peculiar, scandalous, and creatively controversial artists in a studio booth? "Tukuntaso" happens. The song immediately lets you know it gives zero fucks on wording (the Dominican Republic is known for banning "indecent" tracks) with Tokischa's opening verse, her lyrical approach is similar to much of her music: storytelling embedded in sexapades, sexual pleasure, and drugs paired with a cadence uniquely crafted by moans and high pitched vocal projections. Produced by Leo RD, the track brings in Haraka Kiko and El Cherry's anomalous presence, this beat depicted in the vibrant video—which illustrates their outrageous personality in colorful palettes and 1970s wardrobe with a modern twist of youth nostalgia. – Jennifer Mota
6. Braulio Fogon – "Mango Piña"
In "Mango Piña," the cyclical, wavy bassline is just a comfy bed for the effortless rhyming style of Braulio, always tight-locked on the beat. The music video adds some notes of surrealism to the undisputable perreo delivered by the MC. Are Braulio and his crew partying at an ET funeral? Was Braulio beaten up? We don't know, we're just vibing to his repeating "Chuky." – Felipe Maia
5. Bulin 47 – "Bajo Mundo"
Bulin 47 is easily the person with the highest approval rating in the Dominican Republic. His charismatic personality, infectious laughter, and most humorous ways of depicting life in el barrio have allowed him to conquer the hearts of fans from the different strata of society. "Bajo Mundo" is a homage life in el barrio, which is also the heart and soul of the Dominican dembow movement. The Breyco produced track catches vibes early movimiento pioneer Baby Shaba's "Me Quema" and reggae legend Cutty Ranks' "A Who Seh Ne Dun (Wake de Man)," skilfully creating a high thumping track for discotecas and kitpos across the globe. As Vulcano label head JC Restituyo said, this is a good sign of things to come for the future of dembow. – Joel Moya
4. Ceky Vicini, La Perversa, Melymel, Shadow Blow, Yailin La Mas Viral – "Nataly"
A play of words between the battle of the sexes, numerous Jamaican melodic lyrical interpolations—like Cutty Rank's "Limb by Limb"—and iconic sexual innuendo's that will live on forever, this year's "Nataly" by La Perversa, Ceky Viciny, Yailen, and Shadow Blow is a number that not only highlight the viral, leading ladies of dembow, but also reminds the masses that space should be given to numerous women on a track. Though the Dominican artists individually have a strain of hits such as Ceky Viciny's "Klok con Klok," Shadow Blow's "Mensaje Directo," La Perversa "Aficia de un Chucky" alongside Nino Freestyle, and Yailen's "Chivirika" with El Villano RD, "Nataly" has smoothly positioned itself as there standout track. – Jennifer Mota
3. ​​El Alfa – "Curazao" (ft. Farruko)
As one of the genre's biggest and brightest stars, El Alfa has squeezed the possibilities out of dembow throughout his career, but we were not prepared for the wild ride he had in store for us with "Curazao." This drug-fueled jam couldn't have a more fitting guest than "Pepas" singer Farruko. Together, they pop some pills and hop on the high-octane beat, leaving behind a trail of sex and self-importance. But it's the unexpected turns that complete the fantasy, like El Alfa's slowed-down hip-hop moment, Farruko's winks to reggaeton, and the full-on punchis punchis outro that resonates with the narcotic theme's frequency. Few 2021 dembow tracks gave us as many moments on the dancefloor as "Curazao." – Cheky

2. El Experimento, Gailen, La Manta, Jc La Nevula, Paramba, El Chuape, Young Gatillo – "Bobolonga"
The bajo mundo rises up with unbeatable force in "Bobolonga." The single reunites an all-star team from the Dominican Republic, an ensemble of up-and-coming MCs that let us know from the song's first kick that the dembow realm is strong as ever. El Experimento's rash opening up and closing lines about the bobolonga type and the deep vocals of La Manta are definitely high-scoring bars, but it's Gailen La Moyelta who takes the trophy home—to perrear and to rhyme with such dexterity is not for everybody. – Felipe Maia
1. Tokischa, Rosalía – "Linda"
While much of the world first encountered Tokischa with "Linda," her blockbuster collaboration with Spanish pop superstar Rosalía, the ensuing media frenzy surrounding the Dominican dembowsera was the culmination of years of boundary-pushing work. Instead of diluting her R-rated sound at the prospect of crossover success, Tokischa dug her heels into the glitter-speckled pavement and pulled the mainstream to her. In the process, she delivered the most exciting Rosalía vehicle since 2019's "A Palé." Zooming bars about giggly make-out sessions between friends echo Tokischa's queer canon, brought to spectacular life on the song's grimy Raymi Paulus-directed video featuring a coterie of non-binary dancers and a criminally underplayed cameo from merengue típico legend, Fefita La Grande. – Richard Villegas